Foxhangers Canal Holidays
Alternative Accommodation
Foxhangers Wharf
Rowde
Devizes
Wilts
SN10 1SS
BookOnline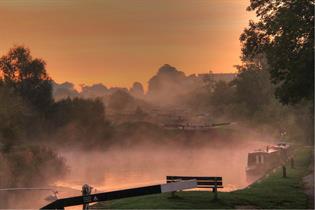 Canal Boat Holidays
Foxhangers is a family run business and we have been providing holidays in and around the Kennet & Avon Canal since 1974. Our narrow boat holidays have proved extremely popular since we began hiring out boats in 1997 when we had just a single boat!
Our fleet of 15 hire-boats has grown because of what we put down to several factors, but largely our competitive prices, location and a strong understanding of customer needs. We offer canal boat holidays in the UK using traditional narrow boats, competitive hire prices for both weekly and short break holidays and often have special offers on late availability, especially at less busy times of the year.
Our hire fleet consists of 15 narrow boats which include 2 x 2-4 berths, 2 x 2-5 berths, 2 x 4-6 berths, 5 x 4-7 berths and 4 x 6-9 berths. We offer the following lengths of breaks as standard.
• Weekend breaks -available from Friday- afternoon to Sunday or Monday morning
• Midweek breaks- available from Monday- afternoon to Friday morning
•Weekly breaks- available from Friday, Saturday and Monday afternoon
• 10/11 day breaks- available from Friday and Monday afternoon
Foxhangers Canal Holidays is operated from our holiday farm/marina alongside the canal and your holiday will start at the foot of the magnificent flight of 29 locks near Devizes.
From here you can choose to navigate this famous flight and travel east towards Newbury, or for a less strenuous cruise head west, where you can easily travel to Bath or even reach Bristol and back in a week!
Canal Boat Holiday Activities:
Travel through tranquil waters explore the roman city of Bath
Moor-up at canalside pubs
Navigate famous Caen Hill locks
Explore pretty market towns and villages
Navigate over aqueducts
Explore countryside walks
See birds and animals thriving on the banks and in the water
Enjoy the canal architecture
Visit heritage sites
Cycle the towpath
Dangle a fishing rod
Track down mysterious crop circles
Navigate through the Bruce Tunnel
Push open locks gates
Swing open swing bridges
... and meet many friendly faces along the way!
Places To See:
Cities of Bath, Bristol and Reading
Market Towns of Devizes, Bradford on Avon, Hungerford and Newbury
Caen Hill locks
Barge Inn pub
Dundas and Avoncliff aqueducts
American Museum, Claverton
The Roman Baths, Bath
Cross Guns pub, Avoncliff
Bristol Docks
Bristol Science Museum
Crofton Beam Engines
Rivers Avon and Kennet
The Bath Valley including Browns Folly
Vale of Pewsey
The SS Great Britain
We have considerable experience in all things canal boat through building and maintaining our hire fleet over the years. We are also able to service and repair boats and have a covered paint dock for hire. For many years we have provided private, long-term moorings in an attractive rural location.

Awards
Regional and Miscellaneous

Wiltshire Accommodation Charter

2013
Opening Times
2014
(01/03/2014 - 30/11/2014)
What's Nearby
Family friendly, self guided Visitor Centre and interactive exhibition – Free entry
On-site Sample...

2.19 miles away

The Kennet and Avon Canal Trust has been in existence for more than 50 years.

At Devizes we have...

2.35 miles away

Discover gold from the time of Stonehenge, find out more about ancient Wiltshire, including the...

2.41 miles away

This Crop Circle Access Centre - this year hosted by Wiltshire Museum - is a convenient central...

2.44 miles away
As from 25 April the Gallery will be open daily from 10am - 5pm every day - 7 days a week serving...

2.48 miles away

The newest of Wiltshire's White Horses, Devizes was cut in 1999 to mark the Millennium. It's...

3.4 miles away

Based in the beautiful county of Wiltshire, close to Bath, Bristol and the Cotswolds, Vintage...

4.2 miles away

Outstanding 18th century mansion house estate.

5.14 miles away

A picture-perfect, historic day out.

5.22 miles away

Motor museum with vintage, post-vintage and classic cars, including American models. The Museum...

5.47 miles away

We started Brewing on 2nd April 2013 with our English custom built stainless steel oak clad brewery...

5.61 miles away

The second oldest of Wiltshire's White Horses, situated on the edge of Cherhill Down, off the A4.

7.01 miles away

Odeon Trowbridge has 7 fully digital 3D capable screens, a full Costa Coffee Store, Beechdean Ice...

7.26 miles away

The history of Trowbridge and its people. Includes working looms and displays on the West of...

7.26 miles away

A large iron age hill fort and white horse carved into the hillside.

7.48 miles away

The Museum is housed in a fine 18th century grade II listed building. The displays tell the story...

7.77 miles away
Previous
Next