Ideas & Inspiration - Trowbridge Museum - Museum in Trowbridge, West Wiltshire - VisitWiltshire
Trowbridge Museum
The Shires
Court Street
Trowbridge
Wiltshire
BA14 8AT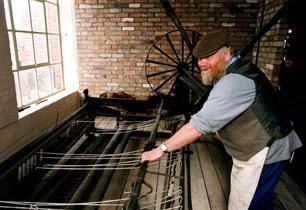 This museum tells the story of the west country woollen town, once known as the "Manchester of the west", its people and its history. Housed in a former woollen cloth mill, the museum displays include working textile machinery, a weaver's cottage, a medieval castle and local history displays. There are plenty of interactive exhibits, a children's history hunt and a mouse trail. Plus regular temporary exhibitions, family and children's activities.
Opening Times
2013

(05/01/2013 - 22/12/2013)

Day
Times
Tuesday

10:00

16:00

Wednesday

10:00

16:00

Thursday

10:00

16:00

Friday

10:00

16:00

Saturday

10:00

16:30
* Closed Good Friday, Easter Saturday and Bank Holiday Monday. Closed on Monday 24th December 2012 until Wednesday 2nd January 2013.
What's Nearby
Wiltshire Music Centre is a purpose-built, 300-seat concert hall which attracts...

3.11 miles away

Set in the picturesque valley of the River Frome, this impressive castle hides a sinister past.

3.31 miles away

Award winning Grade I Italian-Style garden famous for its tranquil beauty, the home of architect...

3.42 miles away

Brokerswood Country Park is a popular campsite and outdoor learning and activity centre located...

3.73 miles away
Based in the beautiful county of Wiltshire, close to Bath, Bristol and the Cotswolds, Vintage...

4.69 miles away

Early New England Settlers to the eve of the Civil War, Native American Indians, Quilts and Folk...

5.82 miles away

Lacock village and abbey is famous for its picturesque streets and roles as a television and film...

7.54 miles away

Displays of apparatus and photographs related to Fox Talbot. Gallery with changing exhibitions each...

7.58 miles away

Lacock Photography provides photography training courses, runs a programme of exhibitions...

7.59 miles away

Most attractive and unique complex of 17th Century Almshouses, Schoolroom, Warden's House and...

7.66 miles away

Visit the heart of the World Heritage Site. Around Britain's only hot spring, the Romans built a...

7.81 miles away

A truly unique way to explore the stunning scenery of England's West Country. Chauffeur-driven...

7.9 miles away

Family friendly, self guided Visitor Centre and interactive exhibition – Free entry
On-site Sample...

9.39 miles away

Discover gold from the time of Stonehenge, find out more about ancient Wiltshire, including the...

9.53 miles away

Boats, locks, aquaducts, landscape and views with a level tow path to walk and cycle. 2010 we saw...

9.57 miles away

Longleat Safari & Adventure Park is getting bigger and better with more exciting things to see in...

9.7 miles away
Previous
Next