Things To Do in Wiltshire - Wiltshire Museum - Museum in Devizes, Kennet - VisitWiltshire
Wiltshire Museum
41 Long Street
Devizes
Wiltshire
SN10 1NS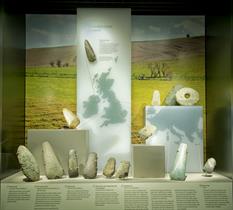 See gold from the time of Stonehenge! Wiltshire Museum is home to the best Bronze Age archaeology collection in Britain. Explore the galleries, see the outstanding collections and find out more about the fascinating history of Wiltshire and its people over the last 6,000 years.
Our brand new Prehistoric Wiltshire Galleries tell the story of the people who built and used the world renowned monuments of Stonehenge and Avebury. Unique gold and amber objects date back over 4,000 years to the Bronze Age – the time of shamans and priests, learning and culture across Europe. Later periods, including the Iron Age, Romans and Saxons, are also featured, together with the story of Devizes and the surrounding area. There are fun activities for all the family throughout the Museum.
Special exhibitions are held throughout the year – displaying the work of renowned artists, the Wiltshire landscape or highlighting more of our vast collection. Visit our website for details of current exhibitions and events. We have an extensive archive and library, which is open to visitors and researchers. Our collections are Designated by the government as being of national importance.

Opening Times
2014

(25/03/2014 - 31/12/2014)

Day
Times
Monday

10:00

17:00

Tuesday

10:00

17:00

Wednesday

10:00

17:00

Thursday

10:00

17:00

Friday

10:00

17:00

Saturday

10:00

17:00

Sunday

12:00

16:00
2015

(01/01/2015 - 18/03/2015)

Day
Times
Tuesday

10:00

17:00

Wednesday

10:00

17:00

Thursday

10:00

17:00

Friday

10:00

17:00

Saturday

10:00

17:00

Sunday

12:00

16:00
* General Opening Text
What's Nearby
This Crop Circle Access Centre - this year hosted by Wiltshire Museum - is a convenient central...

0.1 miles away

Family friendly, self guided Visitor Centre and interactive exhibition – Free entry
On-site Sample...

0.36 miles away

The Kennet and Avon Canal Trust has been in existence for more than 50 years.

At Devizes we have...

0.4 miles away

The newest of Wiltshire's White Horses, Devizes was cut in 1999 to mark the Millennium. It's...

1.89 miles away
As from 25 April the Gallery will be open daily from 10am - 5pm every day - 7 days a week serving...

3.41 miles away

Motor museum with vintage, post-vintage and classic cars, including American models. The Museum...

5.14 miles away

The second oldest of Wiltshire's White Horses, situated on the edge of Cherhill Down, off the A4.

5.77 miles away

Outstanding 18th century mansion house estate.

5.77 miles away

Based in the beautiful county of Wiltshire, close to Bath, Bristol and the Cotswolds, Vintage...

6.56 miles away

The Alton Barnes horse was cut in 1812 by Robert Pile on his own land.

6.61 miles away

We started Brewing on 2nd April 2013 with our English custom built stainless steel oak clad brewery...

6.73 miles away

A picture-perfect, historic day out.

7.02 miles away

Constructed around 3,400 BC West Kennet is one of the largest Neolithic chambers in Britain.

The...

7.32 miles away

An extraordinary artificial prehistoric mound, the largest Neolithic construction of its type in...

7.41 miles away

Originally erected 4,500 years ago, Avebury is the largest stone circle in the world. In the Old...

8.06 miles away

A large iron age hill fort and white horse carved into the hillside.

8.94 miles away
Previous
Next