From Darkness to Light Illuminations
Salisbury Cathedral
6 The Close
Salisbury
Wiltshire
SP1 2EJ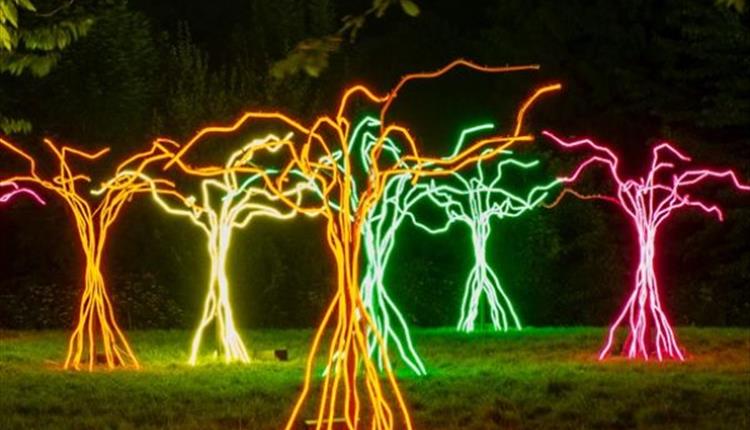 Guide Prices
Free, no booking required
About
This Advent and Christmas Salisbury Cathedral and Close will be transformed inside and outside, with illuminated art installations on the West Walk, in the North Porch, on the Cloister Garth and in the Cathedral itself.
Visitors approaching the Cathedral via the West walk will encounter Light Wave by Squidsoup, the team behind Enlightenment, the stunning installation that hung in the North Porch during our Magna Carta celebrations in 2015. This immersive walk-through experience comprises 500 light and audio spheres, suspended in a 20 metre wave formation, which softly glow and play plainsong creating a dreamlike experience.
Approaching the Cathedral from the High Street Gate, a neon installation entitled I Will Turn Darkness Into Light, inspired by scripture and installed above the North Porch Gates, will welcome visitors with its simple promise of hope.
On the Cloister Garth, Lumen by David Ogle RBS, will sit among the grand Cedars that were planted to commemorate Queen Victoria's ascension to the throne. This installation of 5 tree-like structures will form a luminous canopy of interlocking neon branches up to 3 metres high which will bath the stone arches with a vibrant glow.
Suspended inside the Cathedral you will find The Light, a 4 metre illuminated globe created by Richard McLester and his Poole based studio team, which projects a galaxy of stars that whirl and spin around it until finally focusing on the 'Star of Bethlehem', the symbol of Christ's birth. Join us for an evening of immersive music at the Songs of the Light Concert.
The entire Close will be joyfully lit for the festive season, further enhancing our popular Twilight Tower Tours which take visitors up onto the Tower balconies to view the city lights, from 16 November to 22 December.
Opening Times
Sorry, this event has passed
Map & Directions