Saving the Philippine Eagle - An Evening with Jimmi Hill
Hawk Conservancy Trust
Visitor Centre, Sarson Lane
Weyhill
Andover
Hampshire
SP11 8DY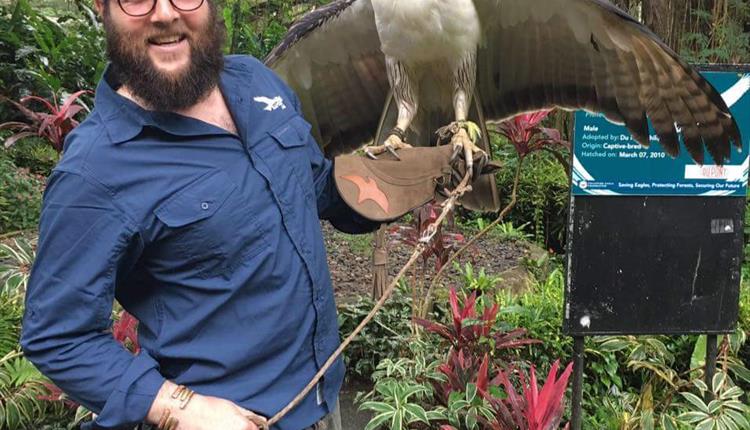 About
Ticket includes tea/coffee and biscuits served during the interval.
The Philippine Eagle is one of the largest eagles in the world only found within the forests of the Philippines, and sadly is now one of the rarest eagles in the world. As the Founder and Trustee of Raptor Aid, Jimmi Hill felt compelled to visit this endangered species and to help conserve it. The Philippine Eagle Foundation have a breeding and education centre for the eagles and other birds of prey, and Jimmi visited this with Raptor Aid to share knowledge of housing and training birds, and to supply some vital equipment that the Foundation struggles to obtain. In this intimate evening, Jimmi will share insights from his time working in the Philippines conserving this magnificent species.
"As a kid, I remember seeing a picture of a Philippine eagle in a book and being completed absorbed by it, this huge mysterious eagle of the forest with its huge beak, crest of head feathers and stunning blue eyes I knew I had to meet one. When I got older and realised how endangered this species was then I also knew I had to play some small part in helping to save it – Raptor Aid had to go to the Philippines!" Jimmi Hill.
There is thought to be only 400 pairs left in the wild and the IUCN Redlist classes this bird as Critically Endangered. There are several issues facing the Philippine eagle, including deforestation creating fragmented habitats, shooting and trapping by local villagers to protect livestock and also for fun, and in some cases the pet trade. The Philippine Eagle is protected in the wild and in 1995 it was made the national bird of the Philippines.
Opening Times
Sorry, this event has passed
Map & Directions