Trowbridge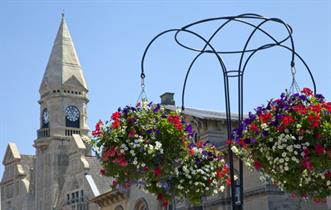 Trowbridge, in the heart of West Wiltshire, has ancient roots, having been first mentioned in the Domesday Book as 'Straburg'. Trowbridge even had a castle, first mentioned in 1139, when it was besieged during a civil war between King Stephen and the Empress Mathilda. Although the castle no longer exists it left its mark on the town, as Fore Street follows the line of the castle ditch.
Trowbridge expanded and developed as a result of its lengthy involvement with woollen cloth production which began in Anglo-Saxon times but commenced in earnest in the 14th century. This has left a rich architectural legacy ranging from the fine 18th-century homes of wealthy clothiers (the woollen cloth industry's middle men) to the rare, the Handle House (which was used to dry teasels) to former mill buildings. The scale of West of England cloth production was once so great that the town became known as 'the Manchester of the West'. This fascinating past can be relived in the town's fine Museum and Art Gallery which houses a nationally significant collection dedicated to woollen cloth production, including working looms. In addition, displays trace the mechanisation of the processes, as part of industrialisation and the impact it had on society. The Museum also has an area dedicated to Trowbridge's famous Victorians including the Trowbridge-born creator of shorthand, Sir Isaac Pitman.
Despite its significant heritage, Trowbridge is still firmly rooted in the present and has leisure and arts activities and facilities to meet the demands of the 21st century. The Civic Centre runs a diverse programme of events and the multi-screen cinema offers the latest cinematic blockbusters. Throughout the summer months, the town park hosts an Armed Forces Weekend, a Sports Festival and a Country Fayre.
Trowbridge has a thriving arts scene which includes an annual Arts Festival, and a biennial Cloth Road Arts event which alternates with the museum's Textile and Weaving Festival. There is also a state-of -the-art library.
Even Christmas in the town has a unique feel. The Dickensian Christmas Experience has at its heart a traditional Father Christmas dressed in green velvet (based on the character from Charles Dickens' A Christmas Carol) and located in the museum's grotto, there are traditionally decorated shop windows, a Dickens Trail around the town centre and a Victorian street market.
Trowbridge holds Wiltshire's earliest market charter dating back to 1200 and it still offers fantastic retail opportunities including diverse independent shops, national chains and regular high-quality markets. With wide-scale cheap parking and excellent public transport links, Trowbridge has become a top destination.

What's Nearby
The history of Trowbridge and its people. Includes working looms and displays on the West of...

0.06 miles away

Odeon Trowbridge has 7 fully digital 3D capable screens, a full Costa Coffee Store, Beechdean Ice...

0.21 miles away

Based at Bradford on Avon Wharf, 400 yards from the town centre and only a few steps from the...

2.33 miles away

Boat Trips every Wednesday, Saturday, Sunday and Public Holiday, 2.30pm
£6 Adults, £4 Children...

2.37 miles away
Wiltshire Music Centre is a purpose-built, 300-seat concert hall which attracts...

3.16 miles away

Set in the picturesque valley of the River Frome, this impressive castle hides a sinister past.

3.37 miles away

Award winning Grade I Italian-Style garden famous for its tranquil beauty, the home of architect...

3.48 miles away

Based in the beautiful county of Wiltshire, close to Bath, Bristol and the Cotswolds, Vintage...

4.66 miles away

The 14th-century St Mary's lies down a pretty wooded lane near the river Biss, on one of the many...

5.52 miles away

We started Brewing on 2nd April 2013 with our English custom built stainless steel oak clad brewery...

5.6 miles away

Early New England Settlers to the eve of the Civil War, Native American Indians, Quilts and Folk...

5.88 miles away

Lacock village and abbey is famous for its picturesque streets and roles as a television and film...

7.51 miles away

Displays of apparatus and photographs related to Fox Talbot. Gallery with changing exhibitions each...

7.56 miles away

At the Holburne Museum you will find a beautiful and fascinating art collection in one of Bath's...

7.63 miles away

Most attractive and unique complex of 17th Century Almshouses, Schoolroom, Warden's House and...

7.65 miles away

Visit the heart of the World Heritage Site. Around Britain's only hot spring, the Romans built a...

7.79 miles away
Previous
Next