Wilton Shopping Village
Minster Street
Wilton
Salisbury
Wiltshire
SP2 0RS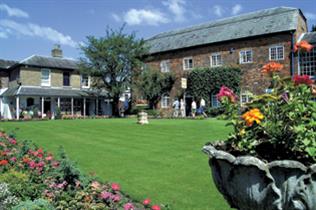 The Wilton Shopping Village offers you a unique experience with a wide selection of shops in a most relaxing riverside environment. New for 2014 is the Fisherton Mill Gallery Shop, Studios and Restaurant all set within the Historic Courtyard. Within the large Edinburgh Woollen Mill store you will find The Village Restaurant as well as a great selection of gifts, ladies and gents clothing as well as a superb selection of Malt Whiskies in the Wilshire Larder. We must also mention that the Shopping Village is the home of Wilton Carpets, they have been trading on the site for more than 300 years and continue to manufacture carpets to this day. In the adjacent park you can enjoy the children's play area or just relax and watch a leisurely game of bowls.
Opening Times
2015
(01/01/2015 - 31/12/2015)
* Mon-Sat 9.30am-5.30pm,
Sun 10.30am-4.30pm.
All year except Christmas Day, Boxing Day and Easter Sunday.

What's Nearby
Explore a treasure trove of amazing artwork in the largest independent art gallery in the South...

2.6 miles away

Discover the story of the original Salisbury with a day out to Old Sarum, 2 miles north of where...

2.68 miles away

The Museum tells the story of the infantryman from the Seven Years War to the present day. On the...

2.79 miles away

Ageas Salisbury International Arts Festival presents a wonderful array of spectacular events....

2.8 miles away

Queen Anne house with magnificent plasterwork, fine oak staircase, period furniture and important...

2.8 miles away

Arundells, the home of former Prime Minister Sir Edward Heath KG MBE.

2.83 miles away

The galleries in the Salisbury Library have been re-named the Young Gallery in the recognition of...

2.84 miles away

Home of the award-winning Wessex Gallery and the 'Amesbury Archer'. Displays reveal the history of...

2.83 miles away

Be inspired by this magnificent medieval cathedral surrounded by 8 acres of lawn and historic...

2.88 miles away

The best way to discover the mysterious stones!

Our distinctive buses with recorded audio...

2.94 miles away

Situated in Grade I Listed buildings in Salisbury's Cathedral Close, Sarum College hosts a regular...

3 miles away

This Medieval church is reached down a narrow lane, over a footpath across a stream and up a steep...

3.09 miles away
Previous
Next