Things To Do in Wiltshire - The Merchant's House - Historic House/Palace in Marlborough, Kennet - VisitWiltshire
The Merchant's House
132 High Street
Marlborough
Wiltshire
SN8 1HN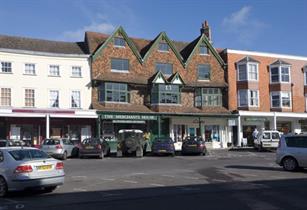 The House of Thomas Bayly was built following the Great Fire of Marlborough in 1653. Over the years 1653-1700 a fine timber and brick building was constructed, its interior panelled, brilliant with wall paintings and with a commanding oak staircase. A substantial amount of this fabric survives and hidden painted decoration is still being revealed.
Many of us are familiar with homes of the aristocracy; here is a rare opportunity to view a 17th century house of the type many of us might have lived in.
Thomas was a prosperous silk mercer whose lifestyle is reflected in the spacious and elegant rooms on show.
The house is a living place. Throughout the season there are demonstrations of costume making, needlework and historic paint conservation. Musicians often play music appropriate to the period.
The conservation that is still taking place makes the Merchant's House a special and unusual visitor attraction. Each year more of its splendours are being revealed and many visitors return regularly to view progress on the project.
There is a shop within The Merchant's House stocking a wide range of gifts to suit all ages and occasions (Shop open throughout the year Mon-Sat: 9.30-5.00).
House open: April to end of October on Tues / Fri / Sat.
Opening Times
2014

(01/04/2014 - 28/10/2014)

Day
Times
Tuesday

10:30

16:00

Friday

10:30

16:00

Saturday

10:30

16:00
* Groups by arrangement at other times
Guided Tour times are 10.30am / 12noon / 1.30pm / 3pm tours generally last between 1 hour and 1 hour 30 mins and include the House & Garden.
What's Nearby
Permanent art and crafts display, coffee and snacks in an historic redundant church at one end of...

0.19 miles away

The Marlborough horse lies in the grounds of Marlborough College and is the smallest horse in...

0.69 miles away

Measuring 90ft by 90ft the Hackpen Hill white horse was carveded to commemorate the Coronation of...

5.18 miles away

Constructed around 3,400 BC West Kennet is one of the largest Neolithic chambers in Britain.

The...

5.27 miles away
Originally erected 4,500 years ago, Avebury is the largest stone circle in the world. In the Old...

5.35 miles away

An extraordinary artificial prehistoric mound, the largest Neolithic construction of its type in...

5.45 miles away

The Alton Barnes horse was cut in 1812 by Robert Pile on his own land.

5.92 miles away

The oldest working steam-powered beam engines in the world still performing the job they were built...

6.24 miles away

The white horse was cut by volunteers from Pewsey Fire Brigade in 1937 to commemorate the...

6.93 miles away

Built in 1821, fully restored as a working windmill. Stoneground flour generally available for...

7.17 miles away

A chalk figure white horse measuring 86ft by 61ft situated on the hill to the east of the village...

8.01 miles away

In Butterfly World and the animal paddock meet the otters and meerkats and visit the Craft Village...

8.57 miles away

The second oldest of Wiltshire's White Horses, situated on the edge of Cherhill Down, off the A4.

8.76 miles away

One of the first churches with an iron frame.

Built by John Morlidge of London for the Astley...

9.59 miles away

The Wyvern Theatre offers a mixed programme of concerts, comedy, dance, drama, musical theatre and...

9.86 miles away

STEAM - Museum of the Great Western Railway is housed in a beautifully restored Grade II railway...

10.21 miles away
Previous
Next