Events & Whats On in Wiltshire - Salisbury Food and Drink Festival - Festival in Salisbury, Salisbury - VisitWiltshire
Salisbury Food and Drink Festival
contact Salisbury Festival
87 Crane Street
Salisbury
Wiltshire
SP1 2PU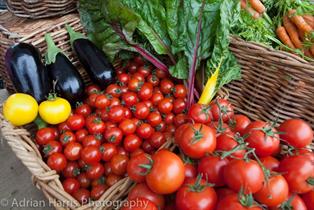 Salisbury Food & Drink Festival is set to be a fantastic week of foodie events, gourmet produce and family fun, bustling in and around the city.
The Festival runs from Monday 15 – Sunday 21 September, concluding with the ever-popular Market Day on Sunday 21 September to celebrate some of the region's finest food and drink.
The Market Day will be bigger than ever, with the newly developed Market Place and Guildhall Square hosting more stalls of organic, gourmet, rustic and international produce than ever before, spreading into the Guildhall, Banqueting Hall and Crown Court.
Escape the stresses and strains of daily life with Wet Picnic - an eccentric ensemble of tea ladies performing explosive and surreal street theatre. Professional chef demonstrations will include Christine Wallace, 2013 Great British Bake Off finalist who loves to put her own twist on traditional bakes but whose passion remains for cakes and sugarcraft; Monica Price, national representative for the 'Love Food Hate Waste' campaign, who will be cooking recipes from the Co-operative Food magazine; Peter Vaughan, founder of Vaughan's Kitchen and The Bistro Devizes, who frequents the small screen on programmes such as Dinner Doctors and BBC Breakfast; Jeff the Chef, a professional chef of over 50 years, who has just returned from a round-the-world gourmet trip.
During the week-long festival, join experts from Neal's Yard to discover the healing potential and dietary benefits of foods and plants in their workshops, rambles and talks for the Festival. River Cottage's foraging expert John Wright will be taking us on his always popular Food Foraging Walk and, new for this year, is John's Cocktail Hour at The Cosy Club, making riotously delicious drinks such as Apple Pie, Pink Pint and Smoking Sloe Gin. For those with a finer palette, come to Cambridge Wines for a sparkling wine tasting evening. Preserving expert from BBC2's The Big Allotment Challenge and cookery columnist for the Daily Telegraph Thane Prince will be sharing her knowledge of creating impeccable preserves. 'Perfect Preserves' will take place in the historic building of Fisherton Mill, a renowned contemporary art gallery and much-loved café.
In partnership with the Festival, Salisbury Arts Centre is hosting the stellar-cast foodie film Chef (2014) starring Jon Favreau, Robert Downey Jr., Scarlett Johansson and Dustin Hoffman, in which a chef's passion for food is reignited when he leaves his job in a prominent LA restaurant and sets up a ramshackle taco truck. Over a joyous road trip, his Cubano sandwiches become an internet sensation and he reconnects with his estranged son, who he brings along as a sous chef. The sizzling script, spicy soundtrack and array of truly mouth-watering food scenes make for an irresistible, feel good delight.
Take advantage of the Food Festival's exclusive events and discounts in association with eateries around the city, offering festival-goers the chance to indulge in a special meal or family activities. Relax into some early autumn festivity with Salisbury Food & Drink Festival for a rural city retreat, to sample the local foods and taste regionally made drinks.
Ticketed events go on sale on 4 August at www.salisburyfestival.co.uk.


What's Nearby
Ageas Salisbury International Arts Festival presents a wonderful array of spectacular events....

0.02 miles away

Queen Anne house with magnificent plasterwork, fine oak staircase, period furniture and important...

0.05 miles away

The Museum tells the story of the infantryman from the Seven Years War to the present day. On the...

0.09 miles away

The galleries in the Salisbury Library have been re-named the Young Gallery in the recognition of...

0.16 miles away
Be inspired by this magnificent medieval cathedral surrounded by 8 acres of lawn and historic...

0.2 miles away

Situated in Grade I Listed buildings in Salisbury's Cathedral Close, Sarum College hosts a regular...

0.22 miles away

Home of the award-winning Wessex Gallery and the 'Amesbury Archer'. Displays reveal the history of...

0.24 miles away

Arundells, the home of former Prime Minister Sir Edward Heath KG MBE

0.24 miles away

The best way to discover the mysterious stones! Our distinctive buses with recorded audio...

0.26 miles away

Explore a treasure trove of amazing artwork in the largest independent art gallery in the South...

0.28 miles away

Discover the story of the original Salisbury with a day out to Old Sarum, 2 miles north of where...

1.77 miles away

Collection of aircraft, cockpits, replicas and models weapons and trials equipment to show the...

2.26 miles away

Wilton House, home to the 18th Earl of Pembroke, provides a fascinating insight into British...

2.67 miles away

The Wilton Shopping Village offers you a unique shopping experience - good value in an historic,...

2.74 miles away

On completion of Wyatt and Brandon's 'Italianate' church in 1845, this 'old' church in the Market...

2.86 miles away

Salisbury Racecourse is one of England's oldest racecourses, racing having taken place at the...

2.87 miles away
Previous
Next