Events & What's On - Salisbury Food and Drink Festival - Festival in Salisbury, Salisbury - VisitWiltshire
Salisbury Food and Drink Festival
contact Salisbury Festival
87 Crane Street
Salisbury
Wiltshire
SP1 2PU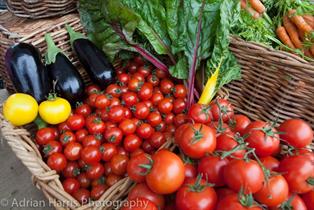 Salisbury Food & Drink Festival is set to be a fantastic week of foodie events, family fun and gourmet produce, in and around the city. Opening with the annual Food & Drink Market Day on Sunday 8th September, local and regional stalls will fill the Market Square and spread into the Guildhall with fresh, local foods and locally made drinks. Let the kids loose at the creative cooking workshop at Dinghams Cookshop, make your own fire-baked pizzas and pop into the Guildhall for professional cookery demonstrations and mini-chef cooking sessions. Look out for Hoodwink street theatre, who will be performing, and listen to the fabulous big band Young Jazz in the afternoon.
In the evening, head over to Salisbury Arts Centre, for 'Romantics Anonymous', an irresistible French fancy of a film directed by Jean-Pierre Améris, in which a socially awkward chocolatière hires the chronically shy and withdrawn Angélique to help revive his ailing business. This endearing romance has already been snapped up for a Hollywood remake and the evening includes a chocolate tasting treat.
Throughout the rest of the Food & Drink Festival, Neal's Yard has arranged various food events for a natural and organic lifestyle, including a herb walk to the Water Meadows and tips about making medicinal home remedies and tasty cordials. River Cottage's John Wright will take a group on a wild food foraging walk around the River Bourne Community Farm. Some of Wiltshire's finest chefs will be joining us to share their expertise with cooking demonstrations. Local hen expert, Charlotte Fyfe, will give a fascinating talk about keeping hens and, whether or not you are keen hen-keeper or a complete beginner, this will be informative for all.
Take advantage of our exclusive Festival Feasts at restaurants, pubs and cafes around the city, offering festival-goers the chance to indulge in everything from a morning coffee and cake, to a delicious evening meal.
Come along to Salisbury Food & Drink Festival for a rural city retreat, to sample the local foods, taste regionally made drinks and relax into some early Autumn festivity.


Opening Times
various times
(15/09/2014 - 21/09/2014)
What's Nearby
Ageas Salisbury International Arts Festival presents a wonderful array of spectacular events....

0.02 miles away

Queen Anne house with magnificent plasterwork, fine oak staircase, period furniture and important...

0.05 miles away

The Museum tells the story of the infantryman from the Seven Years War to the present day. On the...

0.09 miles away

The galleries in the Salisbury Library have been re-named the Young Gallery in the recognition of...

0.16 miles away
Be inspired by this magnificent medieval cathedral surrounded by 8 acres of lawn and historic...

0.2 miles away

Owned and managed by Salisbury City Council, The Guildhall is one of Salisbury's most historic...

0.21 miles away

Situated in Grade I Listed buildings in Salisbury's Cathedral Close, Sarum College hosts a regular...

0.22 miles away

Home of the award-winning Stonehenge Gallery and the 'Amesbury Archer'. Displays reveal the history...

0.24 miles away

Arundells, the home of former Prime Minister Sir Edward Heath KG MBE

0.24 miles away

The best way to discover the mysterious stones! Our distinctive buses with recorded audio...

0.26 miles away

Explore a treasure trove of amazing artwork in the largest independent art gallery in the South...

0.28 miles away

Discover the story of the original Salisbury with a day out to Old Sarum, 2 miles north of where...

1.77 miles away

Collection of aircraft, cockpits, replicas and models weapons and trials equipment to show the...

2.26 miles away

Wilton House, home to the 18th Earl of Pembroke, provides a fascinating insight into British...

2.67 miles away

The Wilton Shopping Village offers you a unique shopping experience - good value in an historic,...

2.74 miles away

On completion of Wyatt and Brandon's 'Italianate' church in 1845, this 'old' church in the Market...

2.86 miles away
Previous
Next