Ideas & Inspiration - Church Farm - Arts Centre in Chippenham, North Wiltshire - VisitWiltshire
Church Farm
Middle Common
Kington Langley
Chippenham
Wiltshire
SN15 5NN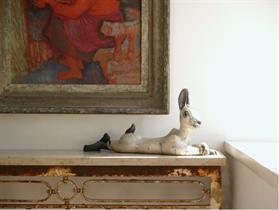 The Barn Gallery is a new contemporary space inside our beautiful 17th century barn. Our aim is to exhibit, promote and support all forms of art and rural crafts and especially encouraging young and un-established artists and crafts people.
As well as an exhibition space the gallery is available for hire for workshops, courses, demonstrations or indeed any artistic function. Though this is a new venue we have already had a number of painting workshops and rural art courses including hedge laying and willow weaving. These are held in the gallery and around the farm, tutored by accomplished local artists and crafts people. With its wide range of idyllic locations, seclusion and comprehensive services, Church Farm offers a practical and inspiring location and we welcome enquiries from artists groups, photographers and tutors.
We are always happy to hear from artists working in any medium who may be interested in exhibiting. Visit our website for details of courses and exhibitions.
Within the Church Farm complex you will also find:
Willow UK - Antiques and Interiors
Armor Paper Conservation
Kings Meadow, a bespoke wedding location
Interior, Antiques and gift shop
Opening Times
2013

(01/01/2013 - 31/12/2013)

Day
Times
Thursday

10:00

17:00

Friday

10:00

17:00

Saturday

10:00

17:00
* When cpurses and exhibits are on we are open all day.
What's Nearby
Most attractive and unique complex of 17th Century Almshouses, Schoolroom, Warden's House and...

5.15 miles away

Lacock village and abbey is famous for its picturesque streets and roles as a television and film...

5.23 miles away

Motor museum with vintage, post-vintage and classic cars, including American models. The Museum...

6.78 miles away

Based in the beautiful county of Wiltshire, close to Bath, Bristol and the Cotswolds, Vintage...

8.14 miles away

Arboretum with over 16,000 rare and beautiful trees, all set in 600 glorious, easy-to-stroll...

8.89 miles away

Bring your family to explore a family run maze in part of what used to be the "Royal Hunting Forest...

10.1 miles away

Boats, locks, aquaducts, landscape and views with a level tow path to walk and cycle. 2010 we saw...

10.56 miles away

Family friendly, self guided Visitor Centre and interactive exhibition – Free entry
On-site Sample...

10.57 miles away

Discover gold from the time of Stonehenge, find out more about ancient Wiltshire, including the...

10.94 miles away

Wiltshire Music Centre is a purpose-built, 300-seat concert hall which attracts...

11.5 miles away

Early New England Settlers to the eve of the Civil War, Native American Indians, Quilts and Folk...

11.65 miles away

Originally erected 4,500 years ago, Avebury is the largest stone circle in the world. In the Old...

11.86 miles away
Previous
Next