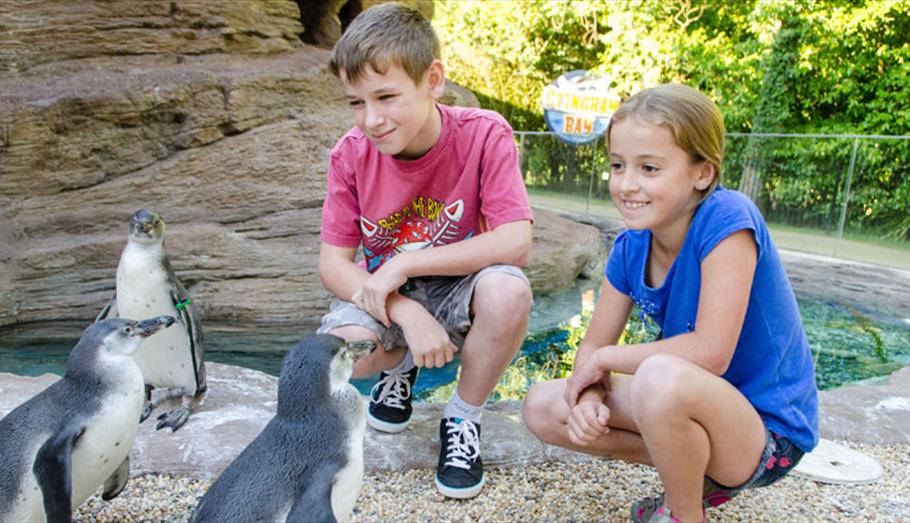 Family Fun in Wiltshire
All legal lockdown restrictions have now been lifted in England. However, some venues may choose to keep requirements around social distancing or mask wearing to keep visitors and staff safe; please check with individual venues for more information.
Are you looking for things to do in Wiltshire with your family? Let us give you some ideas for some great family days out in Wiltshire…
One of Wiltshire's largest family attractions is Longleat featuring Monkey Temple, a Jungle Cruise and Dinosaurs Alive to name but a few of the highlights! Spot some of the animals made famous by the BBC's Animal Park, let off steam in the adventure playground and enjoy the Christmas Festival of Lights.

Feed and stroke an array of animals at Cholderton Rare Breeds Farm, River Bourne Community Farm or Roves Farm. Spot magnificent butterflies at Studley Grange Butterfly World & Craft Village meet various animals at the Cotswold Wildlife Park & Gardens or step aboard a locomotive at STEAM – Museum of the Great Western Railway.

Practice being a knight or a princess and learn about times gone by at one of English Heritage's Old Sarum and Old Wardour Castle events that take place throughout the year or hop onto the Stonehenge Tour Bus for a fascinating insight into Stonehenge.

Visit Bowood House & Gardens with its fantastic adventure playground featuring a pirates' ship and soft-play area or Wilton House with its adventure playground with tree top slides, swing boats and beautiful parklands to explore.

Learn about ghoulish tales and ghostly goings-on in Salisbury with one of the Salisbury City Guides ghost or horrible history tours and visit one of our museums for hands-on learning or how about exploring our towns and villages on a Treasure Trail or having a go at trying to crack the codes at one of these Escape Rooms.
Or how about heading to Wiltshire's very own inland beach or enjoy a spot of cycling around the lakes at Cotswold Water Park.
With gloriuos views of the Cathedral spire, Salisbury Racecourse is one of England most beautiful and historic. Sixteen race meetings take place here between April and October. Accompanied children are always welcome, with entertainments provided for them at weekend and evening meetings.

Wiltshire holds many family friendly events throughout the year, discover more details on our events pages.

And if it rains, don't let that stop you, discover our ideas for rainy days.
Number of results:
Number of results: 147
, currently showing 1 to 20.
TripAdvisor Traveller Rating

1539 reviews

Get up close to magnificent locomotives, be a signalman in the GWR interactive Signal Box and drive the steam train simulator as you travel through STEAM's story-telling displays!

STEAM tells the story of the men and women who built, operated and…

Type

Type:

Cookery School

Pursue your passion for food at the Waitrose Cookery School. If you love preparing and eating good food you'll love the hands-on approach to learning at the Waitrose Cookery Schools.


Type

Type:

Outdoor Activity/Pursuit Centre

Treasure Trails turn an everyday walk into a fabulous day out for the whole family. As you commence your self-guided Wiltshire walk, you'll become immersed in an imaginative tale that twists and turns through a series of crafty clues to crack.

This spectacular country house retreat surrounded by its walled gardens, avenues of beautiful trees and manicured lawns is the perfect natural setting for a luxurious and rejuvenating spa.

TripAdvisor Traveller Rating

1335 reviews

The Wyvern Theatre offers a mixed programme of concerts, comedy, dance, drama, musical theatre and local amateur productions. The theatre was opened by Her Majesty the Queen and His Royal Highness Prince Phillip in September 1971.

TripAdvisor Traveller Rating

71 reviews

Salisbury City Guides are professional Blue Badge tourist guides who offer a wide range of walks, talks and tours, throughout the year, tailored to suit your requirements. We cover many languages and are always pleased to assist with your plans.

TripAdvisor Traveller Rating

232 reviews

Breathtakingly pretty 18th century manor surrounded by award-winning Italianate gardens.

Type

Type:

Chauffeured Tours

We are Salisbury based and our tours are multilingual in German, French, Italian, Japanese and English.


TripAdvisor Traveller Rating

4079 reviews

260 Animal Species, Stunning Gardens, Giraffe Walk-way, Walk with Lemurs, Train, Café, Picnic Areas, Adventure playground, Children's farmyard, Indoor exhibits.

TripAdvisor Traveller Rating

14448 reviews

Stonehenge stands impressively as a prehistoric monument of unique importance, a World Heritage Site, surrounded by remains of ceremonial and domestic structures - some older than the monument itself.

Type

Type:

Animal Collection

In Butterfly World and the animal paddock meet the otters and meerkats and visit the Craft Village offering a huge range of beautiful and interesting handcrafted gifts. Take refreshments in the 'Butterfly Cafe' overlooking the butterfly garden.

Stonehenge and Avebury are listed together as a single UNESCO World Heritage Site. The site is famous for its instantly recognisable stone circles but there is far more to explore in these two remarkable landscapes.

Type

Type:

Parkland/Woodland Garden

Cricklade North meadow is an old hay meadow which is now part of the National Nature Reserve and a Site of Special Scientific Interest. It is most famous for it snakes head fritillaries which come out in late Spring leaving the field sprinkled with…

TripAdvisor Traveller Rating

1634 reviews

Discover the story of the original Salisbury with a day out to Old Sarum, 2 miles north of where the city stands now.

The mighty Iron Age hill fort was where the first cathedral once stood and Romans, Normans and Saxons left their mark.

TripAdvisor Traveller Rating

610 reviews

Collection of aircraft, cockpits, replicas and models weapons and trials equipment to show the story of flight and flight test in the UK.

The cockpits are mostly open and you can sit in and use the controls.

TripAdvisor Traveller Rating

116 reviews

Type

Type:

Family Activities

Explore a treasure trove of amazing artwork in the largest independent art gallery in the South West. Our relaxed and friendly café is a slice of foodie heaven in the heart of Salisbury.

TripAdvisor Traveller Rating

1077 reviews

Type

Type:

Activity Centre

GoSkydive is the UK's leading tandem skydiving centre, solely focused on delivering tandem skydives.

Type

Type:

Heritage/Visitor Centre

Ever wanted to learn about crop circles? Or wanted to meet crop circle enthusiasts to share thoughts with? Or find out about the latest news? If so, come to the Crop Circle Exhibition & Information Centre at the brand new Honeystreet Mill Café at…

TripAdvisor Traveller Rating

23334 reviews

Visit the heart of the World Heritage Site. Around Britain's only hot spring, the Romans built a magnificent temple and bathing complex that still flows with natural hot water.

Type

Type:

Canal / Waterway / Marina

On the Kennet & Avon Canal you will find beauty, history and nature. Tap into its stillness, enjoy a gentle adventure, share your boating stories at canal side cafes or pubs, and live in a space where time moves no faster than a stroll.