Advice
BEWARE - Scam!
We have been informed of a scam that involves somebody to be impersonating VisitWiltshire. We thought it would be best practice to inform all our current partners and any businesses who have had contact with us in the past.
The scam took place yesterday and consisted of a phone call to a small B&B owner. The person on the other end claimed to be 'Stevie' from VisitWiltshire and said that the owner of the B&B could sign up her business for just £9.99. Once payment was received an email will be sent for them to set up her product page.
If you receive a call of this kind please ignore it and hang up! Also, please let us know and try to take a note of the number that called you. We are doing all we can to investigate this scam and we have also informed Wiltshire Trading Standards.
COVID-19 (Coronavirus) Advice
The best way to keep up to date with what VisitWiltshire is doing during this time and other industry relevant news, is through our regular e-newsletters. You can see the latest one here, released 25 September 2020. We have recently updated this page with the latest government announcement in regards to the re-opening from 4 July.
We're closely monitoring the Coronavirus (COVID-19) situation as it develops to ensure that we are in the best position to support Wiltshire tourism businesses and ascertain where support is needed, which will be fed back to VisitBritain and the Government's Tourism Industry Emergency Response Group. VisitWiltshire are here to support businesses, offer 1:1 advice so please let us know if you need anything.

As standard, businesses and visitors alike should follow all current government guidance to minimise the spread of the virus and protect the safety and welfare of vulnerable individuals. This page will continue to be updated as new information is made available so that you have access to the latest advice.
---
Latest Announcement from the Government
This week the government revealed plans for stricter social distancing measures and the 'rule of six' to be introduced from Monday 14 September. You can see the most relevant points to tourism and hospitality industry here.
This week the government revealed plans for stricter measures and new guidleines in attempt to curb the recent spike in cases of COVID-19. You can see the most relevant points to the tourism and hospitality industry HERE. This includes updates on Track & Trace, Face Masks, Group Travel, Meetings and the Rule of Six. UKHospitality have produced a useful FAQ document to help clear up any confusion on the latest announcements. You can see the document HERE.

Job Support Scheme
This week the Chancellor confirmed that the Furlough Scheme will come to and end at the end of October. He announced that this would be replaced by a Job Support Scheme. There was also an update on the repayment of loans and VAT. See HERE for more details.
---
Tourism ERDF Recovery Grants for SMEs
The Swindon and Wiltshire Growth Hub has announced the application window for the European Regional Development Fund (ERDF) recovery grants is now open. The grants will be available to small and medium enterprises (SMEs) which have been affected following the Coronavirus pandemic.
The grants will predominately be between £1,000 and £3,000 and the money is a 100 percent government grant containing no obligation for businesses to contribute financially.
Although this fund is for capital only, there is a wide range of eligible expenditure. If you have any questions or would like further help please don't hesitate get in touch with David.
You can see the guidance notes, eligibility and apply HERE.
---
Re-opening on 4 July
The government has announced that the next stage of re-opening of businesses can take place on 4 July. This applies to a number of our partners including accommodation, food and drink and attraction businesses.
The government has released top line guidance for the visitor economy, which includes;
Hotels and other guest accommodation (including self-catering accommodation, B&Bs, hostels, camping, holiday homes, caravan parks, boats and other types of accommodation including short-term letting). This guidance should be read in conjunction with the working safely in hotels and other accommodation guidance.
Indoor and outdoor attractions (e.g. arcades, walking tours, theme parks, family entertainment centres, static funfairs, zoos, and aquariums). The events and entertainment guidance may also be useful for attractions that move around (e.g. roving funfair)s to be published shortly.
Although not included in announcement of businesses that can reopen on 4th July, the guidance also covers business events and consumer shows (e.g. events taking place in meetings, conference, convention and exhibition centres),
https://www.gov.uk/guidance/working-safely-during-coronavirus-covid-19/the-visitor-economy
At the end of this top level guidance there is a section on further guidance which contains link to protocols that have been developed to help different types of businesses implement this guidance on their premises.
The government has also released updated guidance for Pubs and Restaurants. You can see the document here.
More general guidance has also been issued on what you can and can't do after the 4 July here, and some FAQ's here.
---
VAT Reduction
The Chancellor announced a hugely significant series of measures specifically to support the tourism economy, notably a reduction in VAT from 20% to 5% for the attractions, accommodation and hospitality sectors. The Treasury estimates that the value of this measure alone is worth £4billion, the greatest single financial package of assistance for any part of the economy. You can see the guidance here and more information on which attractions are eligible here.

---
VisitEngland 'We're Good To Go' Industry Standard
The 'We're Good To Go' industry standard and supporting mark means businesses across the sector can demonstrate that they are adhering to the respective Government and public health guidance, have carried out a COVID-19 risk assessment and check they have the required processes in place. The scheme is free to join and open to all businesses across the sector.
Businesses just need to complete a self-assessment through our online platform including a check-list confirming they have put the necessary processes in place.
An 'alert' system has also been set up to ensure that businesses signed up to the 'We're Good To Go' industry standard are notified if there are changes to the official guidance.
Alongside the industry standard, VisitEngland have launched a 'Know Before You Go' public information campaign to reassure visitors as restrictions are lifted, on what it is safe to do and when, and sign-posting to information before travelling. You can take part in the campaign and download a free toolkit. For full details visit the website.
As part of the campaign we have created some Wiltshire specific banners. You're more than welcome to use these banners on your web pages or social media or web pages. Banner 1. Banner 2. You can see some great examples from Rollestone Manor here and here.
The AA scheme is also now live and can be accessed here https://www.ratedtrips.com/aa-covid-confident. This is not another set of Guidelines This also an online, free COVID Certification Scheme.
---
VisitBritain COVID-19 - Latest Information & Guidance for tourism businesses

VisitBritain/VisitEngland have set up a page dedicated to the latest support available, from funding to looking after employees at this difficult time
It is reviewed and updated regularly.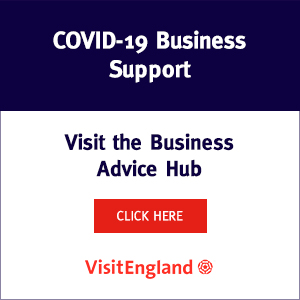 The Government office have set up website to ensure you have up to date access to COVID-19 business support and which hosts all the details of the schemes the Chancellor has announced.
https://www.businesssupport.gov.uk/coronavirus-business-support/
A new 'support finder' tool has been launched to help businesses and self-employed people across the UK to determine what financial support is available to them during the COVID-19 pandemic.
DCMS have released some guidelines for accommadation businesses during the COVID-19 outbreak. You can see the details of these guidelines here.
---
Uk Hospitality have drafted advice and risk assessment for hospitality businesses. you can see the DRAFT document here.
Hotel Solutions latest 'From Survival to Recovery' report.
---
Government's Plan for Recovery
With the release of the Government's Road map, here are the main other announcements. The most important of which is the FAQ on the relaxation of lockdown rules.
Help and support if your business is affected by coronavirus
https://www.gov.uk/guidance/help-and-support-if-your-business-is-affected-by-coronavirus-covid-19#history
Reallocating Road Space in Response to COVID-19
https://www.gov.uk/government/publications/reallocating-road-space-in-response-to-covid-19-statutory-guidance-for-local-authorities
https://www.gov.uk/government/news/2-billion-package-to-create-new-era-for-cycling-and-walking
No Quarantine Between the UK and France
https://www.gov.uk/government/news/joint-statement-between-the-uk-and-france-10-may-2020
---
Business Grant Schemes
http://www.wiltshire.gov.uk/business-advice-support-covid19.
Wiltshire Cuuncil have also set up a dedicated contact centre for COVID-19 business support and businesses who have queries on the grant process or require further information and advice can contact them on Covid-19BusinessSupport@wiltshire.gov.uk
---
We are updating this page on a regular basis (last updated 11:00am 25 June 2020)