Advice
COVID-19 (Coronavirus) Advice - Updated 8 January 2021
The best way to keep up to date with what VisitWiltshire is doing during this time and other industry relevant news, is through our regular e-newsletters. You can see the latest one here, released 7 January 2020.
We're closely monitoring the Coronavirus (COVID-19) situation as it develops to ensure that we are in the best position to support Wiltshire tourism businesses and ascertain where support is needed, which will be fed back to VisitBritain and the Government's Tourism Industry Emergency Response Group. VisitWiltshire are here to support businesses, offer 1:1 advice so please let us know if you need anything.

As standard, businesses and visitors alike should follow all current government guidance to minimise the spread of the virus and protect the safety and welfare of vulnerable individuals. This page will continue to be updated as new information is made available so that you have access to the latest advice.
---
Latest Announcement from the Government
After the Prime Ministers announcement on Monday, England is now in a full national lockdown. you can see the general 'stay at home' guidance here. The more detailed guidance for the Visitor Economy here, and the key points below.
Business required to close are:
indoor and outdoor leisure, games and recreation facilities such as bowling alleys, skating rinks, go-karting venues, indoor play and soft play centres and areas (including inflatable parks and trampolining centres), circuses, fairgrounds, funfairs, water parks and theme parks, animal attractions (such as zoos, safari parks, aquariums, and wildlife centres).
indoor attractions at venues such as botanical gardens, heritage homes and landmarks must also close, though outdoor grounds of these premises can stay open for outdoor exercise
entertainment venues such as theatres, concert halls, cinemas, museums and galleries, casinos, arcades and bingo halls
personal care facilities such as hair, beauty and nail salons, spas, and massage parlours all non-essential retail, including travel agents, market stalls selling non-essential goods and vehicle showrooms.
hospitality venues such as cafes, restaurants, pubs, bars and social clubs; with the exception of providing food and non-alcoholic drinks for takeaway (until 11pm), click-and-collect and drive-through. All food and drink (including alcohol) can continue to be provided by delivery.
accommodation such as hotels, hostels, guest houses and campsites, except for specific circumstances, such as where these act as someone's main residence, where the person cannot return home, for providing accommodation or support to the homeless, or where it is essential to stay there for work purposes. Restaurants and bars within guest accommodation should remain closed although food and/or drink including alcohol can be provided through room service as long as it is ordered by phone or online. Communal spaces such as lounges or lobbies may remain open to guests but no food or drink should be served in these spaces, people should be encouraged not to gather and social distancing should be observed. Further information can be found in the guidance for hotels and other guest accommodation.
leisure and sports facilities such as gyms, swimming pools, sports courts and fitness studios including those within guest accommodation. Outdoor sports courts, outdoor gyms, golf courses, outdoor swimming pools, archery/driving/shooting ranges and riding arenas must also close.
permitted venues, including exhibition and conference centres, can hire out function and event spaces for essential work, education and training purposes, where these events cannot reasonably be conducted remotely. However, they must not host conferences, exhibitions, trade shows, private dining events or banquets.
in-person meetings for work, training or education purposes should only take place where they cannot be delayed or reasonably be conducted remotely, and only where social distancing can be maintained and the venue can demonstrate it has followed COVID-19 guidance.
Travel Agents have joined the list of businesses legally required to close. This means that they should now be eligible for the LRSG (Closed) ABTA is currently seeking confirmation on this.
Travel
People must not leave home without a reasonable excuse (for example, for work or education purposes). If travel is necessary people should stay local and look to reduce the number of journeys.
The most relevant reasons that people can leave their home and area for our partners include, but are not limited to:
Overnight stays and holidays away from primary residences will not be allowed - including holidays in the UK and abroad. This includes staying in a second home or caravan, or people staying with anyone they do not live with or are not in a support bubble with. There are specific exceptions, for example if people need to stay away from home (including in a second home) for work or education purposes.
When travel is necessary and staying in hotels and other guest accommodation required, we expect people to act responsibly, in line with government regulations and guidance. Guest accommodation providers such as hotels, B&Bs and caravan parks may remain open for the specific reasons set out in law, including where guests are unable to return to their main residence, use that guest accommodation as their main residence, need accommodation while moving house, are self-isolating as required by law, or would otherwise be made homeless as a result of the accommodation closing.
At the time that restrictions are brought in, if people are currently on holiday and it is not reasonable for them to curtail their stay, they should finish their holiday as planned. People should return home as soon as practical and comply with the 'stay at home' requirements whilst in holiday accommodation in the meantime. Further information can be found in the guidance for hotels and other guest accommodation.
People can only travel internationally – or within the UK – where they first have a legally permitted reason to leave home and should consider the public health advice in the country they are visiting. If overseas travel is required (and legally permitted, for example, because it is for work), travellers should look at the rules in place at their destination and the Foreign, Commonwealth and Development Office (FCDO) travel advice.
UK residents currently abroad do not need to return home immediately.
International visitors may continue to enter the country, subject to the existing Travel Corridor rules. Whilst here, international visitors should adhere to all national lockdown regulations and guidance.
---
Coronavirus Job Retention Scheme (CJRS)
Coronavirus Job Retention Scheme step by step guide for employers has also been updated to reflect recent changes to the scheme.
---
Latest Grants Available
The Chancellor has announced grants for businesses in the retail, hospitality and leisure sectors.
The one-off top-up grants will be provided on a per property basis to businesses closed as a result of the latest restrictions. These are additional to existing grant schemes.

A further £594 million is also being made available for Local Authorities and the Devolved Administrations to support other businesses not eligible for the grants, that might be affected by the restrictions.

You can see more details here, and we will inform all our partners of the detail, guidance and how to apply when the information becomes available. In the meantime you can keep an eye on the Wiltshire Council business advice page here, for further information. Check if your business is eligible for a grant due to national restrictions (for closed businesses).
Loan Application Deadlines
The application deadlines for the Coronavirus Bounce Back Loan, Coronavirus Business Interruption Loan, Coronavirus Large Business Interruption Loan Scheme and Coronavirus Future Fund have been extended until 31 January 2021
---
VisitEngland 'We're Good To Go' Industry Standard
The 'We're Good To Go' industry standard and supporting mark means businesses across the sector can demonstrate that they are adhering to the respective Government and public health guidance, have carried out a COVID-19 risk assessment and check they have the required processes in place. The scheme is free to join and open to all businesses across the sector.
Businesses just need to complete a self-assessment through our online platform including a check-list confirming they have put the necessary processes in place.
An 'alert' system has also been set up to ensure that businesses signed up to the 'We're Good To Go' industry standard are notified if there are changes to the official guidance.
Alongside the industry standard, VisitEngland have launched a 'Know Before You Go' public information campaign to reassure visitors as restrictions are lifted, on what it is safe to do and when, and sign-posting to information before travelling. You can take part in the campaign and download a free toolkit. For full details visit the website.
As part of the campaign we have created some Wiltshire specific banners. You're more than welcome to use these banners on your web pages or social media or web pages. Banner 1. Banner 2. You can see some great examples from Rollestone Manor here and here.
The AA scheme is also now live and can be accessed here https://www.ratedtrips.com/aa-covid-confident. This is not another set of Guidelines This also an online, free COVID Certification Scheme.
---
VisitBritain COVID-19 - Latest Information & Guidance for tourism businesses

VisitBritain/VisitEngland have set up a page dedicated to the latest support available, from funding to looking after employees at this difficult time
It is reviewed and updated regularly.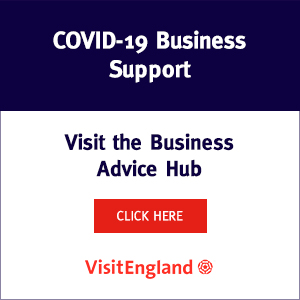 The Government office have set up website to ensure you have up to date access to COVID-19 business support and which hosts all the details of the schemes the Chancellor has announced.
https://www.businesssupport.gov.uk/coronavirus-business-support/
A new 'support finder' tool has been launched to help businesses and self-employed people across the UK to determine what financial support is available to them during the COVID-19 pandemic.
DCMS have released some guidelines for accommadation businesses during the COVID-19 outbreak. You can see the details of these guidelines here.
---
Business Grant Schemes
http://www.wiltshire.gov.uk/business-advice-support-covid19.
Wiltshire Council have also set up a dedicated contact centre for COVID-19 business support and businesses who have queries on the grant process or require further information and advice can contact them on Covid-19BusinessSupport@wiltshire.gov.uk
---
BEWARE - Scam!
We have been informed of a scam that involves somebody to be impersonating VisitWiltshire. We thought it would be best practice to inform all our current partners and any businesses who have had contact with us in the past.
The scam took place yesterday and consisted of a phone call to a small B&B owner. The person on the other end claimed to be 'Stevie' from VisitWiltshire and said that the owner of the B&B could sign up her business for just £9.99. Once payment was received an email will be sent for them to set up her product page.
If you receive a call of this kind please ignore it and hang up! Also, please let us know and try to take a note of the number that called you. We are doing all we can to investigate this scam and we have also informed Wiltshire Trading Standards.
---
We are updating this page on a regular basis (last updated 10:00 8 January 2021)