Advice
COVID-19 (Coronavirus) Advice - Updated 23 February 2021
The best way to keep up to date with what VisitWiltshire is doing during this time and other industry relevant news, is through our regular e-newsletters. You can see the latest one here, released 29 March 2021.
We're closely monitoring the Coronavirus (COVID-19) situation as it develops to ensure that we are in the best position to support Wiltshire tourism businesses and ascertain where support is needed, which will be fed back to VisitBritain and the Government's Tourism Industry Emergency Response Group. VisitWiltshire are here to support businesses, offer 1:1 advice so please let us know if you need anything.

As standard, businesses and visitors alike should follow all current government guidance to minimise the spread of the virus and protect the safety and welfare of vulnerable individuals. This page will continue to be updated as new information is made available so that you have access to the latest advice.
---
Latest Announcement from the Government
Roadmap for easing of restrictions in England announced
The Prime Minister has announced the government roadmap that outlines how lockdown restrictions will be eased in England. The roadmap is in four steps. Before proceeding to the next step, the Government will examine the data to assess the impact of previous steps.
This assessment will be based on four tests:
The vaccine deployment programme continues successfully.
Evidence shows vaccines are sufficiently effective in reducing hospitalisations and deaths in those vaccinated.
Infection rates do not risk a surge in hospitalisations which would put unsustainable pressure on the NHS.
Assessment of the risks is not fundamentally changed by new variants of concern.
There will be a minimum of five weeks between each step: four weeks for the data to reflect changes in restrictions; followed by seven days' notice of the restrictions to be eased.
The full roadmap document is available here. A simplified table of the steps is available on pages 47-48. See below for a summary of the key points:
Step 1 (two parts split between 8 and 29 March)
From 8 March:
People will be allowed to spend time in outdoor public spaces for recreation on their own, with one other person, or with their household or support bubble. People must continue to maintain social distance from those outside their household. This is in addition to outdoor exercise which is already permitted.
There will continue to be restrictions on international travel. Holidays will not be a permitted reason to travel. Those seeking to leave the UK must complete an outbound declaration of travel form ahead of departure.
From 29 March
People will no longer be legally required to stay at home, but some restrictions will remain such as continuing to work from home where possible and minimising all travel. The rule of six will return for outdoors, and meetings of two households will also be permitted. This includes in private gardens.
Outdoor sports and leisure facilities will be able to reopen and formally organised outdoor sports will be able to resume, subject to guidance.
Step 2 – from 12 April at the earliest, subject to an assessment of the data against the four tests
Outdoor gatherings must still be limited to 6 people or 2 households as in Step 1, and no indoor mixing will be allowed unless otherwise exempt. Additional premises will be able to reopen but should only be visited alone or with household groups:
Non-essential retail
Personal care premises such as hairdressers, salons and close contact services
Indoor leisure facilities such as gyms and spas (but not including saunas and steam rooms, which are due to open at Step 3).
Public buildings such as libraries and community centres
Hospitality venues for outdoor service, without any curfew or the requirement for alcohol to be accompanied by a substantial meal - customers must order, eat and drink while seated.
Most outdoor settings and attractions including outdoor hospitality, zoos, theme parks, drive-in cinemas/performances/events will reopen
In addition:
Domestic overnight stays will be allowed and self-contained accommodation - those that do not require shared use of bathing, entry/exit, catering or sleeping facilities - can also reopen, though must only be used by members of the same household.
Weddings, receptions, and commemorative events including wakes will be able to take place with up to 15 attendees (in premises that are permitted to open).
International holidays will not be permitted.
All newly open settings must abide by the social contact rules. This will be accompanied by mitigations including workforce testing and continued social distancing guidance. People should continue to work from home where they can and minimise domestic travel where they can. International holidays will still be prohibited.
Step 3 – from 17 May at the earliest and at least five weeks after Step 2
Most legal restrictions on meeting others outdoors will be lifted, but gatherings of more than 30 people outdoors will remain illegal. Indoors, people will be able to meet socially in a group of 6, or with 1 other household (though it may be possible to go further than this at Step 3 depending on the data). COVID-Secure guidance will remain in place and premises must not cater for groups larger than the legal limits.
Sectors which will reopen include:
Indoor hospitality, with no requirement for a substantial meal to be served alongside alcoholic drinks, and no curfew. The requirement to order, eat and drink while seated ('table service') will remain;
Remaining outdoor entertainment, such as outdoor theatres and cinemas;
Indoor entertainment, such as museums, cinemas and children's play areas;
Remaining accommodation, such as hotels, hostels and B&Bs;
Adult indoor group sports and exercise classes; and
Some large events, including conferences, theatre and concert performances and sports events.
Controlled indoor events of up to 1,000 people or 50% of a venue's capacity, whichever is lower, will be permitted, as will outdoor events with a capacity of either 50% or 4,000 people, whichever is lower.
The Government will also make a special provision for large, outdoor, seated venues where crowds can be safely distributed, allowing up to 10,000 people or 25% of total seated capacity, whichever is lower.
In addition, pilots will run as part of the Events Research Programme to examine how such events can take place without the need for social distancing using other mitigations such as testing.
In addition
Weddings, receptions, funerals, and commemorative events including wakes can proceed with up to 30 attendees.
A broader range of stand-alone life events will also be permitted at this step, including bar mitzvahs and christenings.
Step 4 – from 21 June at the earliest, and at least five weeks after Step 3
With appropriate mitigations in place, by Step 4, the Government aims to remove all legal limits on social contact, reopen the remaining closed settings, including nightclubs and enable large events, including theatre performances, above the Step 3 capacity restrictions (subject to the outcome of the scientific Events Research Programme) and remove all limits on weddings and other life events, subject to the outcome of the scientific Events Research Programme.
In parallel to these steps, four formal reviews will also take place on the issues of:
Social distancing and face masks
The resumption of international travel – the global Travel Taskforce will report on 12 April with recommendations aimed at facilitating a return to international travel as soon as possible while still managing the risk from imported cases and variants of concern. Following that, the Government will determine when international travel should resume, which will be no earlier than 17 May.
COVID status certification to enable reopening of businesses, mindful of discrimination and privacy
The return of major events.
Further details of business support will come from the Chancellor's budget next Wednesday. A plan for reacting to local outbreaks will also be published next month, with measures to tackle new variants. The Prime Minister could not rule out implementing restrictions at a local level if required.
---
Tourism Industry Roadmap Q&A
DCMS have updated the Q&A paper on reopening with guidance on a range of issues that effect the tourism industry, including new information on Coach Tours, Heritage Railways and Outdoor Water Parks. You can see the full document here.
---
Coronavirus Job Retention Scheme (CJRS)
Coronavirus Job Retention Scheme step by step guide for employers has also been updated to reflect recent changes to the scheme.
---
Latest Grants Available
Just a reminder that a number of grants are available for businesses who have been forced to close. The applications are made through your local authority and are now open. If you are located in Wiltshire the best place to find out if your eligible and apply is the Coronavirus business support grants page. They have a dedicated email address for business support queries at covid-19businesssupport@wiltshire.gov.uk and you can Sign up to their newsletter to find out about future funding opportunities as they are launched. For our partners who fall under Swindon Borough Council you can check your eligibility and apply for grants here.
The government will provide 'Restart Grants' in England of up to £6,000 per premises for non-essential retail businesses and up to £18,000 per premises for hospitality, accommodation, leisure, personal care and gym businesses. The government is also providing all local authorities in England with an additional £425 million of discretionary business grant funding, on top of the £1.6 billion already allocated;
The Restart Grant is a one-off grant
Businesses will be eligible for this support from 1 April 2021 and Local Authorities must not make payments to businesses before this date
Local Authorities will be responsible for determining whether businesses are entitled to a grant under the non-essential retail thresholds, or under the hospitality, accommodation, leisure, personal care and gym business thresholds
Loan Application Deadlines
The application deadlines for the Coronavirus Bounce Back Loan, Coronavirus Business Interruption Loan, Coronavirus Large Business Interruption Loan Scheme and Coronavirus Future Fund have been extended until 31 January 2021
---
VisitEngland 'We're Good To Go' Industry Standard
The 'We're Good To Go' industry standard and supporting mark means businesses across the sector can demonstrate that they are adhering to the respective Government and public health guidance, have carried out a COVID-19 risk assessment and check they have the required processes in place. The scheme is free to join and open to all businesses across the sector.
Businesses just need to complete a self-assessment through our online platform including a check-list confirming they have put the necessary processes in place.
An 'alert' system has also been set up to ensure that businesses signed up to the 'We're Good To Go' industry standard are notified if there are changes to the official guidance.
Alongside the industry standard, VisitEngland have launched a 'Know Before You Go' public information campaign to reassure visitors as restrictions are lifted, on what it is safe to do and when, and sign-posting to information before travelling. You can take part in the campaign and download a free toolkit. For full details visit the website.
As part of the campaign we have created some Wiltshire specific banners. You're more than welcome to use these banners on your web pages or social media or web pages. Banner 1. Banner 2. You can see some great examples from Rollestone Manor here and here.
The AA scheme is also now live and can be accessed here https://www.ratedtrips.com/aa-covid-confident. This is not another set of Guidelines This also an online, free COVID Certification Scheme.
---
VisitBritain COVID-19 - Latest Information & Guidance for tourism businesses

VisitBritain/VisitEngland have set up a page dedicated to the latest support available, from funding to looking after employees at this difficult time
It is reviewed and updated regularly.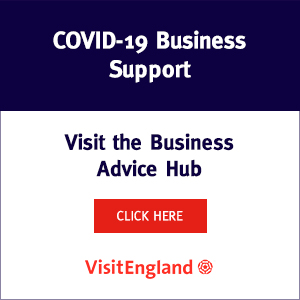 The Government office have set up website to ensure you have up to date access to COVID-19 business support and which hosts all the details of the schemes the Chancellor has announced.
https://www.businesssupport.gov.uk/coronavirus-business-support/
A new 'support finder' tool has been launched to help businesses and self-employed people across the UK to determine what financial support is available to them during the COVID-19 pandemic.
DCMS have released some guidelines for accommadation businesses during the COVID-19 outbreak. You can see the details of these guidelines here.
---
Business Grant Schemes
http://www.wiltshire.gov.uk/business-advice-support-covid19.
Wiltshire Council have also set up a dedicated contact centre for COVID-19 business support and businesses who have queries on the grant process or require further information and advice can contact them on Covid-19BusinessSupport@wiltshire.gov.uk
---
BEWARE - Scam!
We have been informed of a scam that involves somebody to be impersonating VisitWiltshire. We thought it would be best practice to inform all our current partners and any businesses who have had contact with us in the past.
The scam took place yesterday and consisted of a phone call to a small B&B owner. The person on the other end claimed to be 'Stevie' from VisitWiltshire and said that the owner of the B&B could sign up her business for just £9.99. Once payment was received an email will be sent for them to set up her product page.
If you receive a call of this kind please ignore it and hang up! Also, please let us know and try to take a note of the number that called you. We are doing all we can to investigate this scam and we have also informed Wiltshire Trading Standards.
---
We are updating this page on a regular basis (last updated 10:45 23 February 2021)