Advice
COVID-19 (Coronavirus) Advice - Updated 26 July 2021
The best way to keep up to date with what VisitWiltshire is doing during this time and other industry relevant news, is through our regular e-newsletters. You can see the latest one here, released 7 July 2021.

As standard, businesses and visitors alike should follow all current government guidance to minimise the spread of the virus and protect the safety and welfare of vulnerable individuals.
---
Latest Announcement from the Government
Step 4 Re-opening
The Government has updated the Primary Guidance for tourism businesses which you can see here . From Step 4, legal restrictions can be lifted, all businesses can open and the government is no longer instructing people to work from home. To support businesses through this next phase, the 'Working Safely' guidance will continue to provide advice on sensible precautions employers can take to manage risk and support their staff and customers. This includes requiring businesses to carry out a health and safety risk assessment and to take reasonable mitigating actions. Here are the links to relevant guidance documents;
Hotels and guest accommodation
Restaurants, pubs, bars, cafes, nightclubs or takeaways
Events and attractions guidance
---
Coronavirus Job Retention Scheme (CJRS)
Coronavirus Job Retention Scheme step by step guide for employers has also been updated to reflect recent changes to the scheme.
---
Latest Grants Available
Just a reminder that a number of grants are available for businesses who have been forced to close. The applications are made through your local authority and are now open. If you are located in Wiltshire the best place to find out if your eligible and apply is the Coronavirus business support grants page. They have a dedicated email address for business support queries at covid-19businesssupport@wiltshire.gov.uk and you can Sign up to their newsletter to find out about future funding opportunities as they are launched. For our partners who fall under Swindon Borough Council you can check your eligibility and apply for grants here.
---
VisitEngland 'We're Good To Go' Industry Standard
The 'We're Good To Go' industry standard and supporting mark means businesses across the sector can demonstrate that they are adhering to the respective Government and public health guidance, have carried out a COVID-19 risk assessment and check they have the required processes in place. The scheme is free to join and open to all businesses across the sector.
Businesses just need to complete a self-assessment through our online platform including a check-list confirming they have put the necessary processes in place.
An 'alert' system has also been set up to ensure that businesses signed up to the 'We're Good To Go' industry standard are notified if there are changes to the official guidance.
Alongside the industry standard, VisitEngland have launched a 'Know Before You Go' public information campaign to reassure visitors as restrictions are lifted, on what it is safe to do and when, and sign-posting to information before travelling. You can take part in the campaign and download a free toolkit. For full details visit the website.
As part of the campaign we have created some Wiltshire specific banners. You're more than welcome to use these banners on your web pages or social media or web pages. Banner 1. Banner 2. You can see some great examples from Rollestone Manor here and here.
The AA scheme is also now live and can be accessed here https://www.ratedtrips.com/aa-covid-confident. This is not another set of Guidelines This also an online, free COVID Certification Scheme.
---
VisitBritain COVID-19 - Latest Information & Guidance for tourism businesses

VisitBritain/VisitEngland have set up a page dedicated to the latest support available, from funding to looking after employees at this difficult time
It is reviewed and updated regularly.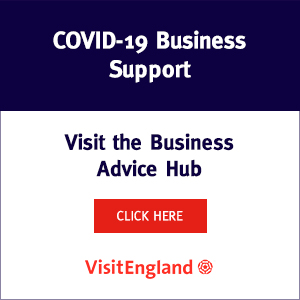 The Government office have set up website to ensure you have up to date access to COVID-19 business support and which hosts all the details of the schemes the Chancellor has announced.
https://www.businesssupport.gov.uk/coronavirus-business-support/
A new 'support finder' tool has been launched to help businesses and self-employed people across the UK to determine what financial support is available to them during the COVID-19 pandemic.
---
We are updating this page on a regular basis (last updated 11:11 24 May 2021)