Marketing Update 17 February 2015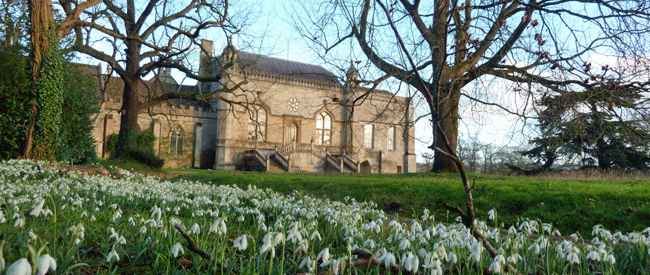 Marketing Opportunities - Three fantastic ways to promote your business in 2015
Advertising - Cities campaign gets underway
PR - VisitWiltshire features in Conde Nast and Lonely Planet
Website and Digital - New video goes live
Travel Trade - Mailing, exhibitions, fam visits and more
Marketing Evaluation - VisitWiltshire activity achieves a return per pound invested of £34
Brand Positioning - Heavenly plan now available
Photography - Additional photo shoot coming soon
---
2015 Tourism Conference and Exhibition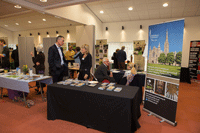 VisitWiltshire's annual Tourism Conference and Exhibition will take place in Salisbury on Wednesday 18 March 2015 - further information is available on our website.
The Exhibition is an excellent opportunity for you to showcase your business and distribute literature on a stand FREE of charge. If you are interested in taking a stand at the Exhibition, please email Jenny Butler to request a booking form as soon as possible, as space is filling up fast. Further details will be confirmed to exhibitors nearer the time.
Reservations for the Conference are being handled separately - in order to reserve your seat please email Theresa Hopwood.
Familiarisation Passport 2015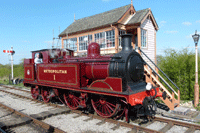 This year VisitWiltshire will once again be producing its very popular Familiarisation Passport. The Fam Passport gives fellow VisitWiltshire members and their staff (as well as bona fide journalists, travel agents, and tour operators/group travel organisers on pre-arranged reconnaissance visits) the opportunity to visit attractions and other businesses around the county free of charge – by knowing at first-hand what is available locally, we can all work together to help our visitors make the most of their stay.
If you would like to take part in this initiative please email Jenny Butler as soon as possible to request a form.
Online Special Offer Vouchers 2015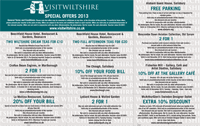 For 2015 we will once again be giving all VisitWiltshire partners the opportunity to promote your business to consumers and others by providing an online Special Offer Voucher. Your voucher will be included on a pdf downloadable from our website which is on track to receive one million unique visitors per annum.
If you would like to promote your business in this way, please email Jenny Butler as soon as possible to request a booking form. It is hoped to have the pdf up and running on our website in time for Easter.
---
VisitEngland Heritage Cities Campaign
VisitEngland's latest cities campaign – entitled Heritage Breaks in Spring – launched this month and includes radio and digital activity, a competition and experiences on the VisitEngland website.
VisitWiltshire's cities campaign ties in with the VisitEngland one. Launched in mid-January its aims are to attract more visitors to stay in Salisbury, increase the profile of the city as a short break destination, increase awareness of heritage and the 800th anniversary of Magna Carta, and increase the dwell time of visitors to the city.
Campaign activity includes 150,000 copies of an inspirational 8-page leaflet in the Telegraph and the Times, advertising panels on South West Trains, an affinity newsletter, a dedicated web page, PR and social media, plus online and radio activity with VisitEngland. an e-newsletter to over 38,000 names.
Additional 2015 Campaigns
Further campaigns for late spring and autumn 2015 are currently being worked on – details to follow.
Pay Per Click Advertising
Paid search is used to capture quality leads and deliver traffic to the VisitWiltshire website. Activity is divided into two campaigns: accommodation and things to do. During January emphasis was places on capturing accommodation queries and campaign performance was exceptionally strong, with high click through rates (2.09%) and conversion rates (36.45%). This was particularly impressive given the high level of competition at this time. In addition, the campaign secured quality visitors who viewed an average of 7.15 pages per visit. Performance on the things to do campaign was also strong, securing high quality visitors during January with strong performance metrics across the board.
App Extensions
Paid search ads within the accommodation and things to do campaigns that are served to individuals on Apple or Android devices have the opportunity to direct traffic to the appropriate version of the VisitWiltshire mobile app. During January a total of 19,504 impressions were served, achieving a click through rate of 1.9%.
Online Display Advertising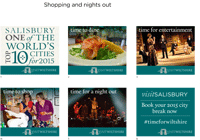 Display activity used contextual and behavioural targeting to raise awareness of Wiltshire's USPs among core audiences and influence their future search and booking habits. As such, display is a strong source of new visitors, with 94.86% of traffic during January being new visitors. At 0.42% the click through rate remains similar to previous months. The display campaign secured coverage across a wide variety of placements, including high profile and high traffic websites such as Telegraph, Independent, Ebay, Mumsnet, YouTube, DigitalSpy, DailyMotion, Zoopla and Blogspot.
In-App Advertising
In-App advertising specifically targets users of mobile phones and tablet computers from within ad-supported iOS and Android applications. VisitWiltshire's In-App ads directly promote downloads of our applications for iOS and Android devices. During January a total of 293,670 impressions were served.
Personalised Partner Marketing
If you are interested in working with us on a bespoke marketing campaign, please contact fionaerrington@visitwiltshire.co.uk
---
Press Coverage
Key PR features secured as a result of VisitWiltshire press activity include:
The Independent on Sunday – 25 January 2015
A Charter Tour of English Freedoms
A feature by Harriet O'Brien following a visit in December
Conde Nast Traveller – February 2015
A feature by Sally Shalam as part of her Great British Breaks series
Lonely Planet Traveller – January/February 2015 (German edition)
A feature on the Top 10 Cities to Visit in 2015, including Salisbury.
Teatime in Wonderland
French blogger Coralie Grassin wrote a number of blogs about her recent visit to Wiltshire - read them here.
VisitWiltshire Hosted Press Visits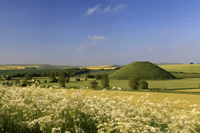 Civil Service Motoring Association magazine (circulation 270,000)
Maxine Sheppard travelled around Wiltshire over the weekend, visiting the Vale of Pewsey, Marlborough and Corsham for a feature focusing on slow travel and getting away from it all, including experiencing nature and great walking, pub dining, market towns, independent shopping and café culture. The feature is expected to be published May/June.
Other visits for members of the press being arranged by VisitWiltshire include:
Fabulous Magazine and The Sun on Sunday
We are arranging a pan-Wiltshire itinerary for the Editor from 6-8 March. An itinerary and press pack have been supplied.
Cyclist Magazine
We are arranging a visit during May, to tie in with the Cycle Wiltshire messaging.
International London Based Media
VisitWiltshire is working on a VIP press visit themed around our Wiltshire two-day Magna Carta trail. The visit will take place during May.
Press Releases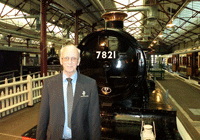 The following press releases have been sent out since the start of January:
VisitWiltshire Partner Shortlisted for Award
10 Great Reasons to Make Time for Wiltshire
Great Wiltshire Valentine's Day Offers
Public Urged to Vote for Kevin as Online Voting Opens
---
Blogs
VisitWiltshire's blogs are now being hosted on our own website. Our latest blogs are:
The top places to visit for snowdrops in Wiltshire
Great places to take Mum this Mother's Day
Read them here
Apps
Our apps continue to perform well. To date, our Wiltshire App has received 5,337 downloads. All our partners have an entry on this, giving visitors and potential visitors an additional platform to find your business. The App can be downloaded for FREE from Apple and Google Play.
The Visit Salisbury App can also be downloaded for FREE from Apple and Google Play. To date it has received 5,481 downloads.
Download figures for both the Wiltshire and Salisbury Apps include downloads via tablets.
If you haven't already downloaded them, why not take a look... and please help spread the word by displaying our posters or adding the App information on your website, to confirmation letters and into any e-newsletters you may send.

If you would like more information please email emmakirkup@visitwiltshire.co.uk

Download the posters for both the Wiltshire and the Salisbury Apps.
Videos
VisitWiltshire's latest video – entitled Time for Wiltshire – went live on 5 February and can be viewed here. It was seen by over 20k people in week one and has reached over 60k people on Facebook.
A shortened version for use in pre-roll advertising on YouTube and elsewhere is nearing completion, and work has also started on two further videos to be available later this spring. All link in with our new brand positioning and thematic campaigns.
One of the benefits of being a Gold Partner is the opportunity to include a video on your own entry on the VisitWiltshire website. If you haven't already done so and you have a video you would like to add, please email emmakirkup@visitwiltshire.co.uk with the YouTube URL.
January was a very good month, with unique visits to our website up +77% on the previous year.
We are currently working on updating the design and functionality of our website and expect to go live with this in June.
We are working in partnership with the Salisbury BID to develop visitsalisbury.co.uk as a channel site using the VisitWiltshire domain. It is hoped that this model can be used by other towns to develop further channel sites, improving quality and reducing duplication.
Top referrers for January were: Twitter, VisitSouthWest, Facebook, VisitEngland and MoneySavingExpert.
Top 5 product pages for January were: Longleat, Salisbury Cathedral, Salisbury Charter Market, Amesbury and McArthurGlen Designer Outlet Swindon.
Top cities to visit our website during January were: London, Bristol, Bath, Southampton and Oxford.
E-Newsletters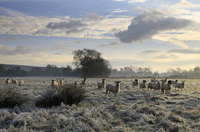 The following e-newsletters have been sent out to consumers since the start of January:
2015 – Time for Wiltshire
Time for Wiltshire – Visit Salisbury in 2015
Feel the Love in Wiltshire this February
The VisitWiltshire database now stands at over 39,000 names... and everyone who has signed up is interested in Wiltshire! If you would like your business to feature in one of our regular e-newsletters we can include you for just £100. Contact fionaerrington@visitwiltshire.co.uk for more information.
Social Media
Social media is a great way of optimising and driving traffic to your website. VisitWiltshire use Twitter, Facebook, Instagram, Google Plus, You Tube and LinkedIn. If you would like to know more about what we do or how you can join in, please email emmakirkup@visitwiltshire.co.uk
Twitter
* We now have 13,485 followers
* A Stonehenge in the snow image proved very popular, with retweets from VisitBritain and VisitEngland.
* A photo of frosty Chippenham was retweeted by Countryside magazine who have over 15k followers
* We received retweets and mentions from VisitEngland regarding Kevin Shurmer's Tourism Superstar nomination
Facebook
* We now have 7,156 likes
* Our video embedded on Facebook has been seen by over 20k people, had 208 likes, 21 comments and 581 shares, with a reach of over 62k
* A Stonehenge in the snow picture had over 27k views, 267 shares and more than 1k likes
* The post about our accommodation guide being out was seen by nearly 2k people
* A photo of the Vale of Pewsey reached nearly 3.5k people, had 225 likes and 36 shares
* Our post about Avebury's nomination for the Countryfile Awards was seen by over 3k people
* A photo of the new exhibition coming to Lacock had over 2k views

Instagram
* We now have 717 followers
* Popular posts have included images of At the Sign of the Angel with 82 likes; Stonehenge in the snow with 114 likes; and snowdrops at Lacock with 58 likes
* Our photo of At the Sign of the Angel was featured by VisitBritain on their Instagram account, receiving 1k likes on their page. They also posted a photo of Castle Combe
Keep us in the Loop
To help with optimisation we are always looking for fresh, new, inspiring content – please keep us up to date with what is happening so we can add it to the News section. Also, if you have any offers or promotional ideas that you would like promoted we can add them onto our Offers section. Please email emmakirkup@visitwiltshire.co.uk with the details.
---
Advertising
Our new travel trade advertisement, developed in conjunction with our Travel Trade Group partners, featured in the January editions of Group Travel Organiser and Coach Monthly as well as the February edition of Group Leisure.
Press Coverage
The following online coverage has been received from our autumn press trip:
http://www.sheffieldtelegraph.co.uk/news/travel-discovering-hidden-gem-is-best-by-coach-1-7093719
http://www.thornegazette.co.uk/what-s-on/out-about/travel-discovering-hidden-gem-is-best-by-coach-1-7093719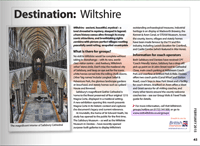 In addition, the February 2015 edition of Coach Monthly features Wiltshire as Destination of the Month.
Group Visits & Travel Trade Guide
8,000 copies of our Groups guide were printed and delivered during December. They are now being distributed at exhibitions and trade shows attended by VisitWiltshire (see below) as well as being sent out to 6,000 group travel organisers and tour operators on the VisitWiltshire mailing list.
Exhibitions and Shows
Excursions
We attended Excursions at Alexandra Palace on 24 January where our stand partners were Salisbury Cathedral, Bowood, Arundells, Longleat, Salisbury Christmas Market and Wadworth Brewery. Over 200 bags of information were distributed and 246 contacts obtained.
South West Group Travel Show
We also attended the South West Group Travel Show in Weston-Super-Mare on 7 February with Salisbury Cathedral, Arundells, Bowood, Cathedral Hotel, Wyvern Theatre and Salisbury Christmas Market.
Forthcoming Exhibitions
We will be attending Explore GB on 25-26 February, Best of Britain and Ireland on 11-12 March and March Marketplace on 17 March.
Familiarisation Visits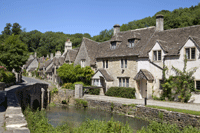 Explore GB Familiarisation visit
On 27 February VisitWiltshire will be hosting a familiarisation visit linked to the Explore GB event.
Spring Familiarisation Visit
Invitations have gone out for a pan-Wiltshire familiarisation visit from 22-24 March during which VisitWiltshire will host 25 selected group travel organisers and tour operators. Key themes include Magna Carta and Capability Brown.
VisitWiltshire Travel Trade Package
Earlier this year VisitWiltshire launched a new Travel Trade Package for those interested in the groups/travel trade market. Three levels of participation are available - for further details please contact our Travel Trade Manager Florence Wallace: flowallace@visitwiltshire.co.uk
---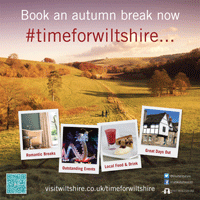 VisitWiltshire has recently undertaken an online survey designed to measure the effectiveness of its 2014 marketing activity. A questionnaire was sent out to our database of approximately 39k consumers, inviting them to tell us what they thought about the information they received or saw during 2014, in return for the chance to win a 2 night break for two people to Wiltshire. The results will be used help us improve the quality and impact of VisitWiltshire's marketing activity in the future.
Of the 2,769 people who responded to the survey, 2,036 (74%) recalled seeing our marketing information.
By analysing the results and extrapolating to cover all visitors to Wiltshire it is estimated that our 2014 marketing information influenced 23,715 holidays booked or taken, 424 holidays extended and 41,308 day visits - an overall total of 296,277 visits influenced. The total value of all influenced activity was £12.3 million, a return per marketing pound invested of £33.65.
Of the consumers surveyed, 100% indicated that their visit had either exceeded (39%) or met (61%) their expectations.
---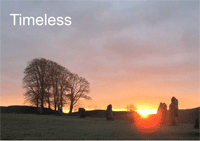 Throughout 2014 VisitWiltshire worked with consultants Heavenly on the development of a brand positioning plan for the county. Thank you to everyone who contributed to the project.
The objectives were to set Wiltshire apart from other destinations; to be unique, distinctive and emotive; to be relevant to and add value to all sectors; to be appropriate for communication to both UK and overseas markets, and to be meaningful and credible to consumers.
The brand image and positioning needed to work across all media and be relevant to the digital age and social media, encouraging talkability and shareability. In addition it had to recognize that storytelling and sharing are essential, inspire immediacy for visitors to come now, be aspirational and engaging, and be relevant across the destination and across all sectors. It is hoped that relevant stakeholders will adopt the brand positioning, imagery and key messages.
The Heavenly plan has now been received and can be viewed here. Creative treatments are currently being worked up and will be circulated in due course.

If you have any comments please contact Fiona Errington.
---
We will shortly be briefing photographers to undertake a late winter/early spring photo shoot.

We are always looking for new images to use in our printed publications and on our website - if you have been out and about with your camera and have any lovely seasonal photos you would be happy for us to use, please email them to jennybutler@visitwiltshire.co.uk