Marketing Update 17 March 2015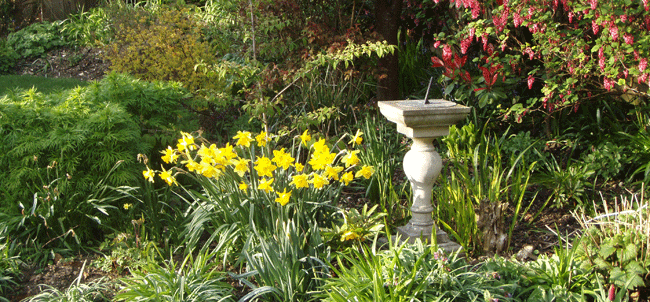 Time for Wiltshire Conference and Exhibition: How it went!
VisitWiltshire Wins Social Media Award: We are No.1 in the English Tourism Social Media Index!
Promoting Your Business: Opportunities for more exposure
Advertising: New campaigns coming up
PR: Press coverage in Choice magazine and the Sunday Express
Website & Digital: Unique visitors up 104%
Travel Trade: Success of Explore GB and BOBI
Marketing Evaluation: VisitWiltshire generates £34.26 for each marketing £ spent
Photography: Photo shoot is underway
---
Stop Press! VisitWiltshire's annual Tourism Conference and Exhibition took place this Wednesday - during English Tourism Week - at Salisbury Playhouse and City Hall.
Over 220 delegates attended the Conference, and a total of 58 businesses took advantage of the networking and information sharing opportunities available by booking a stand at our largest Exhibition ever.
See this week's Partners' Newsletter for further information.
---

We are delighted to announce that VisitWiltshire has ranked number 1 in the English Tourism Social Media Index for our social media performance! Thank you to all our partners for helping us to achieve this and sharing your great photos and experiences of our county - we couldn't have done it without you!
---
Familiarisation Passport 2015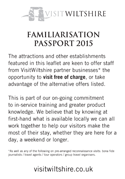 VisitWiltshire is in the process of producing its ever popular Familiarisation Passport which gives fellow VisitWiltshire members and their staff (as well as the following on pre-arranged reconnaissance visits: journalists, travel agents, tour operators and group travel organisers) the opportunity to visit attractions and other businesses around the county free of charge. We believe that by knowing at first-hand what is available locally, we can all work together to help our visitors make the most of their stay.
Thank you to all those businesses which have agreed to take part for 2015 - we hope to send out the Passports to all partners in time for Easter.
Online Special Offer Vouchers 2015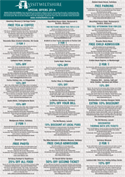 For 2015 we have once again given VisitWiltshire partners the opportunity to promote their business to consumers and others by providing an online Special Offer Voucher. Vouchers will be included on a pdf downloadable from our website which is on track to receive one million unique visitors per annum.
Again, thank you to everyone who is taking part in this initiative - production of the pdf is underway and we hope to have it up and running on our website in time for Easter.
---
VisitEngland Heritage Cities Campaign
VisitEngland's latest cities campaign – entitled Heritage Breaks in Spring – launched last month. It features a mix of activity, including radio, digital , a competition and experiences on the VisitEngland website.
The Classic FM activity (on air and online) launched on 2 February and runs for 7 weeks until 22 March. The digital elements launched on 2 February and ran for 4 weeks until 2 March.
VisitWiltshire's cities campaign tied in with the VisitEngland one. Launched in mid-January its aims were to attract more visitors to stay in Salisbury, increase the profile of the city as a short break destination, increase awareness of heritage and the 800th anniversary of Magna Carta, and increase the dwell time of visitors to the city. Trowbridge Magna Carta events were also highlighted in the campaign.

Campaign activity included 150,000 copies of an inspirational 8-page leaflet in the Telegraph and the Times, advertising panels on South West Trains, an affinity newsletter, a dedicated web page, PR and social media, plus online and radio activity with VisitEngland and an e-newsletter to over 38,000 names.
Our online display campaign began in mid-January and ran until the end of February. This was an intensive, short-run campaign and was able to secure a huge amount of exposure. Over 3.1 million impressions were served across a wide variety of placements, including high profile and high-traffic sites such as mirror.co.uk, telegraph.co.uk, dailymail.co.uk, Mumsnet, and YouTube, as well as a large number of individually targeted behavioural locations.
Additional 2015 Campaigns
Further campaigns for late spring and autumn 2015 will comprise:
Late spring campaign, May/June 2015: Press Pause, It's time for Wiltshire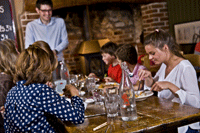 Targeting the UK short-break escape market, positioning Wiltshire as an ideal destination that will help put back what the rest of the week has taken out. Whether pressing pause is going out for a bike ride, relaxing in a spa, enjoying a Michelin starred dining experience or visiting one of our many attractions, events and festivals.
Autumn campaign, October 2015: Made of England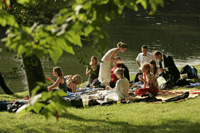 Celebrates all of the timeless pleasures associated with England and available in Wiltshire. Highlighting Wiltshire as a perfect short break destination, ideal for romantic getaways showcasing the range of quality food and drink offerings. Also emphasising the range of independent accommodation, shops, food and drink, history and heritage, events, arts, culture and festivals, activities, days out and evening entertainment.
New Year city campaign, January 2016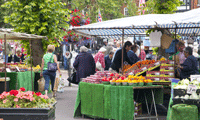 All elements will position Salisbury as a perfect short break destination, highlighting heritage, emphasising the range of independent accommodation, shops and food and drink, history and heritage, events, arts, culture and festivals, activities, days out and evening entertainment.
Pay Per Click Advertising
Paid search is used to capture quality leads and deliver traffic to the VisitWiltshire website. Activity is divided into two campaigns: accommodation and things to do.
The accommodation campaign continues to be one of the most valuable sources of quality traffic to the VisitWiltshire website. At 2.07% overall, click-through-rates remain very good across nearly all areas of the campaign. Traffic quality from all ad groups is exceptionally good and compares very well with all the top traffic sources to the VisitWiltshire website (as tracked by Google Analytics).
At 86.47% the things to do campaign contributed a high percentage of new visitor traffic during February.
App Extensions
Paid search ads within the accommodation and things to do campaigns that are served to individuals on Apple or Android devices have the opportunity to direct traffic to the appropriate version of the VisitWiltshire mobile app. During February app extensions generated 422 click-throughs to the iOS and Android app store pages. 57 of these were tracked as leading to an immediate download of the Visit Wiltshire app.
Online Display Advertising
Display activity uses contextual and behavioural targeting to raise awareness of Wiltshire's USPs among core audiences and influence their future search and booking habits. As such, display is a strong source of new visitors, with 92% of traffic during February being new visitors. An increased budget for the core display campaign massively boosted reach during February, with the campaign being served over 900,000 times and generating 29,240 clicks.
In-App Advertising
In-App advertising specifically targets users of mobile phones and tablet computers from within ad-supported iOS and Android applications. VisitWiltshire's in-app ads directly promote downloads of our applications for iOS and Android devices. During February in-app ads drove a total of 2,080 users to the iOS and Android versions of the Visit Wiltshire app.
Personalised Partner Marketing
If you are interested in working with us on a bespoke marketing campaign, please contact fionaerrington@visitwiltshire.co.uk
---
Press Coverage
Two pan-Wiltshire features have appeared in the press recently: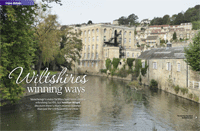 A 7-page article on Wiltshire appeared in the February 2015 edition of Choice magazine as a result of our joint familiarisation visit with CTC in the autumn - read it here.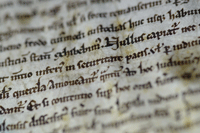 An article on Magna Carta appeared in the Sunday Express, in print and online, as a result of VisitWiltshire activity - read it here.
VisitWiltshire Hosted Press Visits
Visits for members of the press arranged by VisitWiltshire include:
Fabulous Magazine and The Sun on Sunday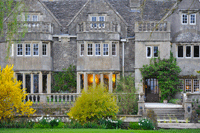 Sinead MacIntyre, Editor of Fabulous Magazine, visited Wiltshire with her family over the weekend of 6-8 March, staying at Woolley Grange Hotel and The Cottage at Marshwood Farm. She visited Bradford on Avon, Lacock, Longleat, Stonehenge and Salisbury Cathedral & Magna Carta.
Seattle Travel Writer
Silvana Clark, a travel writer from Seattle, visited Wiltshire in March.
Brazilian Press Trip
A two-day pan-Wiltshire press trip for three daily and regional newspaper journalists from Brazil will take place on 26 and 27 March.
French Blogger
French blogger Coralie Grassin will be returning to Wiltshire on 29 and 30 March, staying at the Red Lion in Cricklade and visiting Marlborough, Avebury, Malmesbury and Lacock.
Swedish Daily Newspaper
Swedish journalist Ellinor Skagegard will be visiting Wiltshire at the start of May.
VIP Press Visit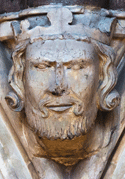 VisitWiltshire is working on a VIP press visit themed around our Wiltshire two-day Magna Carta trail. The visit will take place during May.
Press Releases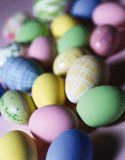 Our latest press release - Make Time for Wiltshire this Easter - can be viewed here.
---
Blogs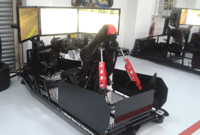 VisitWiltshire's latest blogs are:
Racing Around Wiltshire
Charming Corsham
Vote for Kevin
Read them here
Apps
Our apps continue to perform well. To date, our Wiltshire App has received 5,492 downloads. All our partners have an entry on this, giving visitors and potential visitors an additional platform to find your business. The App can be downloaded for FREE from Apple and Google Play.
The Visit Salisbury App can also be downloaded for FREE from Apple and Google Play. To date it has received 5,669 downloads.
Download figures for both the Wiltshire and Salisbury Apps include downloads via tablets.
If you would like more information please email emmakirkup@visitwiltshire.co.uk
Videos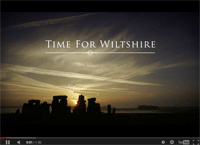 VisitWiltshire's latest video – entitled Time for Wiltshire – went live last month and can be viewed here. To date it has been seen by over 25,000 people.
A shortened version is also being used in pre-roll advertising on YouTube and can be viewed here – this has also proved highly successful, with over 5,000 views to date.
Work on two further videos, which will also link in with our new brand positioning and thematic campaigns, is progressing well.
Unusually, one of our videos has even featured on the Hong Kong weather forecast, with a credit to VisitWiltshire!
One of the benefits of being a Gold Partner is the opportunity to include a video on your own entry on the VisitWiltshire website. If you haven't already done so and you have a video you would like to add, please email emmakirkup@visitwiltshire.co.uk with the YouTube URL.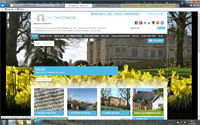 February was a very good month, with unique visits to our website up 104% on the previous year.
Work on refreshing the design and functionality of our website continues and the updated site is expected to go live later on this summer.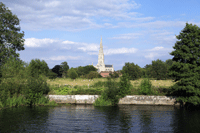 We are working in partnership with Salisbury BID to develop visitsalisbury.co.uk as a channel site using the VisitWiltshire domain. It is hoped that this model can be used by other towns to develop further channel sites, improving quality and reducing duplication.
Top referrers for February were: VisitEngland campaign traffic, Twitter, visitsouthwest.co.uk, VisitEngland and Catalink.
Top 5 product pages for February were: Longleat, Salisbury Charter Market, Salisbury Cathedral, Amesbury and Stonehenge
E-Newsletters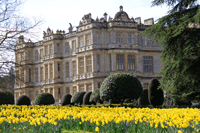 The following e-newsletter was sent out to consumers at the start of this month:
Plan your Easter getaway

The VisitWiltshire database now stands at over 42,000 names... and everyone who has signed up is interested in Wiltshire! If you would like your business to feature in one of our regular e-newsletters we can include you for just £100. Contact fionaerrington@visitwiltshire.co.uk for more information.
Social Media
Social media is a great way of optimising and driving traffic to your website. VisitWiltshire use Twitter, Facebook, Instagram, Google Plus, You Tube and LinkedIn. If you would like to know more about what we do or how you can join in, please email emmakirkup@visitwiltshire.co.uk
Twitter
• We now have 13,833 followers
• We have seen an increase in the number of partners using #timeforwiltshire
Facebook
• We now have 7,326 likes
• Popular posts have included a photo of Corsham High Street when Poldark was being filmed which was seen by over 4k people; a link to the Classic FM competition seen by over 1k people; a lone snowdrop at Stonehenge seen by over 3k people; Wilton Windmill seen by just under 2.5k people. VisitEngland posted about Salisbury Cathedral with a link to our experience page on their website.
Instagram
• We now have 764 followers
• Popular posts have Cricklade and Malmesbury Abbey,
• We were tagged by journalist Helen Ochyra in some photos of her stay at the Moonraker Hotel)
• VisitBritain have liked some of our pictures this week and have approached us to use some of our Instagram pictures at a stand they are having at the Photography Exhibition at the NEC.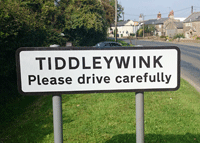 Two of VisitWiltshire's Instagram photos - a signpost of Tiddleywink and the exterior of At the Sign of the Angel in Lacock - are to be used on a VisitBritain stand at the Photography Show at Birmingham's NEC on Saturday 21 March.
Keep us in the Loop
To help with optimisation we are always looking for fresh, new, inspiring content – please keep us up to date with what is happening so we can add it to the News section. Also, if you have any offers or promotional ideas that you would like promoted we can add them onto our Offers section. Please email emmakirkup@visitwiltshire.co.uk with the details.
---
Exhibitions and Shows
Explore GB
VisitWiltshire attended Explore GB on 25-26 February, where we had scheduled one-to-one meetings with over 35 international buyers from around the world, including Spain, Germany, USA, Mexico, Russia, Middle East and the Netherlands. We also hosted two ExploreGB familiarisation visits on 24 & 27 February for groups of international buyers from this event (see below). We have followed up with over 50 contacts and will continue to engage with international operators via e-newsletter distribution.
Best of Britain and Ireland
We attended the two-day Best of Britain & Ireland Travel Trade Fair on 11-12 March with stand partners Longleat, Arundells, Bowood House & Gardens and Salisbury Cathedral & Magna Carta. We attended the networking dinner event and breakfast seminar ensuring we maximised the event's business opportunities. Over 100 bags were distributed and 125 contacts collected.
March Marketplace
We attended March Marketplace on 17 March, when VisitEngland and ETOA (the European Tour Operators Association) hosted a travel trade masterclass with major operators. Topics discussed included developing product, itineraries, what operators look for from destinations and more. We also had appointments with operators.
Familiarisation Visits
Explore GB Familiarisation visit
On 24 and 27 February VisitWiltshire hosted two familiarisation visits linked to the Explore GB event. The first group included delegates from Spain, Netherlands and the USA who visited Stourhead, the Beckford Arms and Stonehenge. The second group included delegates from Spain, Italy, Mexico and Columbia, who visited Lacock, Whatley Manor Hotel, Malmesbury and Westonbirt Arboretum.
Quartier Libre
An 11-strong sales team from French tour operator Quartier Libre is visiting Wiltshire on 20 March.
Time for Wiltshire Spring Familiarisation Visit
From 22-24 March VisitWiltshire will be hosting 13 delegates from 11 tour operators on a pan-Wiltshire itinerary. Key themes include Magna Carta and Capability Brown.
US Tour Operators
A group of 9 US tour operators will be visiting Wiltshire next week on an trip organised by VisitWiltshire.
Antipodean Fam Visit
We are working on an October itinerary for a group of 92 visitors from New Zealand and are currently looking for a high end lunch venue somewhere in the north of the county - if you think you might be able to help, please contact Florence Wallace.
VisitWiltshire Travel Trade Package
Earlier this year VisitWiltshire launched a new Travel Trade Package for those interested in the groups/travel trade market. Three levels of participation are available - for further details please contact our Travel Trade Manager Florence Wallace: flowallace@visitwiltshire.co.uk
---
VisitWiltshire recently undertook an online survey designed to measure the effectiveness of our 2014 marketing activity. The survey showed that, overall, 2014 marketing activity influenced approximately £12.5 million visitor spend in the county and generated £34.26 for each pound invested in marketing.
---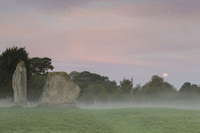 Our late winter/early spring photo shoot is now underway, with two photographers out and about around the county between now and the end of March. In line with VisitWiltshire's new branding the images they are taking will tie in with our four Timeless themes: Timeless Wonders, Timeless Places, Timeless Pleasures and Timeless Nature.
We are always looking for new images to use in our printed publications and on our website - if you have been out and about with your camera and have any lovely seasonal photos you would be happy for us to use, please email them to jennybutler@visitwiltshire.co.uk
---