Visiting Salisbury Responsibly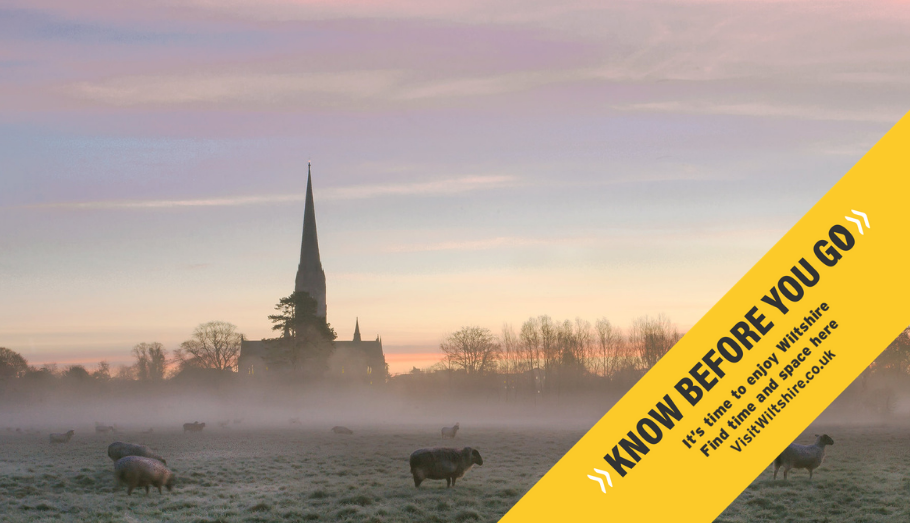 Before you start planning your trip to Salisbury, make sure you Know Before You Go - plan your trip carefully, check for restrictions before you travel and book in advance where necessary.
Know Before you Go
Many of Salisbury's businesses - including accommodation, food and drink, and things to do - are open once more after lockdown from 2 December 2020. Salisbury and Wiltshire are now in Tier Two; High Alert. We're thrilled that so many of our favourite attractions are welcoming visitors once more, however things may once again be a little different to normal.
Visitors are beginning to return to Salisbury to shop, relax outdoors, and explore our traditional and original city. If you're planning a visit to Salisbury, please be considerate of local people, other visitors, wildlife and our city, abide by Government social distancing guidelines at all times and wash your hands frequently. Remember: Hands. Face. Space.
Local businesses have been working hard to make sure everything is safe for both staff and visitors. Keep an eye out for the Nationally-recognised "We're Good to Go" mark which demonstrates the measures they have in place to protect us all from COVID-19. Please be patient as we all adjust to new ways of doing things and follow our simple advice below for a safe, responsible and enjoyable trip:
- Follow all Tier Two restrictions during your visit.
- When planning your trip, check that important facilities like toilets and car parks are open before you travel.
- If you want to visit a particular attraction, you may need to pre-book a time slot (even if you are a member). Check online before you set off.
- Some of the best known beauty spots in and around Salisbury are likely to be extremely popular, especially during the holidays. Get off the beaten track and discover Wiltshire's hidden gems to avoid the crowds.
- Keep 1 metre+ apart from anyone outside your household – this not only applies to walking, but running, cycling, sitting and sunbathing too. Remember, Hands. Face. Space.
- Wear your face covering at all times when in shops, at indoor attractions and on public transport including buses, trains, taxis, and minicabs.
- Make sure you have a bank card as many outlets are currently not accepting cash.
- Take hand sanitiser with you – you don't know where will be open for you to wash your hands.
- Leave the car behind where possible and visit nearby attractions by walking or cycling.
- Visitors from Tier Three areas should not visit Salisbury or other Tier Two areas. Exceptions to this rule include where necessary for work, education, youth services, to receive medical treatment, or because of caring responsibilities.
---
Government Travel Advice
It is important to follow the government's advice on going on holiday during the COVID-19 pandemic while visiting Salisbury:
- If you develop Covid-19 symptoms whilst on holiday, please arrange a test using your holiday address. You can order a test from www.nhs.uk/coronavirus or call 119. You MUST notify your accommodation provider immediately.
- If you are contacted by Test & Trace whilst on holiday you MUST notify your accommodation provider immediately that you have been contacted by NHS Test and Trace and asked to self-isolate.
- If you are well enough to return home by private transportation then please do so and self-isolate at home. Do not use public transport.
---
Shopping in Salisbury
Non-essential shops are now reopening again here in Salisbury. Please support our local businesses by shopping with them and abiding by their social distancing protocols at all times. Keep an eye out for posters in shop windows and rainbow-themed pavement stickers with social distancing advice displayed on them.
---
Visiting Green Spaces in and around Salisbury
There are many open green spaces in and around Salisbury for you to enjoy including public parks and the Water Meadows. Take a look at the parks and recreation spaces around the city. Please plan in advance and avoid places that are likely to be busy, respect those around you and don't leave litter behind. Be prepared to go elsewhere if you find that an area is busy enough to make social distancing difficult.
Salisbury is surrounded by Wiltshire's timeless countryside, with lots of places to stretch your legs and find space while staying safe. A short drive from the city will take you to plenty of wide open spaces to enjoy. Please take a look at our page on visiting Wiltshire responsibly for guidance on exploring the local countryside while protecting yourself and others.
---