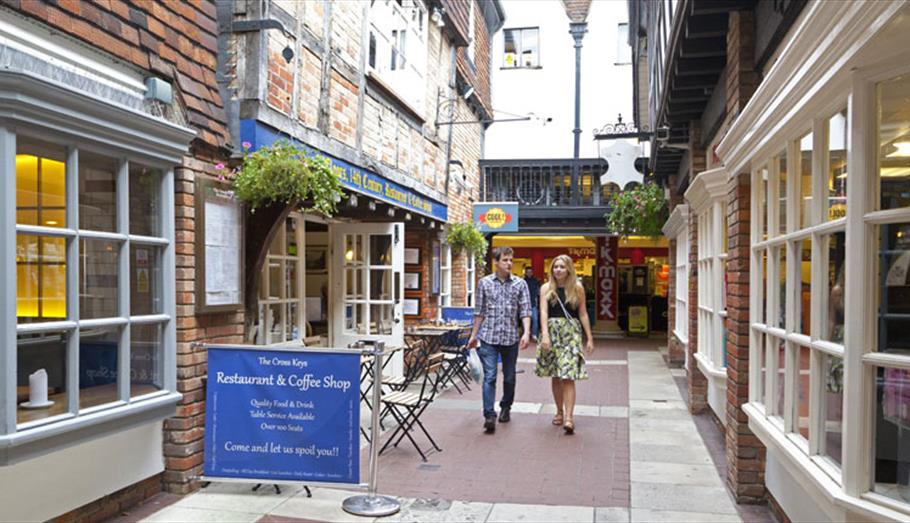 Shopping Centres in Salisbury
Salisbury is home to three main shopping centres with big brand names through to independent retailers… you'll easily find what you are looking for on a shopping break to the city. Find out more about Salisbury's shopping centres below:
Old George Mall
Located just off the High Street, with two more entrances on New Canal and Catherine Street, the Old George Mall is home to some big high street names including Marks & Spencer, WH Smiths and H&M. There is also an onsite shoppers' car park with access from New Street and the mall is just a short walk from Salisbury Cathedral.

There are a couple of cafés within the Old George Mall including Pret a Manger, Costa Coffee and Café Rouge.
Cross Keys Arcade
Just off Queen Street (overlooking the Guildhall Square) you'll find the entrance to Cross Keys Arcade. This arcade is mostly undercover and is just a short distance from the Market Place.

Shops within Cross Keys include TK Maxx, Richmond Classics, Goodfayre and Rymans. There are also a couple of places to eat including Wildwood and Cross Keys Restaurant.

Look out for regular events within Cross Keys Arcade including meeting birds of prey, children's activities and a Christmas grotto and be sure to check out the Jacobean staircase which sits in the heart of the Arcade!
The Maltings
The Maltings shopping centre is located by Salisbury's Central Car Park and is home to Sainsbury's and Superdrug as well as several independent retailers.

The shopping area is fringed by the River Avon, making a pleasant walk into the city centre and there's often a couple of market stalls here selling fruit and vegetables plus fresh flowers.
Shopping further afield
Only three miles out of Salisbury you'll find the Wilton Shopping Village with outlet shopping in a pretty riverside setting. The shopping village is also home to the Wilton carpet factory and outlet shop.