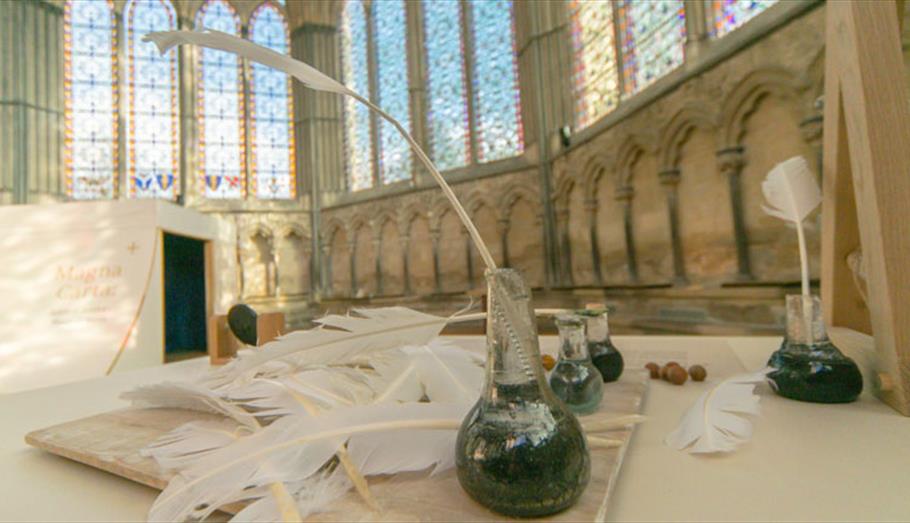 Magna Carta Itinerary
Did you know that the Chapter House in Salisbury Cathedral holds the best preserved of only four remaining original 1215 Magna Carta manuscripts? It remains one of the most celebrated documents in English history due to its symbol for justice, fairness and human rights. The other Magna Carta manuscripts are kept at Lincoln Cathedral and the British Library.

Written in Latin on parchment (dried sheepskin), this document contains over sixty clauses covering the nation's life in medieval times, including the right to a fair trial. In 2009, UNESCO put the four remaining Magna Carta manuscripts on the Memory of the World Register, which is the list of the world's most important documents.

In 2015, Salisbury Cathedral took part in many celebrations with a Magna Carta theme and re-displayed this important historic document in a spectacular new permanent exhibition space within the Chapter House.

We suggest that you start your morning with a visit to Salisbury Cathedral. Explore the interactive exhibition within the Chapter House explaining the history behind Magna Carta and detailing how the document remains as relevant as ever today. Volunteer guides are also on hand within the Chapter House to answer any of your questions and this is your chance to witness Magna Carta for yourself.

In addition to the Chapter House, you can see many other treasures within the Cathedral including a medieval clock, the cloisters, important tombs and stunning stained-glass windows. Look out for regular events as well including talks by the archives department and tours of the Cathedral's library (home to over 10,000 books).

After visiting the Cathedral, make time to explore some of the Cathedral Close's other attractions which are extremely close by including; The Salisbury Museum, The Rifles Berkshire and Wiltshire Museum, Mompesson House and Arundells.

There are a couple of places to eat within the Cathedral Close, or make the short walk into the centre of historic Salisbury for a variety of pubs, restaurants and cafés.

If you have longer than a day then you may wish to consider doing the longer two-day trip across Wiltshire which includes visits to Stonehenge and the Baron town of Trowbridge, Wiltshire's county town. You can find out more about Trowbridge's connections to Magna Carta in the Trowbridge Museum.