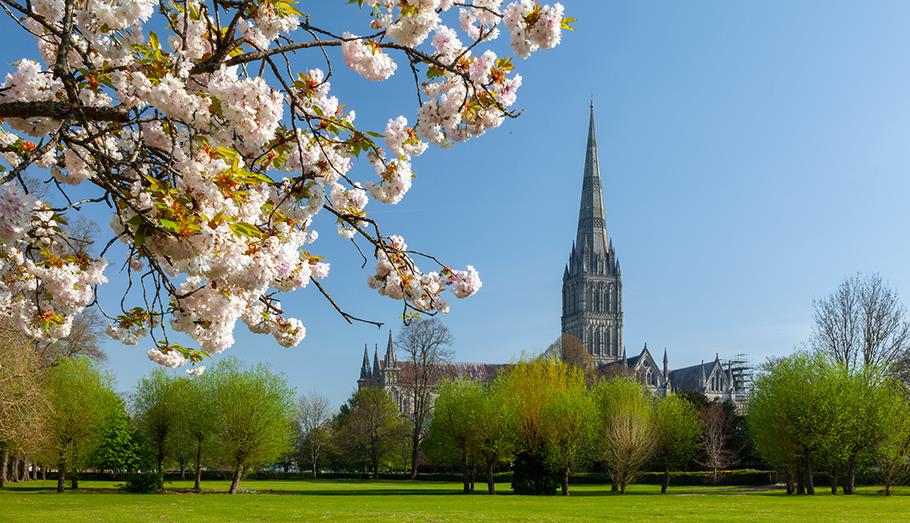 Top 10 Picnic Spots in Salisbury
If the weather is good and you fancy a picnic but aren't sure where to go let us give you some suggestions for our top picnic spots in and around Salisbury. Here are some of the locals' favourites…
1. The Cathedral Close
With spectacular views looking across to the Cathedral and extensive lawns, the Cathedral Close is a popular spot with locals looking for a picnic. Lounge out amongst the daisies on Choristers Green, or on the lawn facing onto the Cathedral.
2. Queen Elizabeth Gardens
Pick your spot alongside the river or, if you are with a family, near to the play park and 'island' perhaps. Spot ducks, fish and other wildlife and if you are still feeling hungry after your picnic there's often an ice cream van here too! During selected Sundays during the summer you can enjoy live music for free as part of Salisbury City Council's Music in the Park events.
3. The grounds of Salisbury Arts Centre
Sit in these pleasant grounds beside the Salisbury Arts Centre, the former St Edmund's Church. You'll often see yarn-bombing dotted around the grounds too and there are a couple of benches where you can rest your weary legs.
4. Wilton House
The beautiful gardens of Wilton House make a great picnic spot. Once you've finished eating explore the Japanese water garden, rose garden and arboretum. Children will enjoy the outdoor adventure playground that can also be found here.
5. The Stonehenge landscape
There aren't many places in the world where you can picnic in such ancient surroundings! Enjoy your picnic in the wider-Stonehenge landscape. Park up at Woodhenge and take a walk of the landscape before picking your perfect picnic spot.
6. Old Sarum
Enjoy the views from a picnic spot at Old Sarum. Make time to see the ruins of the old cathedral and the old settlement of Salisbury before laying down your picnic blanket. You may even get to see some of the skydivers parachuting back towards Old Sarum Airfield.
7. Downton Moot
Downton Moot sits within the pretty village of Downton, around eight miles south of Salisbury. There are eight acres of land to explore here bordered by the River Avon.
8. Figsbury Ring
Just off the A30, towards Andover, this popular walking spot also makes a lovely place for a picnic. Spot unusual wildflowers and butterflies and enjoy the views.
9. The New Forest National Park
Head to Nomansland, Lover or Landford – all villages within short reach of Salisbury that sit within the beautiful New Forest National Park. Particularly glorious in the autumn months as the leaves begin to turn rich shades of orange, red and gold.
10. Avon Valley Nature Reserve
Situated close by to the Five Rivers Leisure Centre, this nature reserve straddles the River Avon. See if you can spot kingfishers, enjoy leisurely strolls after your picnic or simply relax and take in your surroundings.

Tags: Top 10 Picnic Spots in Salisbury