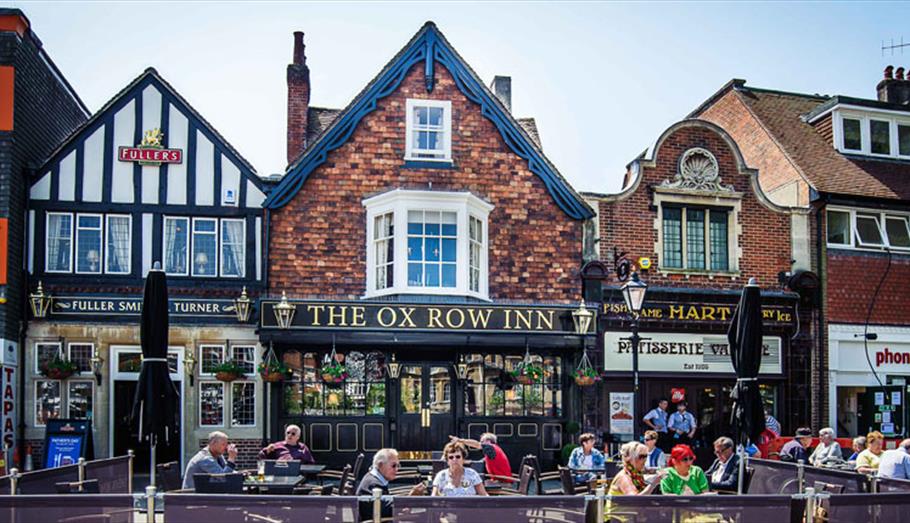 Pubs & Inns in Salisbury
Salisbury is blessed with many pubs and inns within the city centre. Some of our pubs and inns date back to the 14th century, many still retain their historic charm and several are within listed buildings.
Hear tales of Salisbury's past at one of our pubs
Hear tales of Salisbury's past on a visit to one of our pubs or inns and get to know some of our local residents, perhaps even one of our friendly resident ghosts! There is even a pub, The Haunch of Venison, which is famed for its mummified hand which sits in part of the wall. The hand is believed to have been from a local card cheat!
Central pubs and those with outdoor seating
There are several pubs and restaurants around Salisbury's Market Place including the Market Inn and the Ox Row Inn and also around the old medieval chequers (squares) that form the historic city centre.

Enjoy outdoor seating in some of the pubs around the Market Place and beer gardens in some of the pubs on New Street, the Old Ale and Coffee House on Crane Street and Castle Street as well as those that are slightly further out of the city centre.
Real ales and local brews
If you are after local ales then look out for local brews from Downton Brewery, Wadworth (based in Devizes), Stonehenge Ales and the Hop Back Brewery and many of our pubs will also serve your more mainstream beers, lagers and wines.
Enjoy a spot of food
Many of our pubs and inns also serve food at lunch and dinner so you can rest your feet after a busy day's sightseeing. Why not relax in front of a roaring log fire at The Pheasant or enjoy the sunshine in the outdoor areas of the Ox Row Inn or The Cathedral Hotel? Look out for local specialities, seasonal dishes and special offers on eating out in the city.
Want to know more?
Browse our listings below for further details of pubs and inns in and around Salisbury. Don't forget to keep an eye on our special offers too for deals at our pubs and inns.
Number of results:
Number of results: 25
, currently showing 21 to 25.
Avon Brewery The Avon Brewery is a Victorian pub close to city centre is a Modern Destination Food Venue, with an Emphasis on High Standards of Service, Excellent Food. Our Food consist of Pub Classics, Regularly Changing Specials, Theme Nights, and…

The Pheasant Inn is located in central Salisbury. Under new ownership.

The George & Dragon is a historic public house situated alongside the River Avon in the heart of Salisbury. Serving a traditional pub menu and variety of classic ales, we promise to provide a local pub experience to all that walk through our doors.