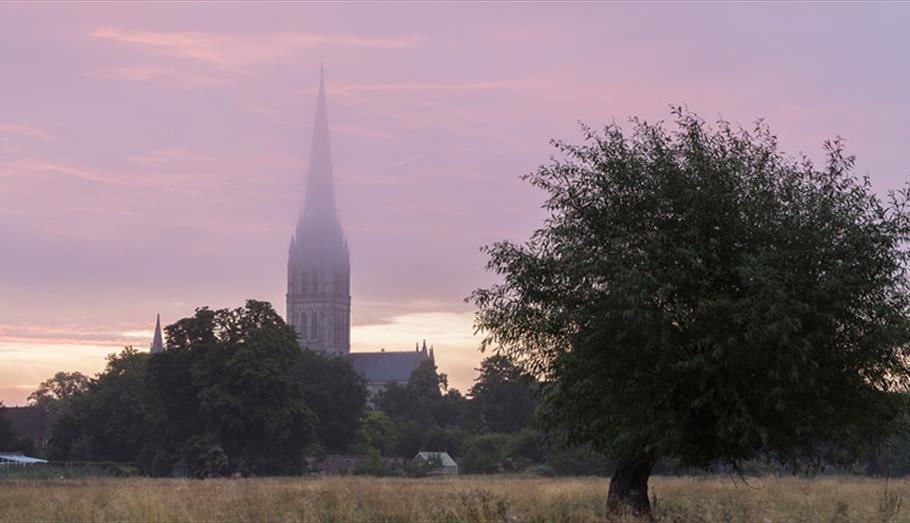 Ideas for Visiting Salisbury this Year
If you are looking for a short break destination this year then look no further than Salisbury - a city that has been welcoming visitors since 1227. A city where medieval magnificence meets contemporary culture. A city that is at once traditional and original. Where vibrant modern life compliments ageless beauty. During a visit to Salisbury you can explore hundreds of years of history and admire cutting-edge artwork. Stay in centuries-old hotels and tuck into delicious modern cuisines. Shop to your heart's content, enjoy fun days out with the whole family, and step inside iconic buildings. Take a trip to Salisbury in 2020 to discover a city that is both traditional and original.
---
For help exploring Salisbury during your trip, download our brand new Salisbury Map and Guide.
---
Traditional & Original Salisbury
At the heat of the city is Salisbury Cathedral - a beacon which has attracted travellers for hundreds of years. Famous for its soaring spire, it isn't hard to see why the Cathedral is one of the UK's most iconic medieval buildings. Here you will find Britain's largest landscaped Cloisters, the world's oldest working mechanical clock, the tallest church spire in Britain and one of only four original 1215 Magna Cartas in the world. Visit the Cathedral before October to enjoy their major art exhibition, Spirit and Endeavour, which showcases work by some of the most important and influential contemporary artists of the 20th and 21st century.
Just opposite the Cathedral is Salisbury Museum, home to one of Europe's most extensive collections of prehistoric artefacts. As well as exploring the archaeology galleries, there is a new 'pick & mix' exhibition which tells stories from Salisbury's past through fascinating objects - many of which have been brought out of the stores and onto display for the first time in years! Visit in August for entry by donation only. For more creative inspiration, Fisherton Mill combines galleries and artist studios with an award-winning café. It is the largest independent art gallery in the South West, located in one of Salisbury's most beautiful restored buildings, and this year celebrates its 25th birthday!
River Bourne Community Farm at Laverstock on the eastern outskirts of the city makes a great family day out. The farm reopens on Monday 10 August, so come along to meet pigs, goats, donkeys, chickens and more.
Wiltshire Creative run events throughout the year. On 29 August they're hosting Picnic in the Park, with a special screening of Oscar-winning romantic comedy Shakespeare In Love, starring Gwyneth Paltrow, Joseph Fiennes and Dame Judi Dench.

Walk Through History
Salisbury is a city brimming with history. For informative insights into Salisbury's rich history, book onto one of the regular guided city walks by Salisbury City Guides. Discover the stories behind some of the city's most magnificent buildings as a professional Blue Badge Guide introduces you to Salisbury's past. Within Salisbury's iconic Cathedral Close is The Rifles Berkshire and Wiltshire Museum, housed in the historic Grade II listed building The Wardrobe. Inside, thousands of articles relating to the Berkshire and Wiltshire regiments' strong military history are on display, and outside is a peaceful riverside garden with open countryside views.
On the northern outskirts of the city lies Old Sarum, originally an Iron Age hillfort, later inhabited by Romans, Saxons and Normans, before growing into a flourishing medieval settlement and the original site of Salisbury. Bring a picnic and enjoy the fantastic views across the Wiltshire countryside.

Food and Drink in Salisbury
Salisbury and the surrounding areas offer a great range of places to eat and drink during your trip, from delicious Indian cuisine at Anokaa to traditional Italian dishes at Grillado, both near to the city centre. Enjoy a cup of tea and a slice of homemade cake or a light lunch at the award-winning cafe at Fisherton Mill. At Baroushka in Salisbury, enjoy authentic Middle Eastern flavours and atmosphere - the menus feature traditional Lebanese and Moroccan cuisines as well as European fusion dishes. A short drive from the city, The Bridge Inn at Upper Woodford is a family-run country pub and restaurant hidden away in the scenic Woodford Valley. Here you will find a large grassy garden alongside the river Avon, a wide range of drinks, and home-cooked traditional pub fare.
For Summer 2020, Wiltshire Creative have opened a take-away cafe at Salisbury Arts Centre. The summer café offers a range of hot and cold drinks, baguettes, salads, cakes, cream teas and ice creams. Keep an eye out for their occassional Take Part activities and free events for families.

Book Somewhere to Stay for your Salisbury Trip
When it comes to finding somewhere to stay in Salisbury, there is a huge range of traditional and original accommodation to choose from. Whether you're looking for a modern hotel or a historic inn, a friendly bed and breakfast or a comfortable self-catering cottage, a caravan park or a countryside glamping site - there's something for everyone. The four star Red Lion hotel in Salisbury City Centre is a stunning historic hotel which celebrates its 800th anniversary this year in 2020. Stay in a 13th century bedroom equipped with all the amenities you need.
Grasmere House offers four poster bedrooms with river and Cathedral views. Just a short walk from Salisbury city centre, the hotel dates back to 1896 and is surrounded by lovely mature gardens. Fancy staying in the beautiful Wiltshure countryside near to Salisbury? Then look into booking a break at Marshwood Farm - home to a B&B, self-catering cottage and even a picturesque shepherd's hut!
---
Meet the Locals