Press Release 17 May 2019 Salisbury
Salisbury Heads to the Heart of the Capital
Salisbury - the city in the countryside - is taking its message to the heart of London with a huge new digital advertising campaign in the middle of Leicester Square.
The campaign, which features an iconic image of Salisbury Cathedral taken from the famous Water Meadows, aims to raise the profile of the vibrant Wiltshire city and increase economic growth.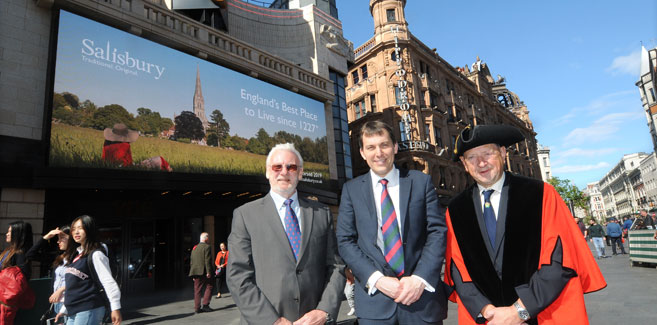 The new creative was jointly unveiled yesterday by John Glen MP, Jeremy Nettle, Leader of Salisbury City Council, and Peter Wragg, Chairman of VisitWiltshire.
The massive digital screen is part of the new 'Salisbury Traditional Original' brand positioning which is being championed by VisitWiltshire, Salisbury BID, Salisbury City Council and VisitEngland/VisitBritain.
"This campaign gives Salisbury a high-profile national platform to showcase what a fantastic place it is to live, work, invest, study and visit" said David Andrews, CEO VisitWiltshire.
For further information or to arrange a press visit please contact Florence Wallace, Travel Trade & PR Manager, flowallace@visitwiltshire.co.uk Tel: 01722 341309 or 07436 588860.
Editors Notes: VisitWiltshire is the official Destination Management & Marketing Organisation for Wiltshire representing 600 partners. It is a public/private sector membership organisation. VisitWiltshire's priority is to grow the county's Visitor Economy by raising awareness of the destination and generating additional tourism visits and spend. Wiltshire's Visitor Economy currently generates an estimated £1.5billion and supports over 29,000 jobs.