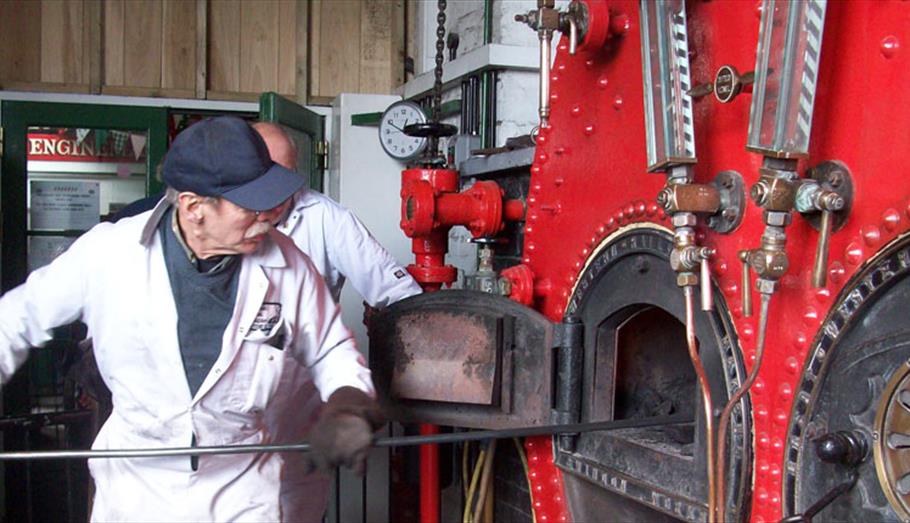 Wiltshire's Industrial Heritage
Traditionally a very agricultural county, Wiltshire's main development during the Industrial Revolution came from the cloth industry, the development of the Kennet & Avon Canal and later the Great Western Railway. Some of these sites can still be visited today and help preserve the history of the area and form our timeless landscape:

The Kennet & Avon Canal

The Kennet & Avon Canal played a large part in transporting goods between Bristol and Reading where it then linked to the River Thames. The canal was very prosperous in its early days.

Its demise started as Brunel's Great Western Railway was developed between Bristol and London offering competition to traders. Although the canal company fought back by offering reduced tolls, the canal didn't ever regain its initial glory.

Today, the Kennet & Avon Canal is a haven for walkers, cyclists and boaters. A trip to the Caen Hill Locks section of the canal is a must. Look at the flight of 29 locks that stretch over two miles near Devizes. Those interested in engineering should make a visit to Crofton Beam Engines, which are 'steamed up' at several times during the year.

The Great Western Railway

The Great Western Railway (GWR) was designed by famous engineer Isambard Kingdom Brunel to link Bristol and London. Swindon played a large part in the GWR and housed the Swindon Railway Works which was used to repair and maintain the network. The works remained open until 1986 and since this time the site has been redeveloped housing STEAM - the Museum of the Great Western Railway and the McArthurGlen Designer Outlet Swindon. Both buildings have been designed in a way that they in keeping with the Grade II Listed status granted to the site.

Trowbridge

Set in a mill in the Shires shopping centre, Trowbridge Museum tells the story of West of England woollen cloth production. Highlights include a Spinning Jenny one of only five left worldwide and working looms. In the nineteenth century industrialisation and the embracing of new technology within the West of England cloth mills had a major impact on Trowbridge resulting in it being described as 'The Manchester of the West'. The woollen cloth industry has left a rich and notable architectural legacy, ranging from the late sixteenth to the mid-nineteenth century, which according to English Heritage 'is a quite exceptional chronological range for industrial buildings in a town centre'. A variety of trails highlights the town's rich history.

Wilton Windmill

Near to Marlborough, Wilton Windmill is the only working windmill in the whole of Wessex. Originally built in 1821, the mill operated for around 100 years before new techniques were brought in leading the windmill to fall into disrepair.
In 1976 a team of volunteers restored the mill to its former glory. Today it remains fully operational and stone-ground flour can be bought as a souvenir of your visit.

Wadworth Brewery

Set in the heart of Devizes, Wadworth Brewery was founded in 1875. The Victorian building that still houses the brewery today was built by Henry Wadworth in 1885. Many of the original traditions of the brewery still exist including Shire horses that deliver the beer around the Devizes area and an on-site signwriting studio. Wadworth Brewery now has a visitor centre that is free to visit. Tours of the brewery are also conducted for an additional charge.

Box Tunnel

During the construction of the Great Western Railway, Brunel came across a tricky section of geology that required a tunnel to be dug through Box Hill, a feat of engineering that cost the lives of many men.

Wilton Carpet

World-renowned, Wilton Carpet has been weaved at the site for almost 300 years. Today the site is also home to the Wilton Shopping Village which includes a Wilton Carpet Factory Outlet.
Number of results:
Number of results: 9
TripAdvisor Traveller Rating

1534 reviews

Get up close to magnificent locomotives, be a signalman in the GWR interactive Signal Box and drive the steam train simulator as you travel through STEAM's story-telling displays!

STEAM tells the story of the men and women who built, operated and…

Type

Type:

Canal / Waterway / Marina

On the Kennet & Avon Canal you will find beauty, history and nature. Tap into its stillness, enjoy a gentle adventure, share your boating stories at canal side cafes or pubs, and live in a space where time moves no faster than a stroll.

Type

Type:

Canal / Waterway / Marina

The Kennet and Avon Canal Trust has been in existence for more than 50 years.

At Devizes we have our Head Quarters, Canal side Museum, Boat trips, Café and gift shop.

TripAdvisor Traveller Rating

254 reviews

Type

Type:

Industrial Archaeology

Crofton Beam Engines, set in unspoiled Wiltshire countryside close to the old market town of Marlborough, is an ideal spot for exploring the Kennet and Avon Canal, with toilets and a picnic area on site. Access to grounds is free of charge.  There…

TripAdvisor Traveller Rating

85 reviews

Built in 1821, fully restored as a working windmill. Stoneground flour generally available for sale.

TripAdvisor Traveller Rating

78 reviews

Trowbridge Museum, where you can discover 1000 years of the town's history. Discover how Trowbridge was shaped by the scale of production and quality of its West of England woollen cloth and became the county town of Wiltshire. Housed in a former…

TripAdvisor Traveller Rating

180 reviews

Collection of locomotives, rolling stock including steam engines and diesel engines. Locomotive shed with engines under restoration. Train rides on open days and special events. Easter Egg, Halloween & Santa Specials and Wartime Weekend.

Type

Type:

Canal / Waterway / Marina

Based at Bradford on Avon Wharf, 400 yards from the town centre and only a few steps from the Kennet & Avon Canal Trust's Tea Room.

Type

Type:

Shop/Shopping Centre

The Wilton Shopping Village offers you a unique shopping experience - good value in an historic, riverside setting.