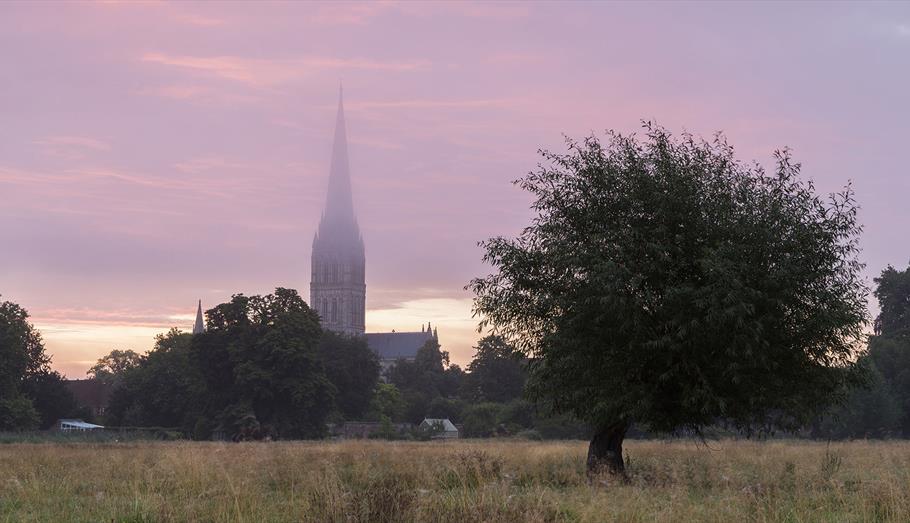 Ideas for visiting Salisbury in 2019
If you are looking for a short break destination this year then look no further than the city in the countryside, Salisbury. Delve into the fascinating history of our city from medieval times to the days of Stone Age man. Soak up the culture of our theatre, our arts venues and sample the local fare at our historic pubs, cosy tea rooms and upmarket restaurants. Read on to discover why you should make Salisbury your go to destination in 2019…
Timeless days out
Salisbury Cathedral sits proudly in the heart of our city. It's well-renowned for its soaring spire and for its features such as the best preserved Magna Carta, the font and the world's oldest working clock. Take in the views of Salisbury and our surrounding countryside by booking onto one of the regular Tower Tours or head to the Nave to witness some of the extraordinary visual arts installations by internationally-renowned artists and sculptors.
Close by, and within the Cathedral Close you will find the Queen Ann-style Mompesson House, a National Trust mansion that has starred in several feature films (Sense and Sensibility being just one of them). This year, Mompesson House is running a special exhibition entitled 'Standing by my darling's side: A Victorian experience of life, love and loss' following the untold story of former resident Jinny Townsend and her courtship and eventual marriage to Willie Hammick.
Just a short walk through the Close and you will come across The Rifles Museum - dedicated to the Berkshire and Wiltshire regiment's strong military history. The museum is housed in The Wardrobe, a historic building in its own rights. The Museum currently holds over 34,000 items of which approximately 1,200 are on display and the riverside garden is an enjoyable bonus for the visitor.
Continuing with the historic theme, be sure to pop into St Thomas's Church. This church pre-dates the current Cathedral and houses an impressive Medieval 'Doom' painting. Look out for regular concerts and recitals taking place here too.
For an informative insight into our rich history, book onto one of the regular guided city walks by Salisbury City Guides. Walks last approximately 90 minutes and will fill you with information on some of our magnificent buildings and past. Themed walks often take place as part of the Salisbury International Arts Festival or other events and the popular ghost walks are a highlight for many too.
Fisherton Mill combines galleries and artist studios with a very popular café. On the northern outskirts of the city lies Old Sarum, originally an Iron Age hillfort, later inhabited by Romans, Saxons and Normans, before growing into a flourishing medieval settlement and the original site of Salisbury. River Bourne Community Farm, at Laverstock on the eastern outskirts of the city, combines a 5-acre farmyard with 53 acres of water-meadows, come along and meet some of the pigs, goats, donkeys and chickens that reside here.
Within the historic heart of the city you'll find excellent shopping opportunities and a wealth of 'indies' - our independent shops, with beautiful stores such as Casa Fina, which sits proudly on Salisbury High Street.
Salisbury makes a great base for exploring the surrounding area, with the World Heritage Site of Stonehenge just ten miles north of our city. Why not combine a visit here with some of our area's other historic sites and discover more about some of the archaeological finds of it at The Salisbury Museum in the Cathedral Close.
Show-stopping events and activities
Our calendar is packed-full of events for all ages. Come along to see art installations, theatre, comedy and family-friendly events during the school holidays. Salisbury Racecourse's busy diary is a popular day out for locals and visitors alike. Look out for themed race events including ladies' day and place your bets on your favourite horse.
If you are looking for a challenge for a small group, as a team builder or for a family day out then try your luck at solving the clues required at one of our escape rooms. Live Escape Rooms Salisbury gives you just sixty minutes to work your way through the various challenges required to gain your access into their hall of fame.
Tempting food and drink
Our city and the surrounding areas offer a great range of places to eat and drink from the award-winning and upmarket Asian cuisine of Anokaa, through to the tasty French delights of Cote Brasserie. Hop onto a train to nearby Wiltshire village of Tisbury for an enjoyable walk and a lunch or tea stop at Beaton's Tea Rooms with its Cecil Beaton-inspired décor (and very tempting cakes).
Plan your perfect Salisbury break in 2019
There are so many things for you to see and do in and around Salisbury ideally you'll want more than a day here. Why not rest those feet after a busy time exploring and stay at one of our accommodation providers?
The Legacy Rose & Crown Hotel offers accommodation a short walk from the Cathedral Close and a pretty riverside garden with Cathedral views whereas the Milford Hall Hotel, which is also conveniently located has an on-site spa and restaurant.
If you want to stay in more informal surroundings then why not spend the night at one of our Bed and Breakfasts? The Old House is one such example, where you can enjoy a tasty Full English before heading out for the day.
Fancy staying in the countryside nearby? Then look into booking a break at Marshwood Farm - home to a B&B, self-catering cottage and a shepherd's hut if you fancy a spot of glamping in the Salisbury countryside.
Ancient… modern… timeless…
Quintessentially English, Salisbury is an unbeatable destination for day trips and short breaks alike. If you want to explore further afield, it also makes an excellent base for discovering all that Wiltshire has to offer. Why not download our latest Salisbury map for a handy guide to what you can see and do here. Plus delve further into our website for some top tips on making the most out of your visit to Salisbury.
---