Itinerary Planner
Products in this Suggested Itinerary
Spectacular Salisbury 1 Day Itinerary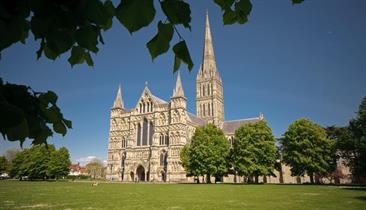 Morning - Start your day with a tour of Salisbury Cathedral, a breathtaking example of Early English Gothic architecture. The Chapter House contains the finest of four original 1215 Magna Carta manuscripts. Stop off for elevenses at one of the cafes in the Cathedral Close, before visiting any of the other attractions there: Salisbury Museum, The Rifles Museum, Arundells or Mompesson House.
Lunch - Salisbury
Afternoon - Pay a visit to another one of the Close attractions. Then head into the city centre with its range of unique, independent shops. Fisherton Mill with its gallery, cafe and artist studios is well worth a visit and on Tuesday and Saturdays the Charter Market will be in full swing (except the third Tuesday in October). For those able to stay into the evening, City Hall and Salisbury Playhouse offer excellent entertainment.
Create a personalised itinerary (This will replace all items in your planner)
Product Information
Salisbury Cathedral has been a place of worship, welcome, and hospitality for over 800 years. Its Spire (the tallest in the country and a feat of medieval engineering) rises to a breath-taking 404ft/123m, guiding travelers, merchants, and pilgrims to the historic city.

Explore a treasure trove of amazing artwork in the largest independent art gallery in the South West. Our relaxed and friendly café is a slice of foodie heaven in the heart of Salisbury.
Itinerary Distances
From
To
Distance * (metric)
Salisbury Cathedral and Magna Carta

(51.06461,-1.79814)

Fisherton Mill - Gallery, Cafe and Artist Studios

(51.07043,-1.80222)

0.64
Total Distance *
0.64 miles
Estimated Journey Time
1 minutes
* Approximate distance by road
Create a personalised itinerary (This will replace all items in your planner)