Kalefest 2
101 Newtown
Market Street
Trowbridge
Wilts
BA14 0BB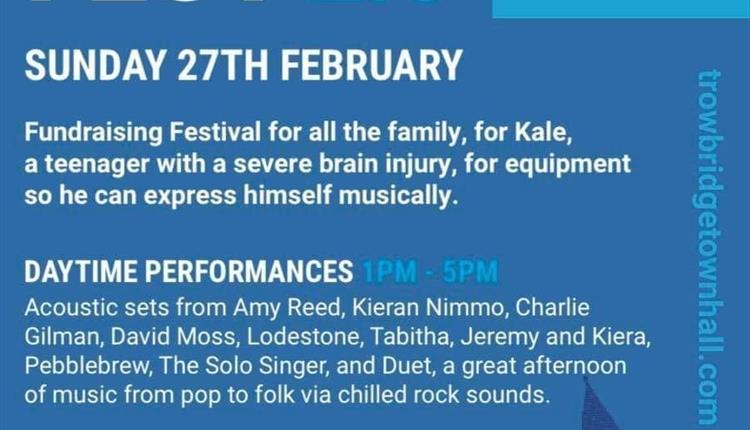 About
Fundraising Festival for Kale, a teenager with Locked-in Syndrome, for equipment so he can express himself musically. An afternoon of acoustic sets, followed by more live music in the evening Headlined by The Relayz.
Featuring a line up of acoustic sets from 1.00pm - 5.00pm including Amy Reed, Kieran Nimmo, Charlie Gilman, David Moss, Lodestone, Tabitha, Jeremy and Keila, Pebblebrew, The Solo Singer, and Duet, it will be a great afternoon of music from pop to folk via chilled rock sounds. During the break there will be other activities including a chance to win a raffle prize, before the evening kicks off at 7.00pm with a contribution from The Zone Club, followed by Pete Lamb's Heart Beats and The Relayz bringing the evening to a rocking close at 10.00pm.
Guide Prices
Get your tickets, priced at £12.50 for the entire event, search eventbrite for Kalefest (or £15 on the door). Afternoon session 1 - 5pm, Evening session 7 - 10pm.
Opening Times
Sorry, this event has passed
Map & Directions