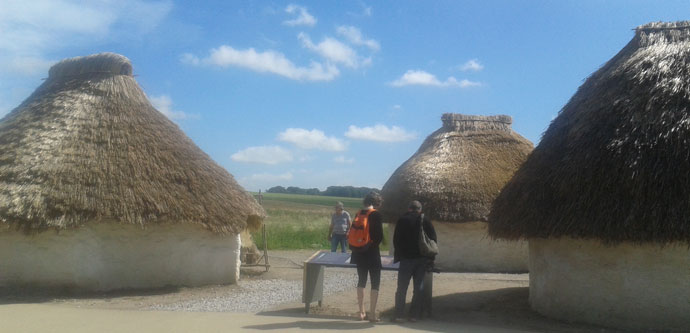 By Emma Kirkup

On a warm, sunny July day I ventured up to the new visitor centre at Stonehenge to see the recently opened Neolithic Houses.
The car park was busy and the visitor centre was buzzing with lots of people eagerly awaiting their visit to the site. As I ambled my way towards the Neolithic houses I passed beautiful poppies adorning the pathways and the adjacent fields.
I met Bob, one of English Heritage's volunteers in the first fully-dressed house. Here there are replica objects to represent the type of conditions that they think the people who lived at Durrington Walls were accustomed to complete with tools, animal skins, some very uncomfortable looking beds and a fire.
Bob told me about the school groups that visit and how they get the opportunity to grind grain, weave and help build a fire inside these huts, a great way for children to really remember their experience at the site.
The other houses are still being developed, a second house is due to be fully dressed as well and opened in mid-July. In the meantime there are volunteers and staff onsite to help answer your questions.
So if you think Stonehenge is just about some rocks, you'd be wrong! There's a lot going on there and if you haven't paid a visit to the new centre then it's a must. However please note English Heritage do advise that you book your tickets in advance to avoid disappointment.
Related
0 Comments