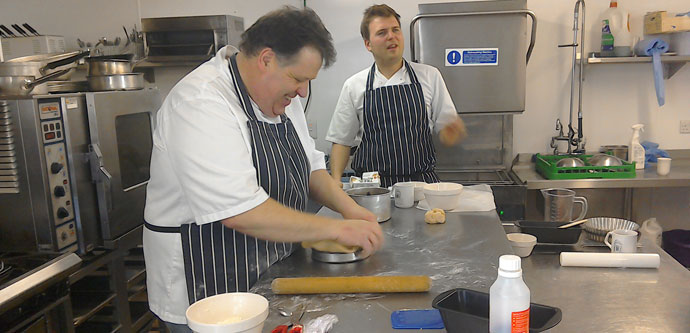 By Nick Baumber

When it comes to the kitchen, I'm certainly no MasterChef Champion. However, like Gregg Wallace, I do have a sweet tooth and a big passion for puddings. When eating out, I'm always drawn straight to the puddings and dessert menu to whet my appetite. And, if there's some sort of chocolate or sticky toffee pudding on the menu, then nothing else usually gets a look in.
So when I discovered that the Larmer Tree Gardens hosted a range of cookery courses, including a 'Puddings and Tarts' course, I just had to join in. The course provided a perfect opportunity to improve my culinary confidence and enthusiasm for cooking and not just rattle the pots and pans (as my wife would say).
I arrived at the Larmer Tree in glorious sunshine, taking in the magnificent views across the Cranborne Chase Area of Outstanding Natural Beauty as I drove past the entrance gates of the gardens. As I walked through the gates to the Pavilion, I was greeted by the peacocks that wander freely around the gardens and grounds (it was as if they knew some delicious treats were going to be cooked today).
Nick Paffet (who taught at Salisbury College for many years) and his right hand man Mike were our hosts on this course and met us on arrival at the Pavilion with plenty of tea and coffee and freshly baked shortbread biscuits. The relaxed atmosphere created a warm and welcoming environment for all the guests attending the course.
Nick and Mike gave a short introduction and let us know the format for the day. We were then presented with our aprons, course notes and recipes and headed on into the kitchen to get started.
The first thing we made was Swiss meringue. I've never attempted to make any kind of meringue, so this was going to be quite a test, especially separating the egg yolks and egg white. Nick talked us through the process and helped each of us to create a shiny meringue mixture which I piped into various shapes, shells, vacharins, nests, towers… and my so called splodges! These went into the oven to bake on a low heat for most of the day.
Sweet pastry for our Bakewell and chocolate, hazelnut and treacle tarts was up next. When it comes to baking, it's fair to say pastry hasn't been one of my best friends. My pastry is usually too crumbly, easily cracks and rather than being round ends up looking more like the shape of Australia.
Whilst rubbing the pastry through my fingers and breaking up the butter, Nick shared his tips to overcome some of these issues. I was so focussed on getting the pastry right that I forgot that one of the tins was bottomless and having picked it up, nearly ended up with a saggy bottom (Mary Berry would not have been proud!) or worse still no bottom at all. Luckily I managed to save it!
Making the frangipane and constructing the Bakewell tart was easy that I had thought. The large piping bags helped to ensure a consistent layer of frangipane, covering the jam on the bottom of the tart and prevented the mess that I would have expected if doing this at home. My fingers were crossed as it went into the oven. We also used the Frangipane to create a Raspberry Delice.
Just before lunch, we made the chocolate, hazelnut and treacle filling for our other tart. The challenge was not how to make it, but how to resist dipping your finger and tasting the mixture… I failed.
A lunch of freshly baked potato and onion pie, with a winter vegetable salad and coleslaw was provided along with a selection of drinks (all included in the cost of the course). This was a good opportunity for us to get to know the other guests and reflect on the mornings achievements.
After lunch, I took a quick walk round the gardens, which were designed by General Pitt Rivers as pleasure grounds for public enlightenment and entertainment.The Larmer Tree contains a great collection of ornate buildings, like the Roman Temple and Singing Theatre that retain the enchanting atmosphere.
After lunch, we made a delicious, rich and dense chocolate mousse, with a chocolate sponge base. I was surprised just how quick and easy something like this is to make. Great to make for dinner parties if you have friends coming round.
I learned in the morning that the course involved making one of my favourite puddings, sticky toffee pudding, so I was really looking forward to the next pudding on the menu. After beating the main ingredients together (brown sugar, butter and golden syrup and black treacle) and adding the dates, flour and vanilla essence, the pudding was done, so whilst the pudding was baking, we created our own using sugar, butter and cream.
Our final treat for the day was a twist on the very British bread and butter pudding, using brioche. The trickiest part of this pudding was making the egg custard and making sure that it didn't burn. We poured the custard over the layers of brioche, sultanas and currants and left for a while to be absorbed before we placed our trays in the oven.
I was amazed by how much I had made and achieved in this day course, especially as I don't have a natural talent for working with ingredients. What was great is that the course is entirely hands-on and all equipment and ingredients are supplied and included in the cost. What's more I've discovered I can cook and that baking, like other skills, can be easily learned if taught well. Thanks to Nick and Mike, I now look forward to putting into practice all the new skills, tips and techniques that I have learned (as will my wife and son I'm sure).
I might even book myself onto the next courses on 'Christmas Canapés & Nibbles' (Thursday 12 November) or 'Keep Calm & Cook Christmas Dinner' (Thursday 26 November) or is that just being too ambitious?
Related
0 Comments