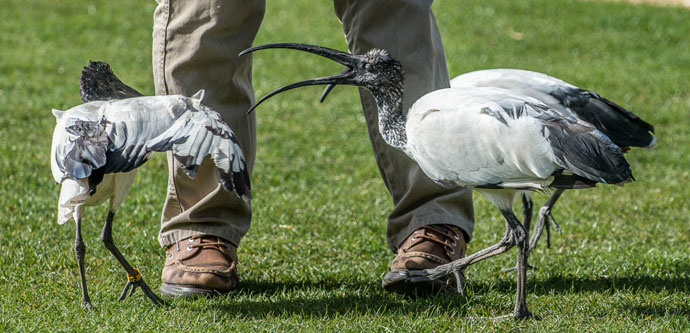 By Emma Kirkup
In celebration of their 50th anniversary, the Hawk Conservancy Trust has just launched a new 'Wings of Africa' arena display at the site.
I was lucky enough to go to the opening event on a very windy day to see the new birds that feature and the new display area created to simulate some of the landscapes of Africa.
It's been a couple of years since I last visited the Trust and I was impressed by how the main arena had developed. A lake had been created, termite mounds constructed and there's even a 'fire' area. There were lots of crowds gathered and excited looking families as the keepers arrived in the arena with the first bird, the African Fish Eagle. The running commentary was very useful, telling you a bit about the history of the birds, where you can find them in Africa and their traits.
Next up I got to see owls, vultures, kites, a Secretary bird and African Ibis. The challenge for the Trust on this day was the strong winds which made for interesting displays as some of the birds struggled to fly in certain directions and point blank refused to do as the keepers wanted! I also had to duck on several occasions as very low flying birds came overhead! If you are lucky as well you may get glimpses of some of the other arrivals at the Trust, some meerkats. It's not just entertainment though, there's a serious message about the Trust and the conservation work that they do not only here but in Africa too.
After the display, I spent time wandering around the site learning about some of the other birds. You can see inside the bird hospital too where some of the conservation work takes place.
For children there are trails around the site as well as a play area. The flying demonstrations are very family-friendly too.
Find out more about family-friendly things to do across the county.

Photos: Lee Alexander Photography
Related
0 Comments