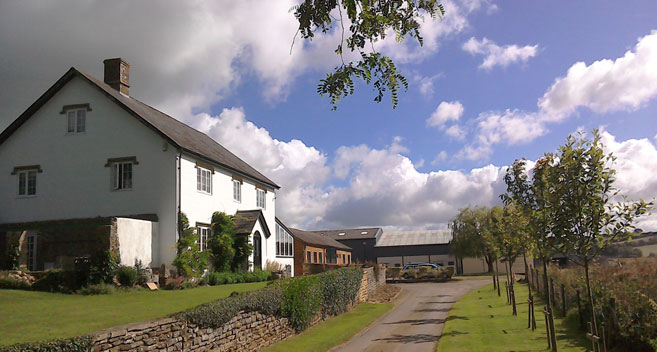 By Nick Baumber
If I'm honest, although a 'foodie', I'm not the greatest of cooks. Keen to learn and appreciate more essential practical cooking skills, I attended an adult essential skills course at the newly-opened Farm Cookery School near Bromham.

Nestled in 696 acres of beautiful Wiltshire countryside, in view of Roundway Down (where the famous battle took place in 1643), The Farm Cookery School is part of Netherstreet Farm, an arable and beef farm, with its own herd of Galloway cattle.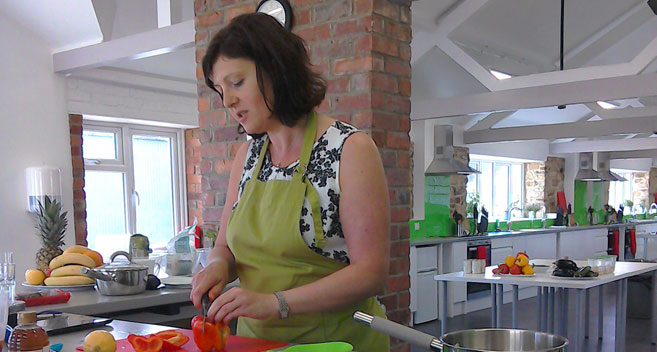 Everyone has a story to tell, and Gretchen, who runs the cookery courses at the cookery school, has many. Having over 25 years' experience in the catering industry, including running restaurants in London, her passion for food and creativity are clear.

The transformation from former cattle shed and duck hatchery, into a fully-equipped cookery school, complete with 8 kitchen areas, a demonstration kitchen, children's education and break out areas is remarkable.

The ethos of the cookery school is to teach practical cooking for everyday life. Many a moment have I opened the fridge or cupboard door, looked at ingredients and wondered
what tasty dishes I could create. This course gave me some great ideas!

After a warm welcome from the staff and meeting fellow students, we were taken on a tour of the cookery school and its fantastic facilities for adults and children. We talked through what the day course entailed, before sitting at the demonstration kitchen, ready for Gretchen to start.

Today's course was "Moroccan Chicken and Pasta Pronto". The welcome packs contained everything we need to know about the recipes, including a shopping list, options for variations on recipes and a clear step-by-step process on preparation and cooking. The latter being very helpful, if like me, you tend to forget to get your ingredients all prepared or get the water boiling before starting.

The demonstration kitchen is a relaxed and informal area, great for listening, learning and sharing thoughts with others about the practical cooking skills and techniques. I'm always keen to give my wife a helping hand in the kitchen (the will is always there!), but sadly when it comes to cutting and chopping skills, they are somewhat lacking. As such, it was great to learn some new techniques as Gretchen prepared the ingredients.

Always talking through the process, it was easy to watch and follow her steps from preparing the meat, vegetables, spices, couscous and stock ready for cooking. The smells from the sauce and sizzling chicken were amazing.

A cool glass of elderflower pressé was needed, before I turned to put my cooking skills into practice. Using my shopping list, I selected all the ingredients and started preparing the food, using the techniques that had been demonstrated. It took a while, but practice makes perfect and with the help of Gretchen and her staff, I soon got the hang of it.

Following the step-by-step guide (which made the process as easy as possible) and after plenty of blitzing, dicing, drizzling, chopping, stirring and simmering the Moroccan chicken meal eventually came together, ready to take home for dinner.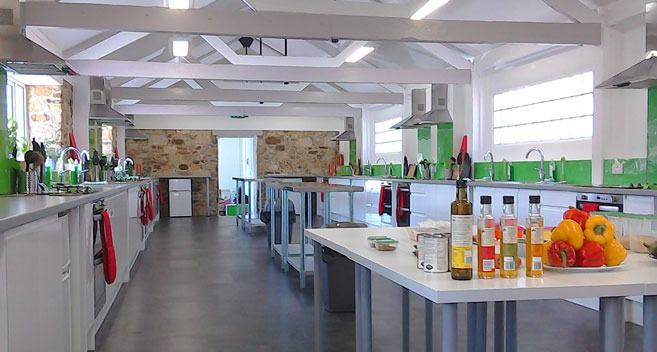 Lunchtime approaching, we made our way back to the demonstration area, where Gretchen had prepared the ingredients for "Pronto Pasta". We were all shown four quick pasta meals to whet our appetite for our light lunch. My favourite was a tomato and cheese based pasta dish, using crème fraiche, it was delicious.

Before we knew it, it was time to head back home. We all left with lots of creative recipes and with good intentions of putting those essential cookery skills into action. Fun and educational, a great time had by all.

The cookery school offers a variety of daytime, lunchtime, after school, evening and weekend courses for everyone aged over 5 years. Find out more about Wiltshire cookery schools here.
Related
5 Comments