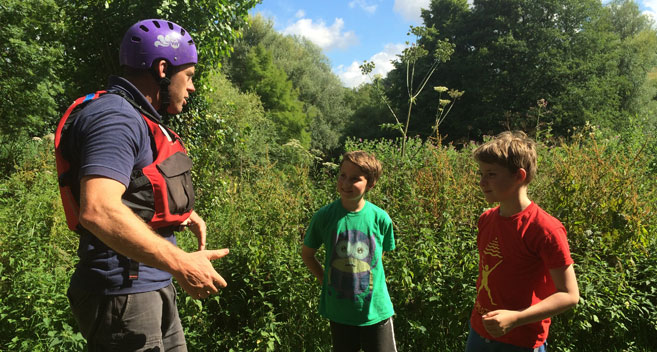 By Florence Wallace
I was lucky enough to visit Marlborough College Summer School with my 10 year old twin boys Rory and Jamie for a taster of what visitors experience when they book on one of the 600 courses available over a four-week period every summer (10 July – 6 August 2016).
The boys fitted in to the Young Adventurers age category (9-12 year olds) and were booked into Circus Skills in the morning and Outdoor Adventure in the afternoon.
The Circus Skills class run by tutors Ilizane Broks and Hal Sutton welcomed Rory and Jamie and introduced them to the dozen or so other children in the group. They were informed that today would be Pyramid Day. These children had been together for this activity for the previous two mornings - but Rory and Jamie were welcomed by everyone and fitted in nicely.
Jamie's natural gymnastic ability helped him to flex his body and both boys were encouraged to be on the bottom of the pyramid as they had good core body strength. After a few exercises they went on to try and form their pyramid with five kids on the bottom followed by four kneeling on top of them and finally three trying to climb up on to the third layer.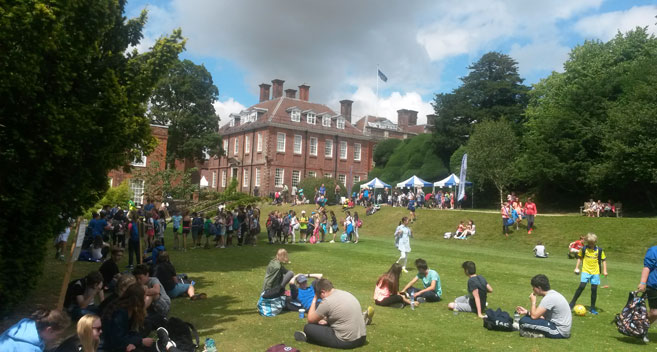 After a well-deserved short break with doughnuts and squash on the main college lawn, the kids went back to continue the morning session practicing with the huge range of circus toys.
Jamie's favourite was trying to throw the hat and catch it on his head, whilst Rory spent ages practicing the Diablo, which by the end he had truly mastered! He has now asked for one for his birthday so he can continue his training at home.
The other children were having great fun with plate spinning, juggling balls and clubs, ribbon rhythmic gymnastics, balancing and crash mat exercises.
Everyone had developed an appetite for lunch which allowed the children to meet up with their families before registering for their afternoon sessions.
It is worth pointing out that throughout the day we spoke to many visitors who oozed positivity; from the variety of courses, organisation, attention to detail and the food was mentioned on more than one occasion. We could have had mussels for lunch but the boys opted for pasta and curry, I had the cottage pie and salad. There are always hot and cold options, salads, puddings and drinks available - all included in the price.
At 1pm we went over to the Outdoor Adventurers Young Adventurers registration point. The boys were very excited about this, it was right up their street as typical 10 year old outdoor kids like nothing more than getting wet and muddy!
Once again they joined a group of youngsters who had been together for two sessions earlier in the week and again Rory and Jamie were made to feel very welcome.
This course was led by Paul Webb and Josh Williams from H5 Adventure based in Royal Wootton Bassett. Both guys had a great connection with the kids and my boys particularly warmed to Paul, who had a great sense of humour.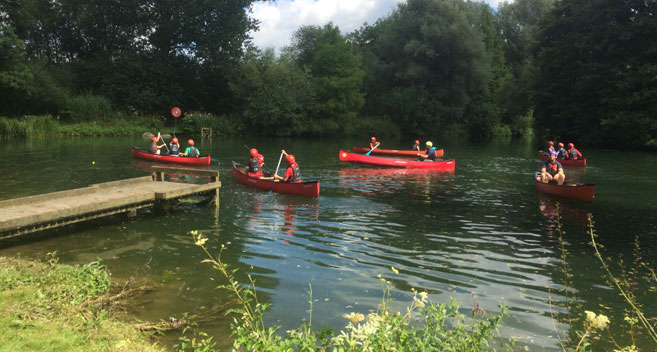 Paul and Josh got the children in the canoes first to play games - walking up and down the row of canoes swapping places, chasing balls and playing river football.
As it was a warm day, all the kids were looking forward to accidentally-on-purpose falling into the river, so when Paul mentioned the next task was to make a raft and float it - they knew that this could be a way in!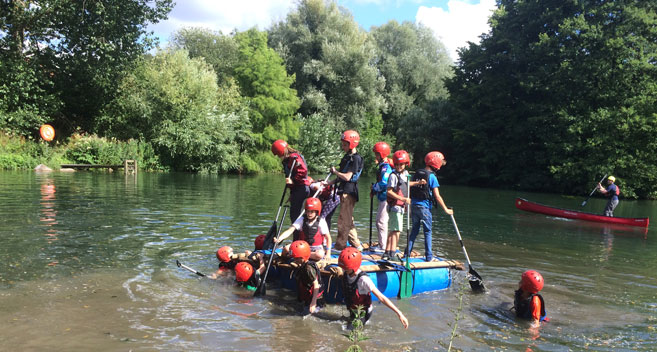 After a brief demonstration the kids got stuck into tying the rope onto the wood slats for the base and then fixing the large barrels onto the wooden structure to make it float. Paul and Josh carried it over to the water's edge and pushed the kids out so they could paddle it for a while. It wasn't long before Jamie leant too far over and toppled in, closely followed by Rory and the rest of the group.
A lot of fun followed as Paul allowed them to launch themselves backwards off a jetty and swim into the shore! I should point out they were all fully clothed but luckily they had brought dry clothes to change into.
If the boys had stayed all week on the Outdoor Adventure course they also would have experienced large wet inflatable slides, a climbing wall and the swamp. The highlight of the week is always on the final day when the children compete in the Adventure Race.
We returned for more tea and cake and as we were just about to go home, we were invited to attend the family swim session in the amazing Marlborough College swimming pool.
The college also runs a series of evening entertainment for visitors and some events are open to the public to attend. The evening's entertainment on the day I visited included a Savernake Forest Safari, a Zumba class and a film night with popcorn. Unfortunately, we had to head home but I couldn't help thinking that we must return and next time stay for a week!
It is an ideal family holiday for parents/grandparents whereby every individual can book to take part in the activities that they love in addition to spending quality time with their family. Each family member will return home having learnt a new skill - what could be better!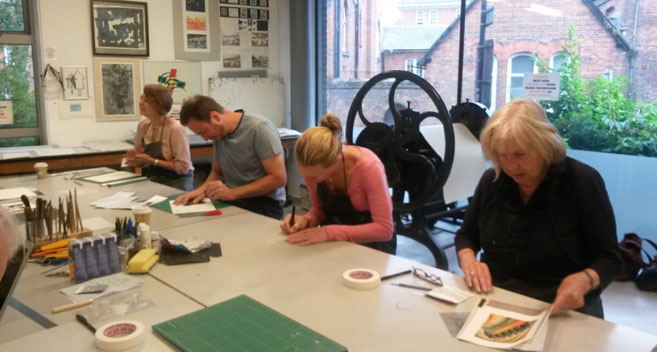 Mum may like the art courses such as 'Portraits in Pastel', 'Watercolour For All', 'Basket Making with Willow' or even 'Teddy Bear Making'. Dad may choose to do 'Triathlon', 'Designing your own Garden', 'Fly-Fishing' or even a more theoretical course like 'Investment for Beginners'.
The children's activities are broken down into age groups with Junior Troopers age 3 – 6 years and Children's Activities age 6 – 9 years. As the name suggests they have a multi-activity programme so they experience many different fun activities throughout the week. Young Adventurer's age 9 – 11 years have an extensive choice including 'Young Clayshot', 'Horse riding', 'Dance Fusion' or Netball. Teenagers 13 – 17 years could choose 'Young Chef's Academy', 'Rock School', 'Fencing' or even 'Stone Age Arrow Workshop'.
Course information comes out in January and the brochures are eagerly awaited by customers, many return and again, some doing the same course every year and others choosing a different one every time. Day visitors and evening guests are also welcome and there's a real international feel to the school, with 35 nationalities in attendance.
For young international visitors Marlborough College also run a School of English and Culture which offers a unique mix of English as a Foreign Language lessons in the morning and Summer School activities in the afternoon. The students are fully immersed in their English experience throughout their two or four week visit. They are fully supervised at all times by dedicated pastoral staff. They live and work with the students without getting a day off, as weekends have their own schedules with trips out to see the local area and day visits further afield.
I would like to say a big thank you to Rachel Wheeler and John Blake from Marlborough College Summer School for making this visit possible and for looking after us all on the day.
Related
0 Comments