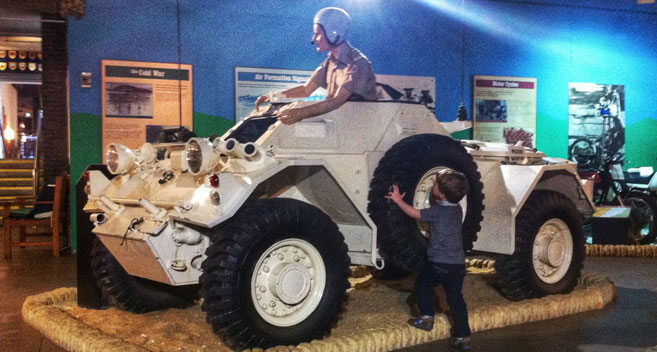 By Nick Baumber

When my 3 year old son (nearly 4 as he keeps on reminding me), asked if we could go an "army museum" I knew just the place to take him. George loves creative role play and can often be found attacking and defending his castle with his toy soldiers, knights and action figures, so we planned a visit to the Royal Signals Museum at Blandford Camp, home of The Royal Corps. Of Signals, a short drive from the Wiltshire border.

After checking into the camp and collecting our visitor passes (a simple, quick and easy process, though adults require photographic ID) we made our way over to the museum.
The museum tells the fascinating story of military communications through engaging and interactive displays (ideal for children) and houses the national collection of military communications equipment.

It's easy to forget importance of communication in everyday life, let alone in a military environment. It enables us to share knowledge and information, develop relationships and convey our thoughts, intentions and objectives clearly and accurately, which, when on the battlefield, can ultimately be the difference between victory and defeat.

"Look at this daddy" George said as he pointed to a model of a shutter telegraph station that once stood within the camp boundaries. Turning, he raced to discover how a shutter telegraph worked by pulling the ropes up and down to reveal and hide symbols that would be used to communicate messages using a code.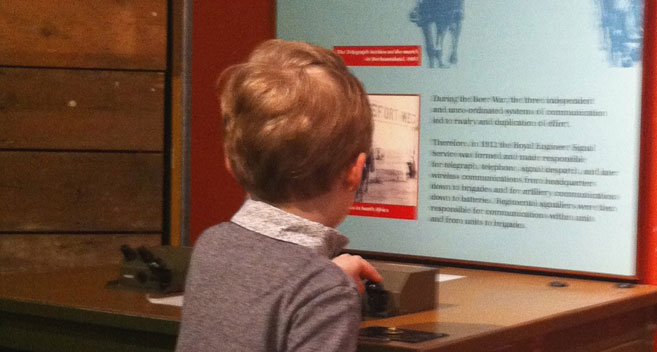 As we moved round the corner, George noticed a mirror on a tripod. "What's this for daddy?" he asked. I pointed out the button on top of the round mirror and asked him to push it and look on the wall opposite. The flashes of light flickered as I told him how sunlight was used to communicate messages. We then learnt about Morse code and had fun creating and listening to the on and off tones, dots and dashes using communication equipment.

Next, we looked at the cable wagon that was on display, the last one believed to be surviving. These carts were used to lay telegraph and telephone cables quickly, particularly during the mobile phases of the First World War. I learned that author of Winnie the Pooh, AA Milne frequently wrote about his experience as a signalling officer including laying cable line during the war.

Moving round the ground floor displays, we next encountered the sound of "I'm under fire" as we listened to dialogue between the battlefield and command centre. George and I headed past and into an area where vehicles were displayed, including the armoured command vehicle from World War 2, which George was fascinated by. These large robust vehicles were used to carry signal equipment to enable commanders to communicate with troops. "I'm nearly as tall as the big tyre" George said in some sort of proud statement. I lifted George up to have a look inside as I laughed to myself.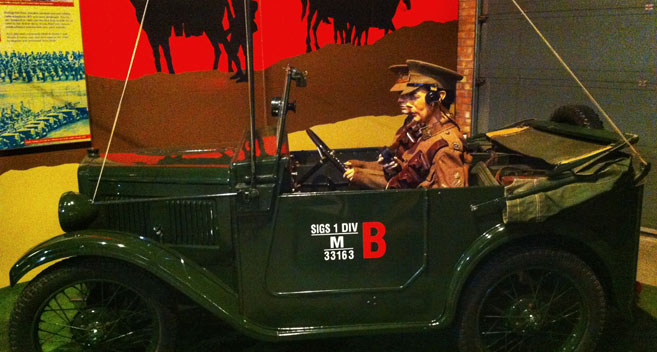 Moving onwards, we looked at the motorcycles and Jeeps that were supplied to the British Army as reconnaissance vehicles and supported military operations. "Who's the lady the in the red hat and long coat?" George asked, pointing to the Women at War exhibition. "What's in her suitcase?" he questioned. I explained to George about secret agents, how they trained and the equipment they used to communicate. I joked with him about whether he could have been a secret agent. "Yes" he said. I'm not convinced … he talks a lot and gives away far too many surprises.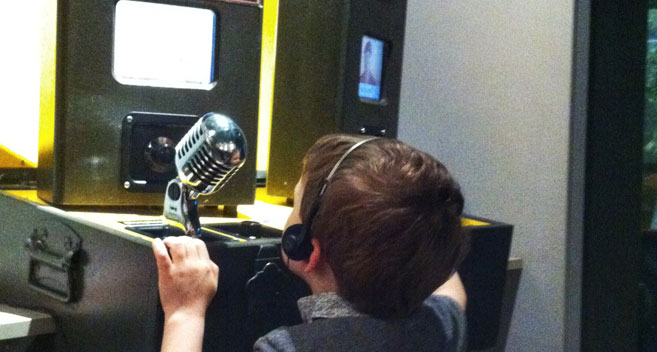 We then climbed the stairs, passing the Naafi café, which is a 1940s style café that serves hot and cold food and drink and into the 'Secret Waves' interactive gallery. This is a great, engaging, hands-on interactive experience which George really enjoyed. He particularly enjoyed guiding the laser beam round a course to enable transmissions and learning about transmitting frequencies and how radio works in this part of the museum. George loved to talk down the microphone as if he was broadcasting news.

The next step took us into an area about post war operations and Royal Signals personnel who served with the British Army of the Rhine (BAOR) and took part in various campaigns and peace keeping missions including Falklands, Gulf, Bosnia and Kosovo. We looked at the equipment used during their service including Ptarmigan (an encrypted, transportable digital communications system which connected data, telephone and radio communications over large areas).

As we went through to look at the models of modern Signals, some army personnel walked past in military clothing. George asked them "where where are you going?". They replied and engaged in a conversation with him asking him about his time in the museum. "My friend's daddy is in the army" he noted during the conversation. George loved looking at the military clothing and the gadgets and equipment they use on display.

George took me past two huge satellite dishes and down some steps to an area about electronic warfare and counter measures before heading off into a further room full of more vehicles. The large Pink Panther Land Rover was on display, which prompted me and George to talk about camouflage and hiding in the desert. One of George's favourite games is hide and seek so he could easily relate to the significance of camouflage in military operations.

There was also a ferret armoured car, used as a reconnaissance vehicle. George noted that it looked like the "moon buggy" he had at home (he's also into everything to do with space at the moment). There were also motorcycles and a Snowcat communications vehicle on show. "What's this?" George asked as he disappeared round the corner. It turned out to be a replica operating base which gives visitors the opportunity to experience life in Afghanistan.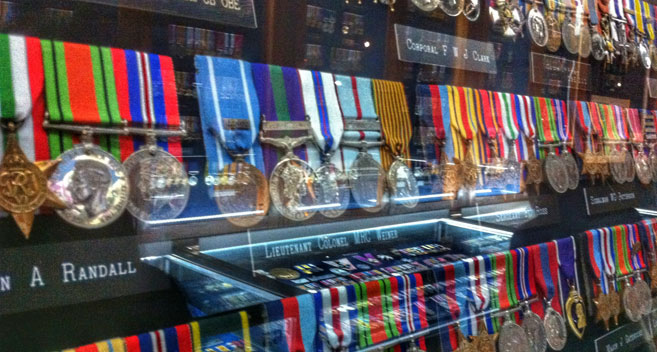 Making our way up the stairs we admired the extensive medal gallery. I explained to George why these medals were awarded and the feats and acts of bravery and courage. "Do I get one for being good daddy?" George asked as we headed off back downstairs, into the gift shop (selling lots of great souvenirs) and back home, having had a lovely afternoon at the Royals Signals Museum.
Related
0 Comments