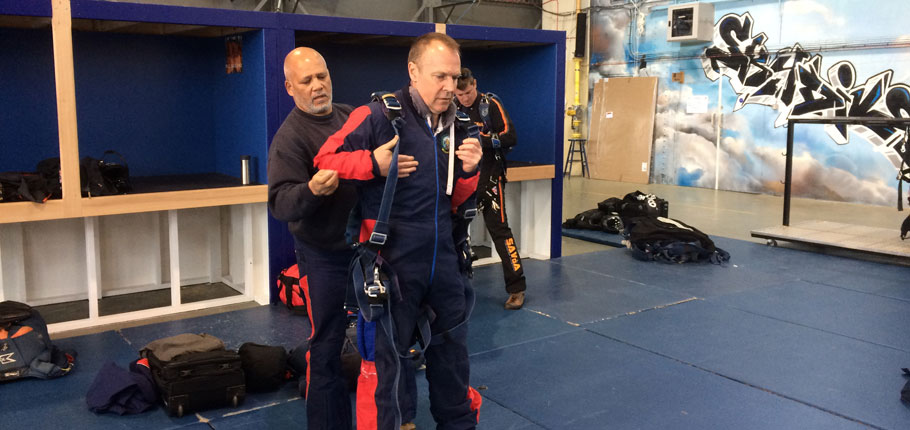 A guest blog by Drew Cunliffe
We arrived at Netheravon for my tandem skydive on a near perfect Saturday spring morning. The sun was shining and the sky was a cloudless expanse of blue.

As we drove onto the historic base, we spotted a brightly coloured parachute high above our heads.

Netheravon first opened before WW1 and is believed to be the longest continuously operated airfield in the world.

Looking around we saw half a dozen more parachutes floating down towards us and heard the sound of an aircraft engine readying itself for take-off. Suddenly what had seemed like an abstract event became very real indeed!

We were warmly welcomed onto the airfield by a gatekeeper and this friendly approach was something we encountered again and again throughout the day; from the reception team, café staff and the instructors.

For some reason I had expected fairly rigorous training, perhaps some old-school classroom lectures and a lot of waiting around.

In reality our briefing and training were relatively low-key. We were given an overview of the key equipment and instructed what we needed to do during freefall, once the parachute had opened and on landing.

We were then notified we were scheduled for takeoff in 35 minutes and instructed to listen out for our names being called over the tannoy.

A short time later I, along with the other half a dozen students, were introduced to our personal instructors. Although each instructor had their own approach it was clear they all had the magical ability to put us immediately at ease.

My instructor, Mike was hugely experienced with more than 3,000 jumps under his belt. He was super efficient, highly professional but also friendly and more than happy to share a joke. He helped me into my equipment, gave me some more tips and explained exactly what was about to happen.

After some last minute checks on the ground we climbed into our aircraft and shuffled into position for our short flight to 13,000 feet. As there were no seats we all sat on the floor, facing the back of the plane and strapped to our individual instructors.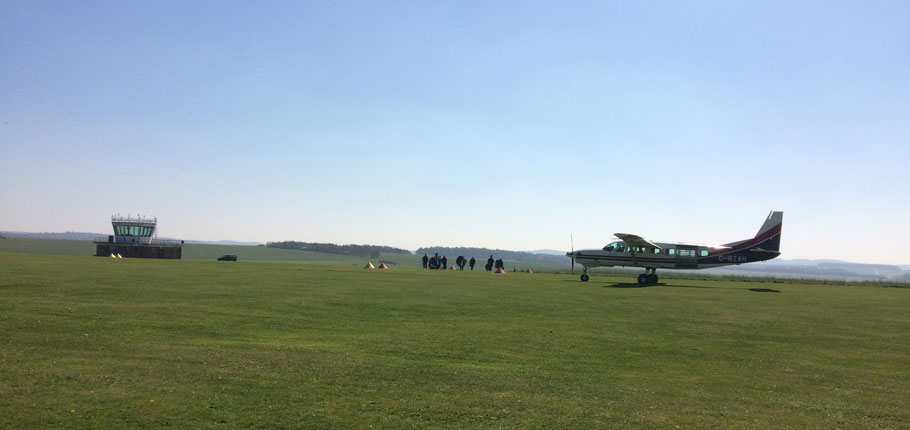 It was a cosy flight and as we rapidly gained altitude Mike, whose lap I was effectively now sitting on, quietly ran through the process and key points about the jump while also giving me a commentary on the various landmarks we could see out of the window.

It was when he pointed out the Solent, that it began to properly sink in just how high we actually were!

Soon after we were told to make our final preparations, the shutter door on the side of the plane was opened and, two-by-two, we began shuffling our way towards the exit.

As we were the penultimate jumpers I had the opportunity to watch most of my fellow trainees as they waited on the edge of the aircraft before tumbling out of view.

When my time came I had to force myself to shift my weight forwards, there was a short pause as I began to question the wisdom of my situation, and then we were falling forwards; the ground rushing towards us.

After the initial shock, the next 50-odd seconds of freefall were utterly exhilarating. My goggles protected my eyes from the rushing air and, once in the correct position, I felt relatively stable and confident enough to start admiring the extraordinary views.

Then, with a tap on my shoulder, Mike alerted me to the fact he was about to deploy the parachute and our hurtle downwards suddenly slowed significantly. Almost immediately the world became a very quiet and strangely peaceful place.

I removed my goggles and Mike began talking me through various procedures. He also handed me the controls of the chute and instructed me to pull down with my right hand. It may have been the adrenaline but I pulled quite hard and was slightly taken aback as we suddenly picked up speed and began spiralling down to our right.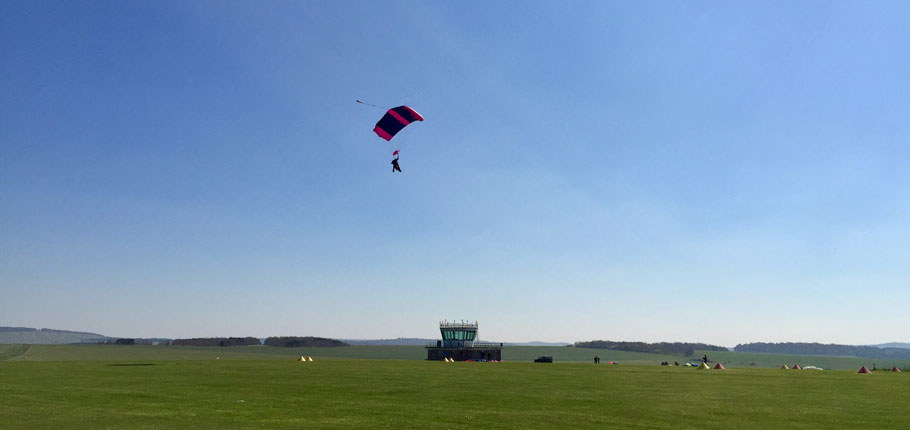 He gently corrected our descent and from then on our turns became a little less extreme as he expertly manoeuvred us back towards the airfield and our designated drop zone. A last practice run of lifting my legs prior to landing and then we made our final turn.

I spotted my family waving and, under Mike's expert tuition, we gently came in to land on the soft grass – directly in the middle of the landing area.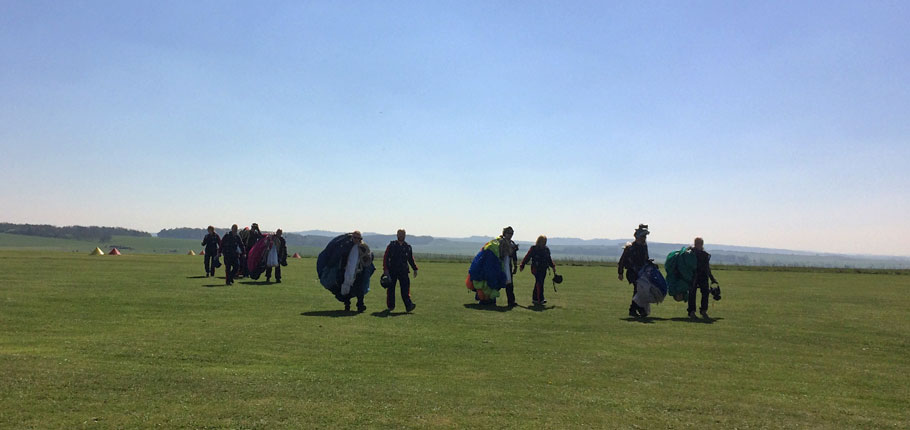 He undid the buckles which had held us together throughout the jump and, after gathering up the parachute, we returned to the main hangar area where I took off the jumpsuit, returned the helmet, gloves and goggles and began to reflect on what had just happened.
For me the sensation of freefalling was a revelation. I had been worried it would feel like an extended version of the arm-windmilling panic associated with jumping off the diving board at the local swimming pool. In reality it was nothing like that at all and you can fully appreciate and enjoy the ride – while at the same time still not quite being able to comprehend how this is possible.

Having such friendly, unassuming and yet wholly professional instructors really made the experience for me. They gave you the confidence to relax and soak up the atmosphere while they did all the hard work. I felt safe and secure in the knowledge they were in charge and that confidence freed me to truly appreciate the wonder and excitement of the jump.

I can think of no better place, and no better people to help you make that first leap into the unknown and it is an experience I will never, ever forget.
Related
0 Comments