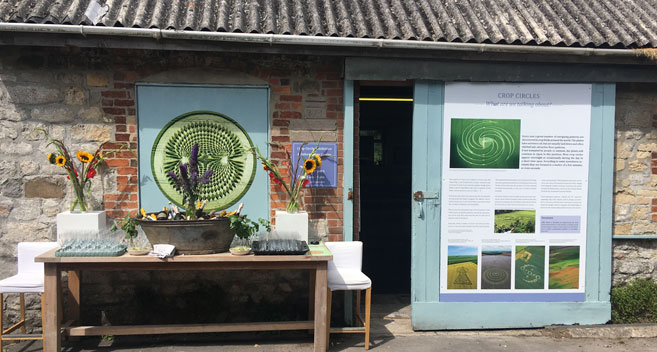 This week, I was lucky enough to be invited to the opening of the Crop Circle Centre & Exhibition. As a lover of all things mysterious and unexplained, I was excited to see what would feature in its new permanent home in Honeystreet Village, Pewsey.
During the celebrations, Owner and Curator of the Crop Circle Centre & Exhibition, Monique Klinkenbergh, explained that Pewsey has been the centre of the crop circle phenomenon since the media started reporting on the appearance of the patterns in the late 1980s. Just a few minutes away from the centre's new home is the farmer's field where the world's most famous crop circle appeared in July 1990, which is why Pewsey is the perfect permanent location for this educational and eye-opening experience.
With the centre split between two floors, there is lots to see and read free of charge. But for a small admissions fee you'll have access to the upstairs floor which offers a more in-depth insight into the mysteries of crop circles, and also the impact they have on the local community.
The new location is airy and bright and I enjoyed reading about the history of crop circles, as well looking at all the beautiful designs. Whether you have an interest in the origins of crop circles or not, there's no denying that they are an art form, which is why I'm so pleased that Monique has found a permanent residence, aptly located in the heart of Pewsey.
Just around the corner from the exhibition is Honeystreet Mill Café which has a garden-terrace that offers a beautiful view of the of the Kennet & Avon Canal. There is also a selection of independent shops to peruse, which makes for a lovely afternoon.
The Crop Circle Centre & Exhibition is open every day 11am to 5pm until 31 December 2019.
Related
1 Comments