As the days get shorter and the weather turns colder here in Wiltshire, it's time to wrap up warm and go for long Autumn walks through the fallen leaves. Then head to the kitchen and cook up a storm - something hearty and delicious to warm your cockles after that long walk! We asked Gretchen from the Farm Cookery school to inspire us with some hints and tips for cooking delicious Autumn meals. In this guest blog, Gretchen tells us the secrets to making a beautiful Autumn stew, whether you create a meat or vegetable version.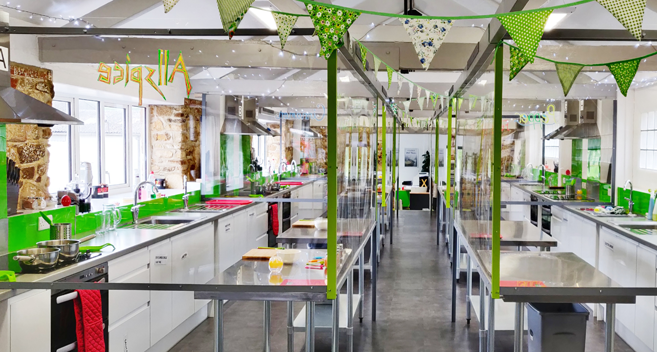 The nights are getting longer and the weather has definitely turned down here on the farm, so stews are back on the menu. On a cold evening nothing can beat a rich stew served with creamy mashed potatoes, cauliflower cheese and some lovely seasonal vegetables. If you have a slow cooker to hand you can easily create your stew and let it cook all day until you are ready for dinner.
We may be a bit biased at the cookery school but our favourite has to be Beef and Ale Stew made with our own Galloway Chuck Steak (available to purchase from www.netherstreetfarm.co.uk!) This stew has always gone down an absolute treat in our Stews and Slow Cooking classes where our customers all sit around our Demo Bar and enjoy a range of stews before creating their own to take home and cook the next day.
We thought it would be nice to share our recipe and a bit of know-how for you to try at home.
Download the full recipes for the Farm Cookery School Beef and Ale Stew – then read on for more tips to get your stew exactly right!
---
A bit of stew know-how for you:
Your stew base: Get chopping to create your Mirepoix of Onion, Carrot and Celery in the ratio of 2 : 1 : 1 (A little bit of useless information for you – Mirepoix doesn't have a translation, it is actually the name of the French Aristocrat who came up with this tasty mix of vegetables that gives such a boost to stews, soups and sauces.)
Browning your meat: Recipes will often tell you to brown your meat to seal in all of the lovely flavours. Well, we want the lovely flavours in the stew so it is not necessary to brown the meat for that reason! HOWEVER it will add to the flavour of the dish if you have time to do it, as it caramelizes the surfaces.
Browning your vegetables: Now this is very important, if you are making a vegetable stew it will make the world of difference if you cook those vegetables until golden brown once you have sautéed your Mirepoix. All those natural sugars will come out and the depth of flavour in the stew will be vastly improved.
Thickening your stew: If you have ever had the frustrating experience of trying to thicken your stew using cornflour or flour and it either just clumping together or not thickening at all then here are a couple of tips:
- Always mix your cornflour with cold water or milk before introducing to the stew as it will clump otherwise.
- Heat is the activator for cornflour – if your stew is not hot enough it will not thicken no matter how much cornflour you add! Some slow cookers simply can't get the stew to a hot enough point to be able to thicken, so you may need to transfer the stew into a saucepan.
- If you prefer to use flour then it needs to be coated with butter – this is called a Beurre manié and is pretty much like using a backwards Roux! Mash butter into some flour and then stir into the stew. Again, it needs to be hot enough for the starch to do its thickening job. This will give you a much richer and creamier sauce than using cornflour and is my personal favourite.
---
Whether you choose a Meat or Vegetable Stew we at The Farm Cookery School wish you Happy Stewing! If you would like to learn more, we have designed a new Soups Class that we can run in our lovely Covid Safe Pods and there will be some stew knowledge in there too. Have a look at all the upcoming classes at the Farm Cookery School.
Related
4 Comments