With Christmas fast approaching, now is the time to get on with that Christmas shopping! Wiltshire is home to many fantastic artisans, makers and small producers – so why not shop local this Christmas and buy handmade gifts for your loved ones? We spoke to one of Wiltshire's artists, Jacqui Melhuish from Marlborough, about supporting local businesses, Wiltshire's hidden gems, and the best views around.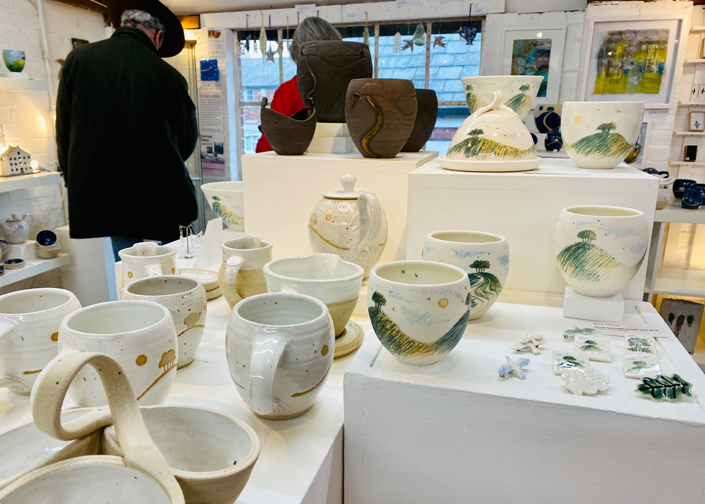 Tell us a bit about yourself and your role?
I manage Wagon Yard Artists, a wonderful workshop and gallery tucked away off the London Road in Marlborough. We are a collective of creatives - painters, potters, textile and glass artists. We participate in Marlborough Open Studios every summer which helps us to get noticed as we are hidden away in Wagon Yard. We have had visitors that have lived here for years and say they have only just discovered us despite us being open every Saturday, 10-4! We also do an annual Christmas Fair (this year it is on every Saturday leading up to Christmas and you can book extra slots on Dec 17th). I am pleased to say we have arranged a booking system which means we can safely restrict visitor numbers and follow the current safety rules. We bought our hand sanitizer from the Ramsbury Brewery very early on, supporting a local business which had diversified when everything else shut down due to Covid. I must say it smells fantastic!
What do you like best about your role?
Our studio in Wagon Yard is an amazing space to work in, with a lovely view from the window looking out at the river running past. There is lots of room downstairs, with a huge table that enables me to run lessons and workshops. The gallery upstairs is a lovely bright space, with a beautiful roof – in days gone by train carriages for the station were made here. I can pursue any projects or ideas that I want. I especially love teaching the Raku firing which is always awe-inspiring. Most of all though, it is great to be working alongside other artists – we offer each other company and support.
Where are your favourite places to go walking in Wiltshire?
I go walking with Jeannette Therrien and her little dog Rupert who I have known since he was a puppy. Jeannette founded Wagon Yard Artists, before handing it on to me to run. She now concentrates on her glass studio in Ogbourne St George but she still participates in the gallery. Favorite walks are either heading up to Barbury Castle, with its wonderful views or along the cycle path from Ogbourne St George. You can head off almost in any direction and enjoy the countryside and villages.
Do you have any hidden Wiltshire gems that you would like to share with our readers?
Gopher Wood is a bit of a hidden gem. A great walk, foot paths run through the swathes of bluebells and garlic. Absolutely stunning and great views at the end.
Where is your favourite picnic spot in Wiltshire?
The best place I have had a picnic at was at Adams Grave on the Pewsey Downs watching the sun rise for summer solstice with the Wessex Nordic Walking Group. Hot chocolate and croissants and great company. Totally in awe of the views you get from there.
Where are your favourite places to eat out in Wiltshire and why?
Day time it's Elianes, which now has a branch in Marlborough. I love healthy food that tastes great too. In town, we have wonderful independents like the Food Gallery and Bunces – both do amazing coffee and great breakfasts and lunches. If I want to spoil myself I go to Rick Stein's, I love the décor and the ambience. Since the lockdown, I have discovered a few more places. We have had amazing two-course meals delivered to our door by JWFF supper club at home. I have recently discovered Baking Chambers too – they not only make great bread but bake the best Pizza in a stone-based oven, using organic ingredients and no additives – absolutely mouth wateringly perfect!
Want to support Wiltshire's local businesses by shopping locally in the run up to Christmas this year? Find out about the late night and Christmas shopping events taking place in Marlborough in December 2020.
Related
1 Comments