VisitWiltshire were very kindly invited to take part in one of The Farm Cookery School's online cookery classes, and I chose the Moroccan Tagine class as I had never made one before.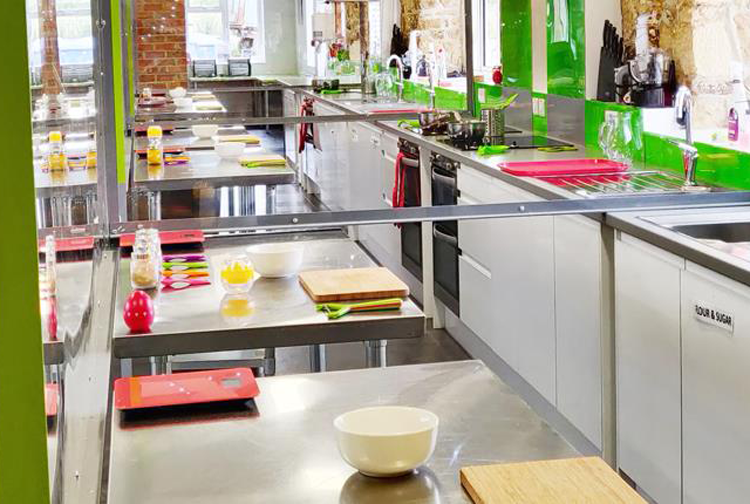 The Farm Cookery School is based on a working farm in Bromham near Chippenham, and offers a range of classes covering a number of cuisines around the globe. There are courses for all levels of expertise, from adult masterclasses to holiday clubs for kids. The Farm Cookery School were in the process of developing a range of online classes before lockdown hit, which meant they had product pretty much ready to go. They were hoping to create a whole new concept of class to add to our offering & the classes and menus are designed to be better suited to a home audience.
There are a range of courses available exploring cuisines from around the globe including Mexican, Thai and Indian. They also put together some 'Create Your Own Classes' which you give you the freedom and choice to create your own take on a dish.
The online class begins with an email containing a detailed guide to the class. This contains a list of all the ingredients and equipment you will need and gives you a rundown on the history and the cooking process of the dish. One of the great things about these courses is that there is a lot of freedom of choice. For the Tagine, you were given a choice of which meat you would like to use, or vegetables (I chose chicken). You are then given a list of options of the other ingredients you can add, again, your choice. You are also provided with a detailed list of herbs and spices, with a short background on each one, its qualities and what it's used for. This gives you the freedom to tailor the dish to your particular tastes.
Once you have all your selected ingredients and equipment ready, it's time to log-in and get cooking. Our course was taken by Gretchen, the owner of The Farm Cookery School. Gretchen takes you through the recipe clearly and eloquently step by step, and assistant Laura provided close up shots so you can see clearly what Gretchen is doing. And what a job she does! Not only is she cooking her own dish, talking you through what to do, but also fielding questions from the group who are all cooking something slightly different to her. One of the great things about doing a course from your own kitchen is you can employ the help of family members, or in my case girlfriend, to ensure the cooking goes smoothly and you don't miss any of Gretchen's instructions. Despite being in your own home and only connected remotely, Gretchen and the team still manage to make it a feel inclusive and install a fun group atmosphere
The recipe and instructions are really easy to follow, and any questions you have are quickly answered. You can also learn some great new tips, for example coating the chicken in a little honey before frying. This helps the chicken caramelise and adds a natural sweetness to the dish, definitely something I will bear in mind for future dishes (like curry). Before you know it, you have your end result! The completed dish was delicious, and the ease with which it was achieved means it will now be a regular meal in our house. Even better is the fact that I have all the options to adapt it with different meats, veg and spices!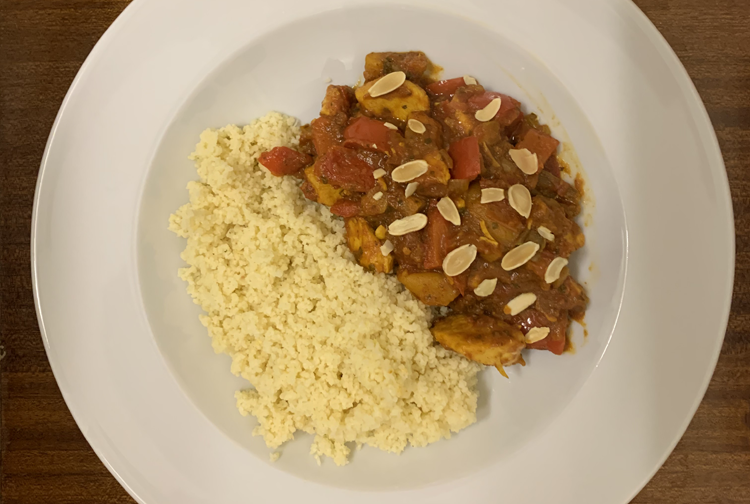 The online courses cost £10-£15 per household, plus the cost of the ingredients, which is great value when you consider that the whole family can get involved and the expert knowledge you come away with.
As we move out of the latest national Lockdown, The Farm Cookery School will once again be able to accept people into their kitchen. They have managed to redesign their workspace into a number of 'cookery pods'. These allow each family, individual or bubble to use the Kitchen and take part in the classes safely and minimise contact with other guests. Your ingredients, cooking facilities, utensils & hand washing facilities are all contained within your Pod.
There are a number of courses, both at the school and online available over the Christmas period to ensure your skills are up to shape for the busy festive period. These include online classes for Christmas Dinner, Christmas Parties and one for Leftovers!
In addition to this they are welcoming back customers to some classes from Friday 4 December and invite you to join their Christmas Cook & Dine Pod Parties on 15th, 16th & 17th December. These classes are suitable for family bubbles and all age groups age groups. They also have their last Global Flavours class of the year on Friday 18th, where we will be preparing a Thali Feast.
Then in the New Year there will be a full range of courses available, from Adult Masterclasses to Parent and Child Classes, and Baking to Date Nights. The Farm Cookery School is also available to hire for private parties and events. You can find all the details on the upcoming courses and how to book on their website.
Related
12 Comments