1. Tell us a bit about The Rose and Crown Inn and its history
The Rose & Crown is 530 years old and used to be a Coaching Inn. Our charming village pub embodies the essence of an English country inn with our warm hospitality, our great chefs led by Tom, and comfortable accommodation, all set in our wonderful Ashbury community.
Located at the foot of The Ridgeway, we are ideally situated for walkers and cyclists, and offer them a place to rest and refuel. We have seven comfortable bedrooms on a bed-and-breakfast basis and families and their furry friends are welcome in all areas of the Rose and Crown.
We have a bar and snug area with an open fire and log burner, which is mostly used by our locals. We have our restaurant area and the dining room which is multi-use from salsa, and choir rehearsals to private dining and meetings.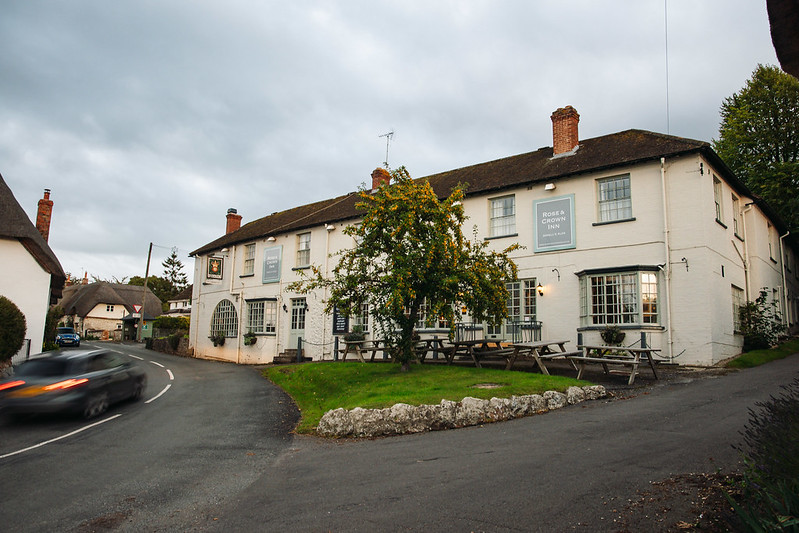 2. Tell us a little bit about your story and how you came to be at Rose and Crown Inn
I grew up in a village outside of Bristol, and music featured heavily in my life, so I went on to study music at Northampton University and graduated with BA hons in Opera. The first job I got to pay off student loan was in a pub, and was soon fast-tracked through to management, running my first pub at a community local, at 23 years old. Throughout my career I have worked in and out of hospitality, and had time away from the industry to work at a bank, teach in a secondary school, and work for a charity alongside adults with learning difficulties, supporting them in getting into work. I came back to hospitality after the pandemic when my son left home, and I was focused on where I wanted to be next in my life, my sister is in the local area, and coming into the Rose and Crown, it felt like I'd come home. I've been here now just over a year.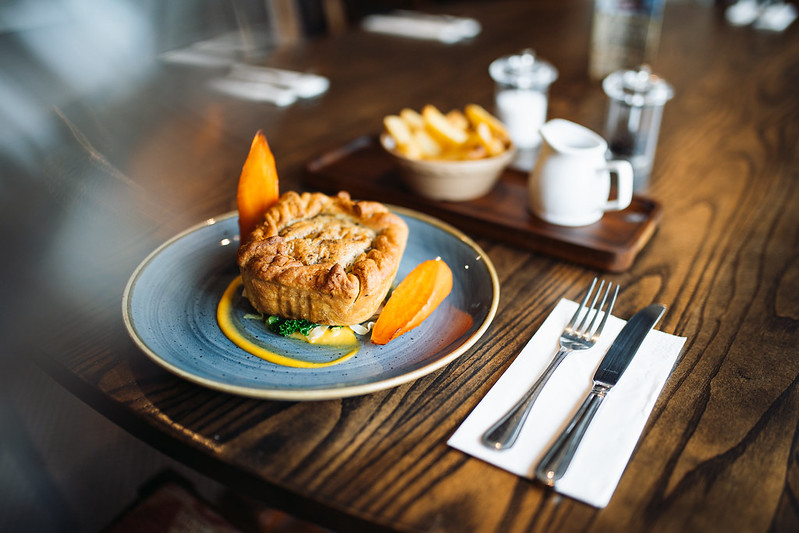 3. Tell us what visitors can expect when they choose to eat and stay at Rose and Crown Inn
My favourite ever review from some walkers who arrived here was titled ' A big hug' they turned up a little bit broken, tired and hungry after a day on the ridgeway, and they just felt like the team embraced them with a massive hug. That's what we're about. We want everyone who comes to us whether they are eating, drinking or staying with us to join our family even if it's for a short amount of time. Where they always want to come back for happy or sad times, or for someone to lend an ear or to have a chat. And of course, we serve great food and beer!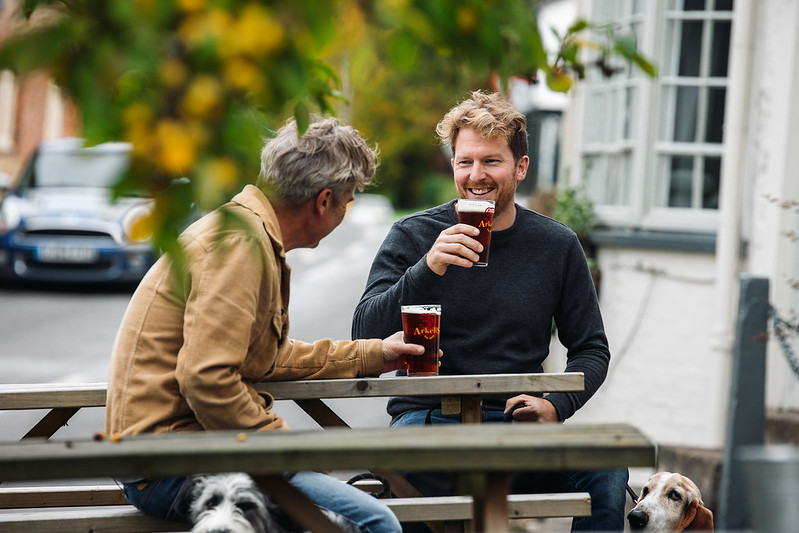 4. Tell us about the Dog Friendly features that you have Rose and Crown Inn.
We love our poochies (and ponies and parrots! One to tell you another time). We recognise how important dogs are to people's lives, they are also part of the family, and we want all members of the family to enjoy their time at the Rose and Crown.
We are perfectly located on the ridgeway for those afternoon dog walks, followed by lunch or dinner at the Rose and Crown, where we also offer a dog menu, treats and water. Your dogs are allowed to stay in the rooms, our bar and our restaurant, and in the summer months we have our doggie paddling pool outside, and borrow a ball pool from autumn. There are some days, where I would say we have as many dogs in the bar as people, including a Wednesday where the dog club (and their owners), get together for a coffee in the bar.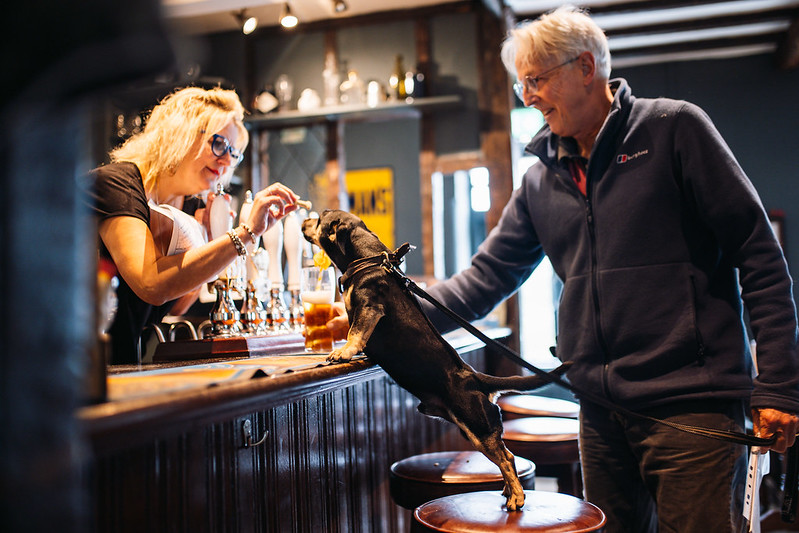 5. What do you like best about your role at Rose and Crown Inn?
Being part of the community. For me when I moved here, this is my home and I want to make a difference in the community I'm living in. I am lucky enough that my role allows me to support local events, charities and businesses, from the school to the church and integrate into the community. It is great to lead a business which also brings the community together and makes a positive impact.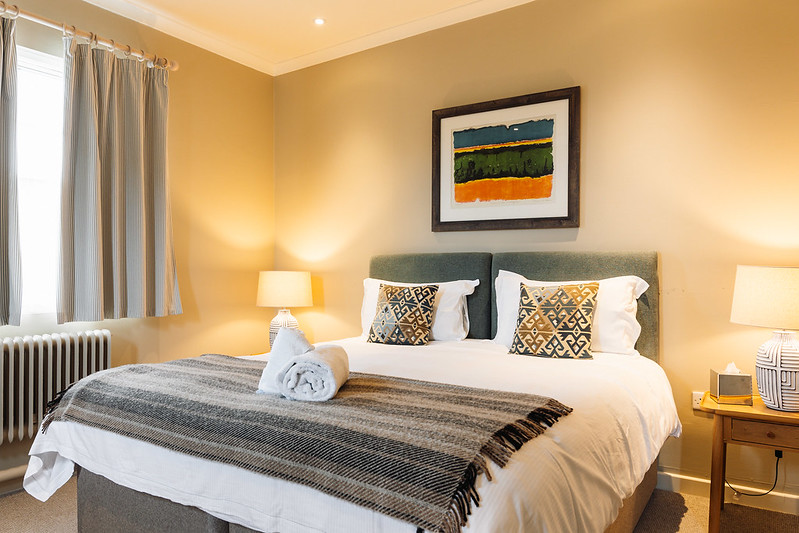 6. Where are your favourite places to visit in Wiltshire and why?
The countryside here is just so beautiful. One of my favourite places is Wayland's Smithy as it feels very spiritual, and holds some great memories including the first outing with my Rose and Crown team outside of the pub was a walk to Wayland's Smithy, on one of our Singing Retreats, we all went up to sing on the ridgeway and just recently we had a hand-tying ceremony for one of team members there – it is one of my favourite places to be.
7. Do you have any hidden Wiltshire gems that you'd like to share with our readers?
I've only been here a year, but for me, Arkell's Brewery is a total hidden gem. They run brewery tours once a week which is open to the public. Myself and my team did cellar training there followed by a tour, where we were shown around by one of the Arkell family members, through the museum, and we were shown the process of brewing, and of course, beer tasting. It is a family-run brewery which goes hand in hand with the whole ethos that we have at the Rose and Crown too. It's worth a visit if you're in Wiltshire.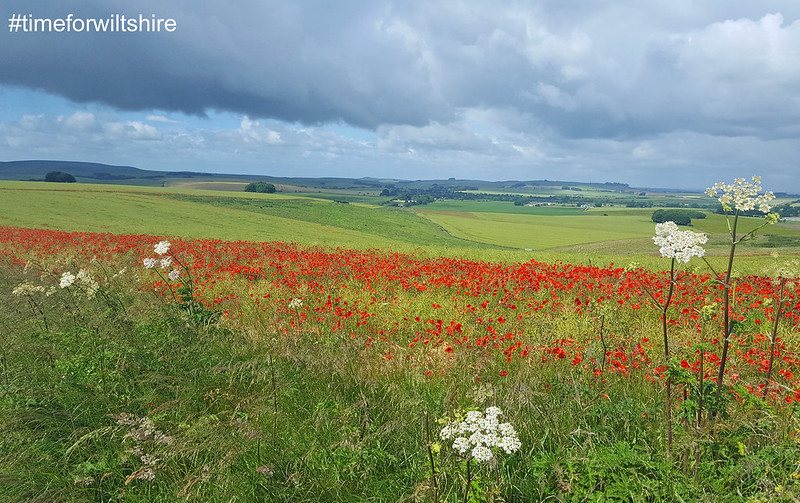 Related
6 Comments