Itinerary Planner
Products in this Suggested Itinerary
Castles and Hill Forts 1 Day Itinerary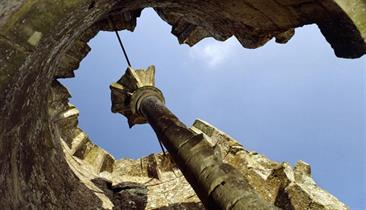 Morning - Start the day at the 11th century remains of Ludgershall Castle. From here it is a short drive, via the garrison town of Tidworth, to the Iron Age hill fort of Old Sarum, on the northern edge of Salisbury, where you can see the ruins of a castle, cathedral and royal palace.
Lunch - Wilton or Tisbury.
Afternoon - First stop this afternoon is at the unusual 14th century hexagonal ruins of Old Wardour Castle. An audio tour brings its long history and dramatic involvement in the Civil War to life. Then it's on to the hidden treasures of another English Heritage property, 14th century Farleigh Hungerford Castle near Bradford on Avon. If you have time en route, the Three Daggers pub, brewery and farm shop makes a refreshing stopping off point.
Create a personalised itinerary (This will replace all items in your planner)
Product Information
The ruins of an early 12th century royal hunting palace and a late medieval cross.

Discover the story of the original Salisbury with a day out to Old Sarum, 2 miles north of where the city stands now.

The mighty Iron Age hill fort was where the first cathedral once stood and Romans, Normans and Saxons left their mark.

The unusual hexagonal ruins of Old Wardour Castle stand serenely in their lakeside setting, protected by acres of wood, making a picturesque setting for picnics. But their beguiling scene of rural tranquillity masks a bloodthirsty past.
Itinerary Distances
From
To
Distance * (metric)
Ludgershall Castle and Cross

(51.25966,-1.62234)

Old Sarum

(51.09309,-1.79998)

20.08
Old Sarum

(51.09309,-1.79998)

Old Wardour Castle

(51.03675,-2.09359)

19.33
Old Wardour Castle

(51.03675,-2.09359)

Farleigh Hungerford Castle

(51.31716,-2.28548)

30.57
Total Distance *
69.97 miles
Estimated Journey Time
2.25 hours
* Approximate distance by road
Create a personalised itinerary (This will replace all items in your planner)