Itinerary Planner
Products in this Suggested Itinerary
Heritage from the Age of Industry - 3 Day Itinerary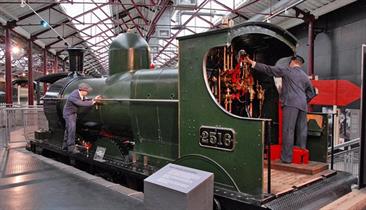 Day 1
Morning - Take a step back in time at STEAM Museum in Swindon and experience the amazing story of the Great Western Railway.
Lunch - Marlborough or Pewsey areas
Afternoon - Discover magnificent 200-year-old working steam engines, still performing their original job at Crofton Pumping Station on the Kennet & Avon Canal. On Sundays and Bank Holiday Mondays you can also visit Wilton Windmill, the only working windmill in Wessex.
Overnight - Devizes
Day 2
Morning - The Kennet & Avon Canal Trust runs boat trips on Wednesdays, Saturdays and Sundays, as well as themed cruises, and you can also visit the Canal Museum.
Lunch - Devizes
Afternoon - Discover the history and heritage of brewing on a Wadworth Brewery Tour, available all year Monday to Saturday.
Overnight - Bradford on Avon or Trowbridge areas
Day 3
Morning - The town of Bradford on Avon is an architectural treasure chest with many building reflecting its textile heritage, including imposing Abbey Mill and former weavers' cottages.
Lunch - Bradford on Avon
Afternoon - In Trowbridge the wollen cloth industry left a rich and notable architectural legacy, Trowbridge Museum continues the theme with a nationally important collection relating to West Country woollen cloth production, including working looms.
Create a personalised itinerary (This will replace all items in your planner)
Product Information
Get up close to magnificent locomotives, be a signalman in the GWR interactive Signal Box and drive the steam train simulator as you travel through STEAM's story-telling displays!

STEAM tells the story of the men and women who built, operated and travelled on the Great Western Railway - a railway…

Crofton Beam Engines, set in unspoiled Wiltshire countryside close to the old market town of Marlborough, is an ideal spot for exploring the Kennet and Avon Canal, with toilets and a picnic area on site. Access to grounds is free of charge.  There is an admission charge for the Georgian Grade 1…

Built in 1821, fully restored as a working windmill. Stoneground flour generally available for sale.

Family friendly, self guided Visitor Centre and interactive exhibition – Free entry
On-site Sample bar with five cask ales on draught. 1/3 pint samples can be purchased.
Traditional pub games are available to play in the bar.

Looking to visit the amazing town of Bradford on Avon?...If so, click here to get the latest Bradford on Avon tourist information direct from the official Wiltshire tourism site!

Trowbridge Museum, where you can discover 1000 years of the town's history. Discover how Trowbridge was shaped by the scale of production and quality of its West of England woollen cloth and became the county town of Wiltshire. Housed in a former woollen cloth mill, there are plenty of interactive…
Itinerary Distances
From
To
Distance * (metric)
STEAM - Museum of the Great Western Railway

(51.56296,-1.79544)

Crofton Beam Engines

(51.35889,-1.62587)

23.03
Crofton Beam Engines

(51.35889,-1.62587)

Wilton Windmill

(51.35335,-1.60485)

1.43
Wilton Windmill

(51.35335,-1.60485)

Kenavon Venture

(51.3551,-1.99536)

24.44
Kenavon Venture

(51.3551,-1.99536)

Wadworth Brewery, Tap and Shop

(51.35408,-1.99836)

0.21
Wadworth Brewery, Tap and Shop

(51.35408,-1.99836)

Bradford on Avon

(51.34764,-2.25062)

15.8
Bradford on Avon

(51.34764,-2.25062)

Trowbridge Museum

(51.32035,-2.20903)

3.78
Total Distance *
68.67 miles
Estimated Journey Time
2.21 hours
* Approximate distance by road
Create a personalised itinerary (This will replace all items in your planner)