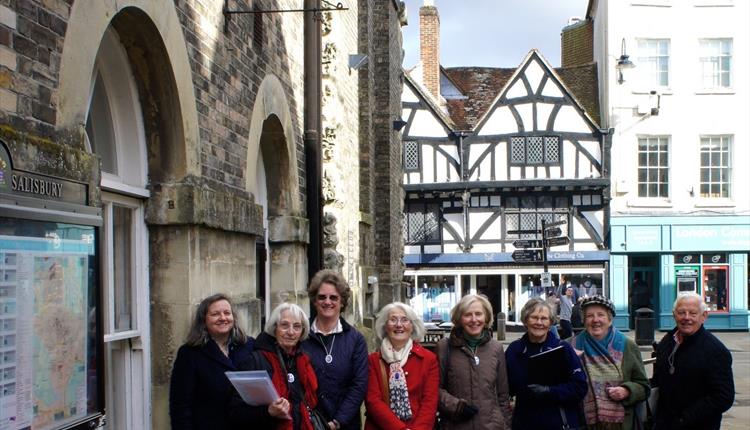 About
Hello and welcome to all group tour organisers, schools, clubs and societies.
Salisbury City Guides are a team of professional Blue Badge Guides based in and around the city of Salisbury. The UK's Institute of Tourist Guiding Blue Badge is the highest tourist guiding qualification in the UK.
We offer a range of tours to your group, club, society or tour company including:
• The medieval City of Salisbury. A "new town" only built in 1220, its original street plan still in place, along with timber framed houses dating back to the 13th and 14th century. Visit its Georgian Guildhall and sit in the court room where people were sentenced to transportation to Australia in the 19th Century. Visit the home of a 15th century troublemaker which is now a multi screen cinema and view a spectacular example of a 15th century Doom Painting set within a remarkable example of Tudor gothic church architecture.
• Salisbury Cathedral with its magnificent Spire. The Cathedral is unique as the bulk of it was built in a short period of time between 1220 and 1258. The tower and the spire were added nearly 100 years later with consequences which are a delight to see! It also houses one of the most spectacular modern installations in a British Cathedral linking the artistry of the 13th century with that of the 21st Century - a simple baptismal font that thrills all who see it. The Cathedral is home to one of the four original 1215 copies of Magna Carta. The Cathedral is set within a stunning 80 acre Close containing fine examples of medieval and Georgian architecture and worth a tour in its own right.
• Salisbury is a superb starting point for tours out into Wiltshire where you can step back in time and explore prehistoric Britain at the iconic Stonehenge, just 30 minutes away. Or the village of Avebury, just an hour away, and one of the greatest marvels of prehistoric Britain. It is a superb example of a henge and set within it is the largest stone circle in Britain. Close by is Silbury Hill, the largest man made mound in Europe, built 4.400 years ago and whilst there pop into an even older Stone Age Long Barrow - a communal burial chamber at West Kennet built 5600 years ago. Let our expert guides bring this remarkable landscape to life for your group.
• The original Salisbury, before the new town was built, was sited at Old Sarum, just 10 minutes away from the centre of Salisbury, but a world away. It is an Iron Age hill fort with ramparts overlooking modern Salisbury and contains the ruins of a Norman Castle and two Norman Cathedrals. Come and hear its remarkable story covering the Iron Age, The Romans, The Normans and politics in the 19th Century.
We can also offer tours to Winchester, Bath, the New Forest, Hardy Country and local market towns. We also run Ghost Walks and walks in the immediate local area check our website for details.
We welcome school group and are experienced in interpreting our tours for children.
We also welcome groups with special needs where we can take into account individual disabilities. Please talk to us and we will put something together to suit your particular needs and requirements.
We are happy to come aboard a coach and provide your guiding needs in the area.
We offer tours in French, German, Italian, Portuguese, Spanish as well as English.
Map & Directions