Salisbury Park and Ride
The Reds Shop
Cross Keys Arcade
Unit 10
Salisbury
Wilts
SP1 1EL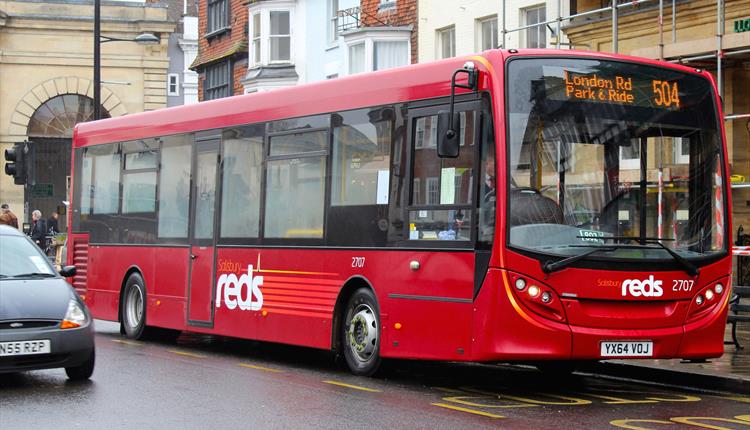 Guide Prices
Return ticket from park & ride site £3 (cash from driver)

Group return ticket from park & ride site £4 - a group is 4 people - £1 per extra person (cash from driver)
About
The Park and Ride sites at Britford, London Road and Petersfinger have now reopened. Wilton and Beehive park and rides are not currently open.
The easy way into Salisbury by car – you can choose from 5 convenient park and ride sites.

Beehive – use this site on the A345 if coming from Amesbury or Swindon
Wilton – use this site off the A36 if coming from Bath or Warminster
Britford - use this site on the A338 if coming from Ringwood, Bournemouth, Poole, Blandford or Weymouth
Petersfinger – use this site on the A36 if coming from Southampton, Romsey and Eastleigh
London Road – use this site on the A30 if coming from Winchester, Andover or London

Park and Ride operate Mondays to Saturdays and Bank Holiday Mondays. Parking is free just pay for your bus ticket.

The buses are operated by Salisbury Reds and they run approximately every 15 minutes for your convenience. For full timetables and prices click here.


Facilities
Accessibility
Accessible to Wheelchair Users
Establishment Features
Key Features
Max group size - five passengers plus driver per P&R ticket
Map & Directions
Road Directions
Beehive Park and Ride (north of Salisbury on A345) - Amesbury to Salisbury road near Old Sarum. Wilton Park and Ride (west of Salisbury A36/A30/A360) - Devizes/Shrewton road approaching Salisbury, located on A360, The Avenue, opposite UK Land Command. Britford Park and Ride (south east of Salisbury A338/A354) - Bournemouth/Ringwood/Downton road approaching Salisbury, located just before reaching the residential area. London Road Park and Ride (north east of Salisbury on A30) - left off of the roundabout just after the Woods BMW garage. Petersfinger (south east of Salisbury off the A36 Southampton Road). The sat nav reference for each site is:Beehive SP4 6BTWilton SP2 0BTBritford SP5 4DSLondon Road SP1 3HPPetersfinger SP5 3BZ