Salisbury Charter Market
For info: Salisbury Information Centre
Fish Row
Salisbury
Wiltshire
SP1 1EJ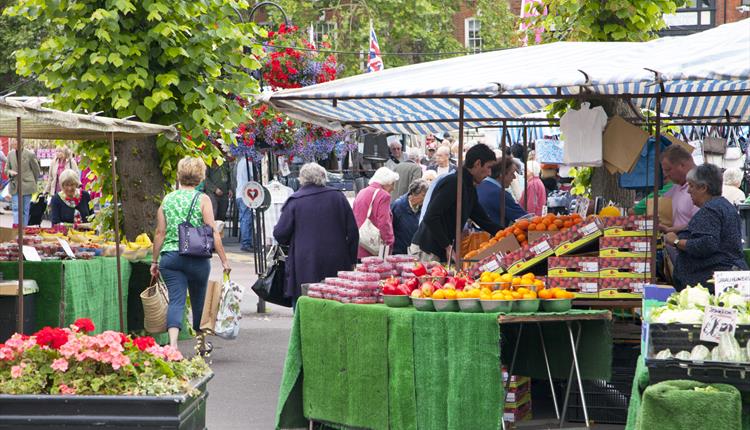 About
During the ongoing Coronavirus pandemic, Salisbury Charter Market will be open every Saturday from 8am until 3pm in the Market Place following a successful trial on 16th May. It will give shoppers the opportunity to purchase essential items from local traders in the Market Place.
Similar to safety measures currently being carried out at local supermarkets, there will be restricted access to the market using barriers and visitors will be following social distancing guidelines to help people shop as safely as possible. Salisbury City Council staff will be on site to assist and ensure the safety of the event. Shoppers are encouraged to use contactless payment and not cash at those stalls where this is possible.
Please check the website for further details.
---
Everything under one roof (if we had one).

Even though Salisbury Market is held outdoors in all weathers throughout the year, it never fails to please the shopper and browser alike.

Colourful, noisy, bustling, friendly and full of enticing aromas; from freshly ground coffee and fresh bread to hot doughnuts, hog roast and newly cut flowers Salisbury Market has it all!

You can also discover a bit of Italy, selling the best ice cream, oils and olives in the South West.

There's also fresh fruit and vegetables, meat, cheeses, eggs, haberdashery, carpets, clothes, shoes, jewellery, kitchenware and wooden furniture - in fact the range of goods on offer is outstanding and all at exceptional prices. (We yell it and sell it!)

The farmers' section within the market now runs every market day throughout the year and has proved to be an invaluable addition. It can be recognised by the blue/white stalls located in the middle of the market.

The produce sold is grown or produced by local farmers selling goods such as smoked trout and other fish, fresh bread, eggs, meats, sausages, bacon, cheeses and locally produced wines - something for all tastes.

Around the top of the market you will find many cafés serving espresso and cappucino as well as beer, wine and food, with plenty of outside tables and chairs.

Salisbury Market takes place every Tuesday and Saturday (except the third Tuesday in October when the Charter Fair comes to the city).

There are also several continental markets throughout the year.

If you would like to become a stall holder, please contact the Events and Markets Team at Salisbury City Council via email markets@salisburycitycouncil.gov.uk or call on 01722 342860.
Facilities
Catering
Bread, Cakes and Biscuits and Confectionery
Eggs and Dairy
Fish
Fruit, Vegetables and Culinary Herbs
Health Food
Meat and Poultry
Preserves/ Honey/ Chutney/ Oils
Speciality Foods
Parking & Transport
Car parking - Use Park and Ride or city centre car parks
On Bus Route - All city centre bus routes within easy walking distance
Map & Directions
Road Directions
Salisbury city centre.Use Park & Ride or city centre car parks.
Public Transport Directions
All city centre bus routes within easy walking distance.Salisbury Railway Station approx 15 minutes walk.