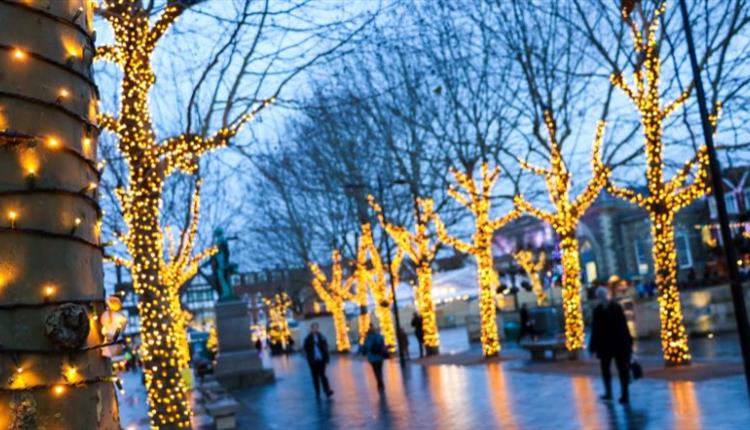 About
The City of Salisbury is about to get a whole lot brighter this festive season as Experience Salisbury, Salisbury BID, Salisbury City Council and Salisbury Radio prepare to launch our city's inaugural Walk of Stars (à la Hollywood's Walk of Fame) celebrating the incredible contributions and achievements of its local heroes. From volunteers to NHS heroes, teachers to young carers, and sports stars to environmental campaigners, this initiative is a chance for the community to honour those who have made a difference.
Starting on 17 October, and running through to 5 November at midnight, residents of Salisbury and South Wiltshire will have the unique opportunity to nominate their own "Star of Salisbury". The nomination process is easy and accessible to all, using a simple form that can be submitted online HERE
We encourage everyone to participate and bring attention to those remarkable individuals who have touched their lives.
The Walk of Stars will feature a diverse range of categories, ensuring that people from all walks of life can be celebrated for their exceptional contributions:
Volunteer
NHS Hero
Environmental Campaigner
Teacher / TA
Youth/Social Worker
Bravery Award
Supporting Wellbeing
Unsung Hero
Good Neighbour
Local Business
Carer/Young Carer
Sportsperson/Team
Lifetime Achievement
After the nomination period concludes, the anticipation will build toward an opening event on 24 November 2023, at 5:30 pm. Join Experience Salisbury and Salisbury Radio as we unveil Salisbury's first-ever Walk of Stars, right in the heart of the city at Market Square.
This celebration will feature music, festive fun, and an opportunity to hear from some of the city's chosen 'stars' in person. Salisbury Radio will be on-site, broadcasting live as the Walk of Stars for 2023 is revealed to the public. Be part of this historic moment as we recognise the outstanding individuals who have made a lasting impact on our community.
"It's an honour to shine a spotlight on those who make Salisbury such a vibrant and wonderful place to live," says Ellie Burke, manager of Experience Salisbury "We invite everyone to take part in the nominating process and join us on 24 November to recognise the incredible stars that grace our city."
Don't miss out on this once-in-a-lifetime opportunity to be a part of Salisbury's Walk of Stars. Nominate your local hero today and mark your calendars for the big reveal on November 24th.
Together, we'll celebrate the stars that make Salisbury shine.
Opening Times
Sorry, this event has passed
Map & Directions