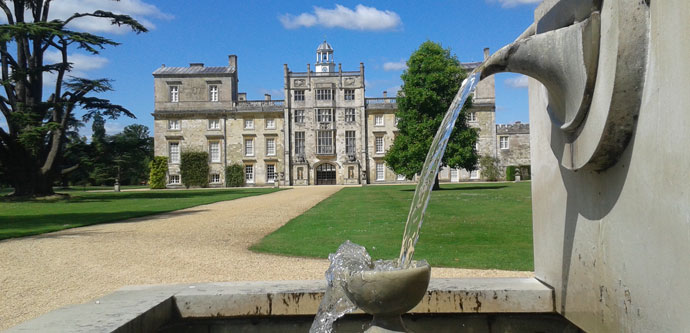 By Emma Kirkup

Just three miles west of Salisbury lies the historic town of Wilton. It's home to Wilton House, a grand stately home which dates back to Tudor times.
Today I headed to the grounds and exhibition spaces as I've visited the house many times before having worked previously for the Wilton estate.
The sunshine was glorious and the grounds weren't too busy when I visited as they'd only just opened up for the day. There were a couple of families playing in the adventure playground and a few people wandering around the gardens so I could imagine the gardens belonged to me!
I strolled up to the Millennium Fountain, then onto the Whispering Seat (you'll have to give it a try) and towards the Japanese Water Gardens. Some of the roses were still out and there was plenty of colour from the borders too. Ambling along besides the river, I took some time to take some photos of the Palladian Bridge and the house before heading over to the Old Riding Stables to see the exhibitions.
It has changed quite a lot since I worked here, now the Old Riding Stables are used as a small car exhibition featuring some of Lord Pembroke's vehicles. Usually you can see his Bugatti Veyron too but I was told that it's out in Le Mans at the moment! Still, there was quite a variety of cars to see and exhibition boards telling you more about them.
Next to the Old Riding Stables is an exhibition for this season that's put on in conjunction with Sotheby's on Cecil Beaton. As you may have seen from my previous blog, there's also an exhibition on Cecil Beaton at Salisbury Museum this season however the one at Wilton House is more aimed at his connections with the Wilton Estate, the Pembroke family and his good friend Edith Olivier who lived on the estate. Although it's not a huge exhibition there are lots of photos that Beaton took on display here. The exhibition is curated by Jasper Conran, in a fitting tribute to Beaton.
If you do have time then I'd highly recommend a visit to the house as well. Inside you'll find a huge array of paintings and portraits from some major artists including the extremely impressive Double Cube Room with Van Dyke paintings.
Related
0 Comments