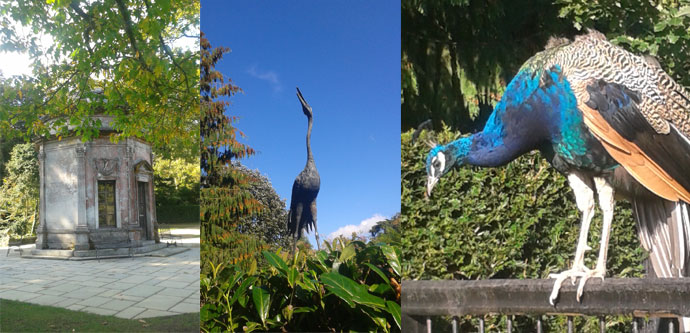 By Emma Kirkup
In the heart of the Cranborne Chase Area of Outstanding Natural Beauty half way between Salisbury and Blandford Forum lies the Larmer Tree Gardens.
I have previously visited the gardens in the springtime so it was interesting to see them now that autumn has descended and the leaves have changed colour. We were led on a tour of the gardens by Carol, who pointed out some of the many interesting features that the garden offers including the boundary stone which marks the border between Wiltshire and Dorset, the tranquil ponds and of course the very iconic Singing Theatre which sits proudly facing onto the lawn – this is also where a lot of the popular Larmer Tree Festival music takes place too.
The gardens were initially developed by General Pitt Rivers as pleasure grounds for 'public enlightenment and entertainment' and to this day the area certainly retains this feeling.
Peacocks wander freely throughout the grounds and if you are lucky (like I was) you may even spot the two resident Macaws flying between the trees. Unfortunately despite their bright colours I still wasn't able to get a great photo of them as they hid among the oak branches!
Simply strolling around the gardens you'll come across sculptures, statues and smaller gardens. Children will enjoy looking out for the little fairy houses too which were placed in memory of people involved in the festival that are no longer here. A simply stunning place to visit and a very popular wedding venue too! Find out more about other places to see autumn colours in Wiltshire here.
Related
0 Comments