By Emma Kirkup
Cricklade North Meadow (a National Nature Reserve protected by Natural England) is an ancient flood plain on the banks of the upper Thames, which is renowned as one of the best examples of a lowland hay meadow in Europe. Before the days of intensive farming, many British meadows used to be covered in wild flowers. Today Cricklade is a living example of how the meadow used to look with its lush carpet of meadow flowers.
One of the most striking meadow flowers is the Snakeshead Fritillary, a rare plant which flourishes in this grassland habitat. The pretty, purple, bell shaped flowers are at their best in mid-late April.
Cricklade is home to 85% of the UK's population of this rare flower, so-named after the snake-skin pattern and the shape of its bud before it opens. Picking is strictly forbidden, and visitors are asked to keep to the designated footpaths.
Because the meadow has been left to grow hay for the spring and summer, the fritillaries are left untouched to complete their natural annual cycle of growth and seeding before the hay is cut. Look carefully and you'll see the stone markers showing where the meadow was once split into plots for hay making. As well as Fritillaries, the whole meadow is a wild flower haven with flowers such as striking yellow Marsh Marigold, the bright green Adders' Tongue, and the pale lilac Cuckooflower. If you're lucky you might also see the first of the early Marsh Orchids. The edges around the meadow are also full of wildlife with birds such as Cuckoos, Reed Buntings, Chaffinch and Whitethroat.
Conditions over the 2014/15 winter have been good and we are looking forward to a good display this year, a further year of recovery after the damaging floods of 2012/13. If you are planning to visit this year mid-April is usually a good time to see the Fritillaries.
At the moment, there are just a couple of the flowers on display but it's worth looking on the local Cricklade in Bloom – Fritillary Watch site for more updates.
Here's a shot of last year's display to give you an idea of what you might see: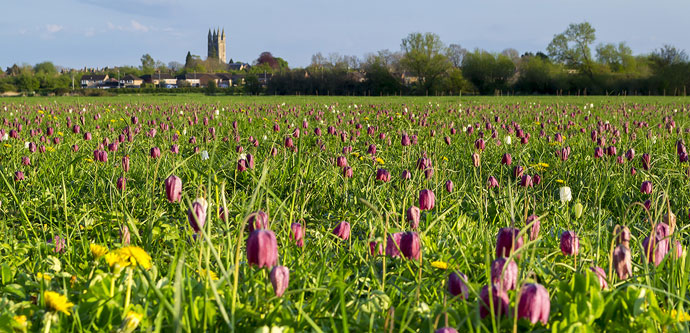 Photos courtesy of Damien Davis Photography
Related
8 Comments