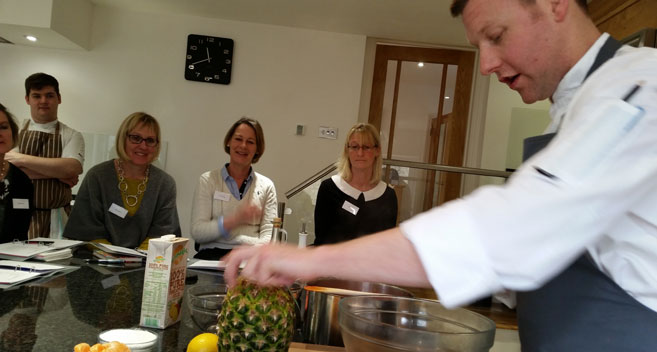 By Theresa Hopwood
Having been battered by hail and thunder on my way to Colerne, my mood brightened as I drove up the beautiful tree lined drive to Lucknam Park Hotel & Spa. On this occasion I was headed for the Cookery School, and know I could have gone in the entrance nearer that building, but can never resist the stunning drive!

The reason for my visit was to attend the Bespoke Breakfast course that VisitWiltshire had arranged with Lucknam Park. Now Wiltshire is famous for the fantastic breakfasts served by many of our accommodation providers from the tiniest B&B to spa hotels, such as Lucknam Park, but 9 of those businesses, including a lovely café too, had jumped at the opportunity to pick up tips from the recently crowned, Welsh Chef of the Year, Ben Taylor, who leads the cookery school.

After a welcoming coffee and pastries we were shown through to the state of the art kitchen, where we could sit and get a close up view, smell and taste as Ben demonstrated lots of great breakfast ideas, and passed on some tips of the trade, and inside information on the best local, Wiltshire suppliers. As each recipe was demonstrated Ben passed around samples for us to taste. My personal favourite was the Pineapple and Mandarin Compote with Vanilla, Star Anise and Cinnamon, definitely something I will be recreating at home. I also learnt the best way to cook poached eggs, which my fellow students agreed can be very tricky, especially during the hectic breakfast time; they are now a firm favourite with Mr H!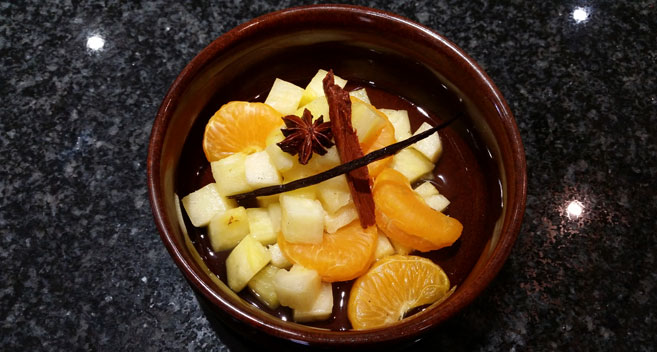 After 3 very enjoyable hours (well perhaps just a bit longer as we were all enthusiastically asking questions!) we got to sit down and enjoy a fabulous full English breakfast, cooked for us by Ben. It is not every day you get the opportunity to sample a meal from a chef who is now headed for the semi-finals of British Chef of the Year! Lots of chatter and more questions around the table ended a very enjoyable experience.

As the hail and thunder had by this time given way to clear blue skies, several of us joined a show round of Lucknam Park's Riding School and Spa, both of which are open to residents and non-residents alike. Delaying leaving this oasis for as long as possible we sat down for a cup of tea in the Brasserie before heading back to reality!

Lucknam Park Cookery School offers a packed programme of daytime and evening courses, including Ben's popular Supper Club, and if you are staying locally look out for those little extra touches that your host may just have picked up on that day!
Related
0 Comments