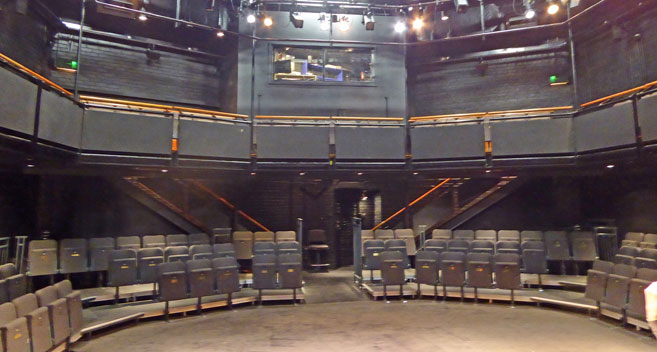 By Jenny Butler
Whilst I have enjoyed many brilliant performances at Salisbury Playhouse over the years, I had never before ventured behind the scenes, so when the invitation popped into my inbox to join PR & Communications Officer Gemma Twiselton and Digital & Communications Officer Holly Tomkins on their first ever bloggers and vloggers event, I jumped at the chance.
First up was a visit to the Salberg, the smaller of the Playhouse's two theatres, where 150 seats are cosily arranged in a U-shape with the stage floor jutting out into the middle. More intimate and informal than the main house, it is often used for new work and for children's and youth theatre productions.
After that it was time to leave the smart and spacious front of house areas to explore parts of the building not normally open to the public: a maze of narrow corridors, with so many twists and turns and steps up and down it would be very easy to get lost. Squeezing past various items of horsy equipment awaiting Clare Balding's visit the following day, we made our way through the Yard and found ourselves in the Scenery Workshop where we met Head of Workshop Tim Reed, Deputy Head Laura Davies and Workshop Assistant Kat Ross who were joined on the day of our visit by Katie from the Playhouse's BTEC Production Arts course. Their home is a vast, hangar-like space filled to the brim with tools and materials of every description.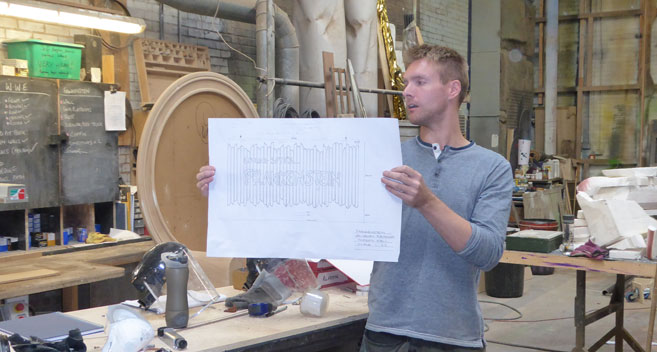 Starting with a scale model of the set – usually at a ratio of 1:25 – it is Tim's job to work out how best to achieve the designer's vision. The team can turn their hand to any type of construction technique, from carpentry to welding, and among the items being worked on were a coffin for the forthcoming production of Frankenstein and a chair for this year's pantomime, Aladdin. A rocky outcrop was being carved from a chunk of polystyrene, and a delicate tree created out of metal. Tim explained that the amount of time it takes to build a set from scratch can vary from two to six weeks, depending on the show and the set's complexity. The level of detail required varies from one production to another as well, with items that are going to be seen close up by the audience needing a much finer finish.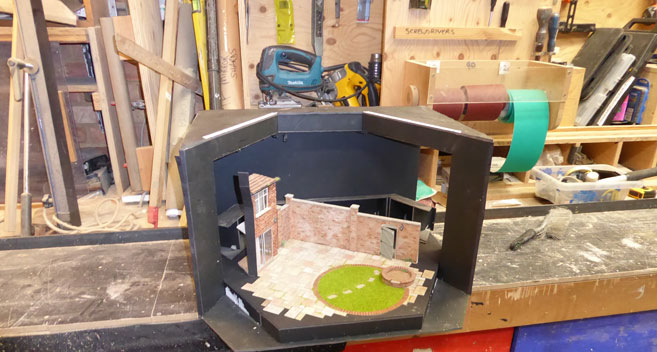 From there we followed our guides up to the Dressing Rooms, of which there are five, plus one large chorus room used not only by the children who appear in the annual pantomime but also – somewhat randomly – by the theatre's archivists. We popped our heads round the door of one of the smaller dressing rooms, currently being used by four cast members from Night Must Fall, and it was exactly as had I always imagined a dressing room to be: hanging rails full of costumes, lightbulbs framing the make-up mirrors, good luck cards and numerous bouquets of flowers.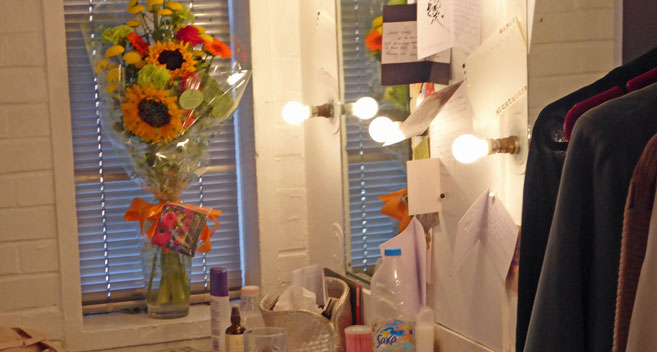 At the end of the dressing room corridor sits the 'Green Room'. Despite its traditional name, the origins of which are lost in time, it wasn't green at all, but cream with brown sofas. Here the cast can make a cup of tea and relax during breaks. (Rumour has it they are particularly fond of doing puzzles to pass the time.) On the wall are two show relays – one for the Salberg and one for the main house – to give actors advance warning of when they are needed on stage.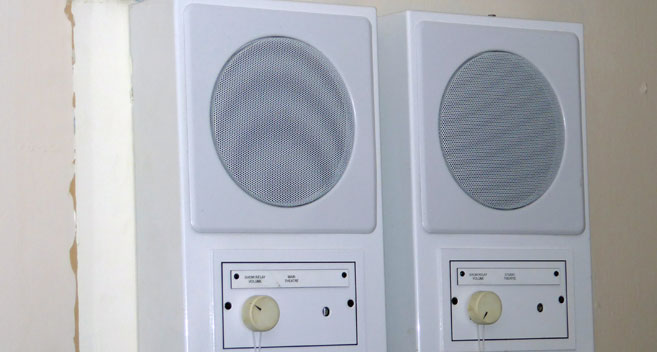 Next up was a visit to Wardrobe, the domain of Costume Supervisor Henrietta Worrall-Thompson and her Deputy Teri Buxton. Experts with a needle and thread, if they can't make it, mend it or alter it, it can't be done! Like a giant dressing up box, the room was overflowing with costume items of every description including hats, wigs, reading glasses and shoes, dressmakers dummies and reels of cotton. Wherever we looked there were plastic tubs, each labelled according to its contents: hair grips and heated rollers; Velcro, buttons and zips; cummerbunds, watches and socks. You name it, you'd find it here.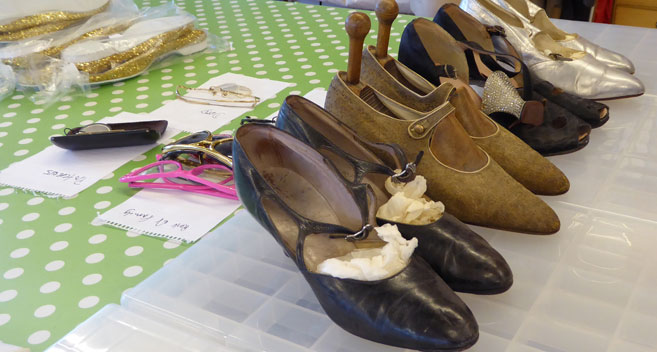 Then it was on to the main theatre where we were joined by Company Stage Manager Rickie Gilgunn and Technical Manager Barny Meats. As we stood in the wings, gantries housing the lighting and mechanics of the set towered above us. The 'air traffic control of the show' (otherwise known as the prompt corner) was pointed out to us, as was the props table, already laid out ready for the evening's performance, but due to be double checked once again before the curtain went up to make sure nothing had gone missing.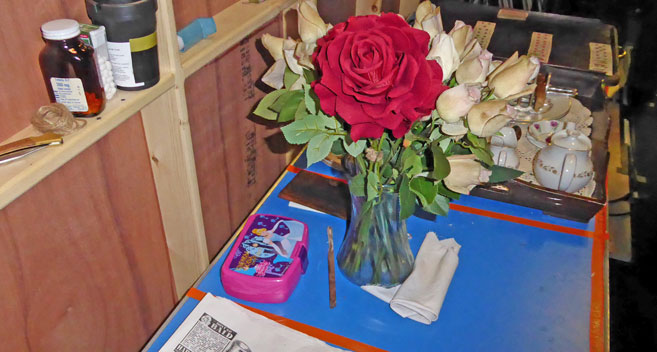 When we stepped onto the stage itself it was quite an experience to stand and look out into the 517-seat auditorium, instead of the other way round. We heard how each set has to be re-created from a scale model and detailed plans. Some sets can be built in just one day, others may take up to a week to complete and with travelling shows it can be quite a challenge to make sure the set fits. Among the many things the stage manager has to bear in mind are sight lines from the audience onto the stage (you wouldn't want people to be able to look into the wings!) and the logistics of getting actors, unseen, to the right place for their entrance on stage.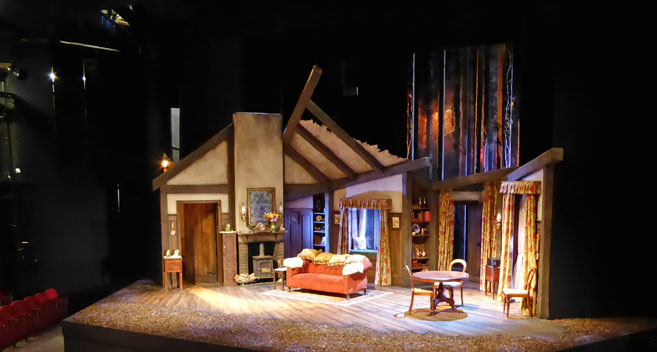 There was just time for a quick peek at the Dock, from where scenery is manoeuvred onto the stage and where the occasional souvenir from previous productions still lurks in the background (I was particularly taken with a sign saying 'Beware of Boggarts' left over from last year's pantomime!) before moving on to the Control Room. Right at the back of the auditorium, it is accessed by a steep flight of stairs with very limited headroom, so I had to bend almost double in order not to bang my head. Resembling an aircraft cockpit, with windows looking out across the rows of seats and two huge 'follow spots' taking up much of the room, it is from here that the lighting and sound are controlled using numerous banks of keyboards and switches.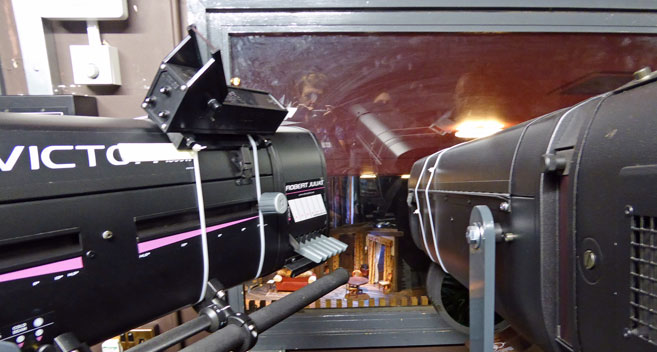 Then it was on to the Rehearsal Room where actors Howard Coggins and Stu Mcloughlin from Living Spit were rehearsing for the comedy musical Frankenstein with director Craig Edwards and Deputy Stage Manager Polly Meech. Our sneak preview included one of the songs from the performance, which was a real treat.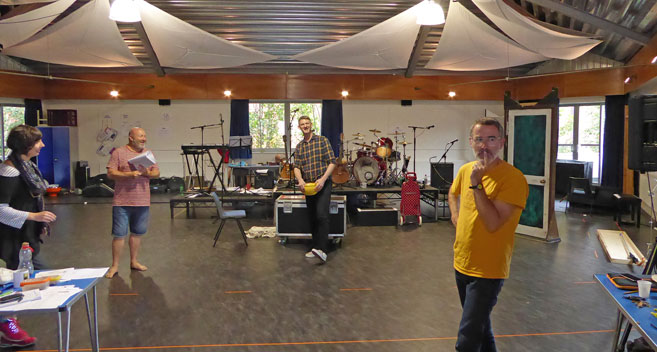 Our visit was rounded off with a delicious buffet lunch and a chance to chat to the Playhouse staff we had met, the cast of Frankenstein, and actor Daragh O'Malley from Night Must Fall.
All in all the tour was a fantastic experience and one I can highly recommend. If this blog has whetted your appetite and you would like to see behind the scenes for yourself, then head to Salisbury Playhouse for their free Open Day on Saturday 29 October 2016, 9.30am-3.30pm.
Related
0 Comments