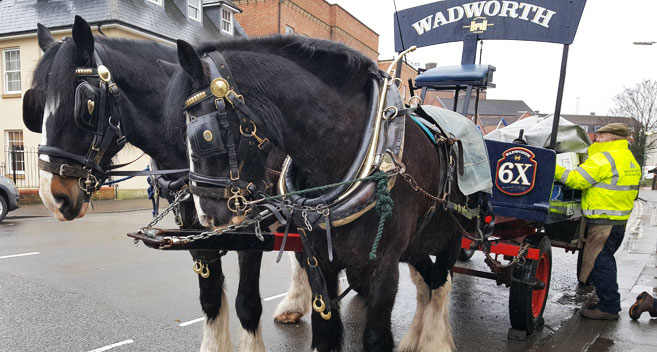 By Emma Kirkup

When visiting Devizes it's always a pleasure to see Wadworth Brewery's Shire horses out and about making their deliveries. It's a tradition that has been kept alive by this company in a time when many breweries use more conventional forms of vehicle for their deliveries.

On this occasion, I was lucky enough to go behind the scenes and take to the roads of Devizes aboard the dray as two of the horses (Monty and Max) made their Wednesday morning round of deliveries.

The first stop of the day was to the nearby Crown Inn, just alongside the brewery. I met Martin and the team there as they were already unloading some of the beers to the pub. Monty and Max were looking very impressive with their tack and their brasses had been newly polished, they didn't even seem to be phased by the rain that was falling.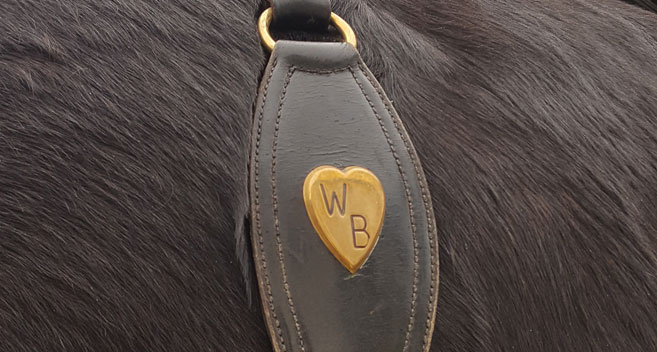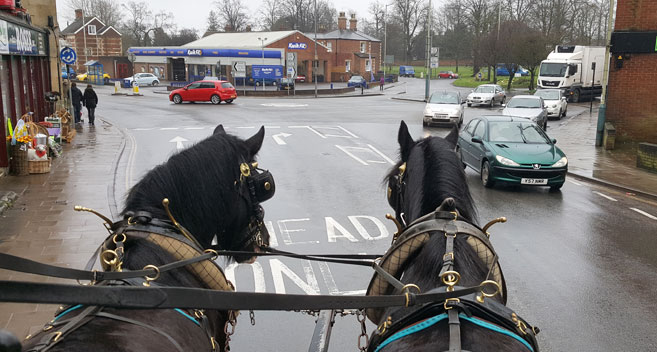 Shortly afterwards, I hopped aboard and we set off for the second delivery of the morning, to the Wyvern. We passed through the town, towards the Green and it was quite sweet to see Max begin to speed up as we approached the Wyvern. I shortly found out why he was so keen as one of the members of staff there greeted him with a digestive biscuit!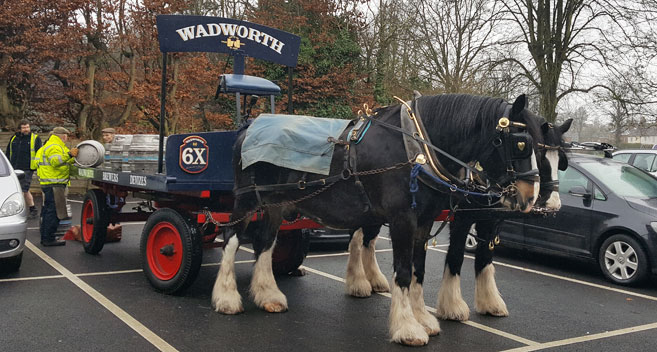 The horses remained calm as the team made their deliveries and before heading back to the stables, they were taken further around the town so they had their full exercise for the day. It was lovely to see people young and old smiling as we passed by and there was often a little wave from children that we saw on our travels.

As we approached the stables, Max got a bit cheeky and started speeding up! I loved learning about the characters of the horses and hearing stories about them from Martin and the team.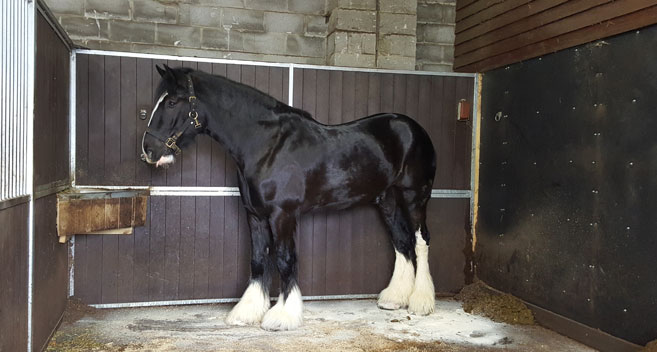 Back in the stable yard, Max and Monty were reunited with Archie. Archie's the newest addition to the Wadworth Shire horses team and is only 5 years old. The deliveries are rotated between horses so today was Archie's rest day, he'd get his exercise around the yard.

If you fancy seeing the Shire horses for yourself then why not book onto a tour of the brewery where you'll also get to see the beer being made, visit the sign writer's studio and get to sample some of the famous 6X ale in the visitor centre's bar. Please note, the horses are at the brewery for most of the times the tours are running but may be away for shows and other events including their two week summer holiday! Please check before booking your brewery tour.
It's also worth looking out for the horses during the summer when they do visits to some of the brewery's own pubs and of course, don't forget to keep your eyes open for them when making a trip to Devizes!
Check out our video below which we filmed from out on the rounds:

Related
0 Comments