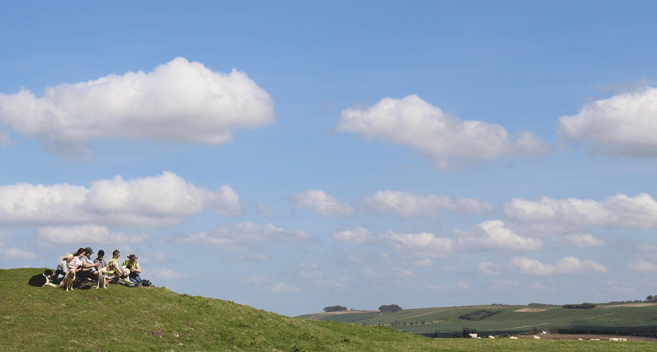 Bark, bark, bark.. It's me, Desmond Dog, I'm back again with another blog about the Stonehenge and Avebury World Heritage Site. Guess what I got up to on the 18th April on World Heritage Day. Go on, guess… yeah collected rubbish. Me and mummy and a whole load of really nice other dogs and people that mummy says are Geocachers collected loads of it and we walked ever, ever such a long way up a big hill and there were sheep and I was a very, very good #desmondwhsdog and stayed on my lead and didn't' bark – mmmmmmm well not too much – at them and we had a picnic on the top of a big old hill and we found geocaches and we had lemonade and… oopsie slow down, let's start at the beginning with World Heritage Day. What's that all about then?
Well, do you know what, the thing is, it's not really called World Heritage Day, it's actually The International Day for Monument and Sites and it was established in 1982 by the International Council for Monuments and Sites, or ICOMOS. They are the really important international people that advise UNESCO who look after the World bit of World Heritage. You can find out some more about them and all of the other World Heritage Sites across the whole, big, wide world here.
World Heritage is the shared wealth of humankind. Protecting and preserving this valuable asset demands the collective efforts of the international community. This special day offers an opportunity to raise the public's awareness about the diversity of cultural heritage and the efforts that are required to protect and conserve it, as well as draw attention to its vulnerability.

That's what it says about World Heritage Day on the interweb thingy. I think that means it is a day when we can all do something really positive to recognise and look after our extra special places like Stonehenge and Avebury. Yeah, that's it and that's why me and mummy and the other dogs and geocache people were collecting rubbish. Mummy says that everybody should always take all their rubbish home to keep the World Heritage Site beautiful. She always clears up anything I might leave!
So… before we met up with the other geocachers to do our special Cache in Trash Out (CITO) Event mum took me to Avebury to find out some more about the Marlborough Downs Space for Nature project Bee Roadzz. This was lots of fun, I got to see the bees in their hive and everything, but I didn't want to get my photo taken in the Bee peep board. Mummy did, I think she looks a bit silly! This is a great project to feature as it shows that the World Heritage Site isn't just about the big old stones and barrows, it's also about nature and landscape and environmental things and we need to help the farmers, rangers and archaeologists look after them all together I like having a good sniff in the wild flower verges and hedges when I'm out walking but you gotta watch out some of them can be a bit prickly for little dogs like me.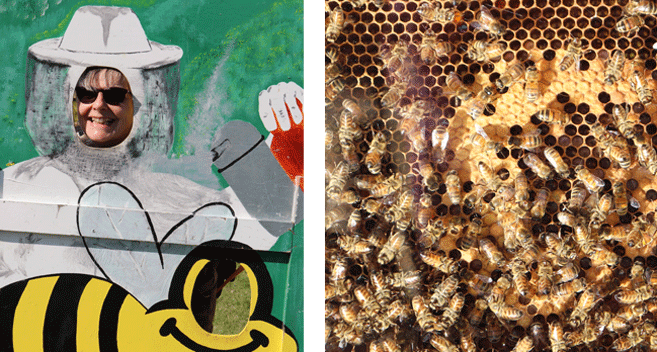 Now it was time to get all set up for our rubbish collecting. Mum had got everything organised and borrowed litter pickers, gloves and hi-vis bibs from the nice people at Wiltshire Council. The hi-vis was really important cause we were right next to the big A4 road. Something I noticed was that most of the rubbish we collected was in the verges by the big road. I think that means that people in cars throw it out of the windows. I don't understand why anyone would want to do that and make a nasty mess in the countryside?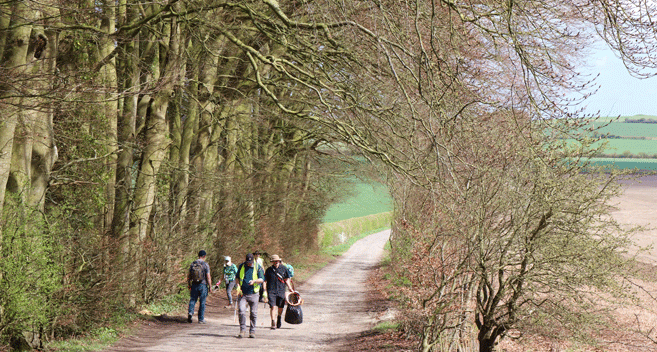 I was glad when we turned off and onto the byway that leads all the way up to Windmill Hill. Windmill Hill is a really good example of one of the attributes of OUV. The physical remains of the Neolithic and Bronze Age funerary and ceremonial monuments and associated sites. That's about all of the monuments that we can see. Windmill Hill is a classic example of a Neolithic 'causewayed enclosure', with three concentric but intermittent ditches. Large quantities of animal bones found here could indicate feasting, animal trading or rituals, or perhaps all three taking place in prehistoric times. It was the perfect place to stop for our picnic feast and enjoy the panoramic views out over Avebury to the Ridgeway, Silbury Hill and the surrounding Wiltshire countryside.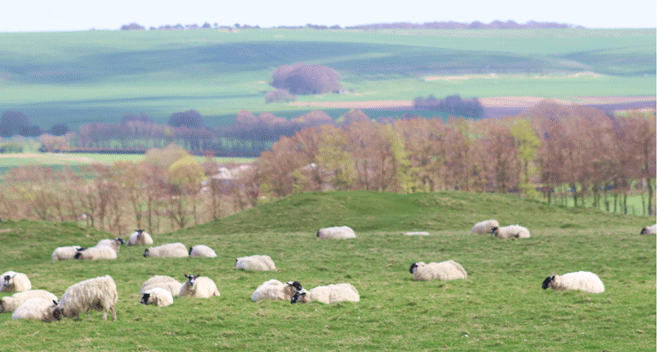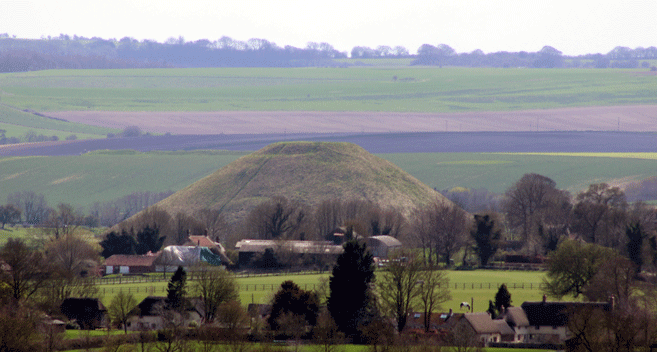 On the way back down, we stopped to find the new geocache that me and mummy had set up a couple of weeks ago. It will be fun to see how many people come and find it and where they all come from. Mum says geocaching is a world-wide thing. I was starting to get tired by now so was really glad when we got back to the car and mum said we were going back to the village for some refreshments. She was ever so pleased with how many people had come to help look after the World Heritage Site by collecting rubbish, how much fun we all had, and that the sun had been shining all day. What a fantastic World Heritage Day!
Till next time
woof, woof, woof, woof
Desmond the Dog xx
Keep up to date with Demond's journey by following him on instagram @desmonddivadog and #desmondwhsdog

Travelling with a pet can sometimes be tricky, but with plenty of pet friendly accommodation options and places to eat and drink it's easy to make time to visit Wiltshire and bring your furry pals along too!
Related
0 Comments